Early in the morning on Katama Bay, a rosy sunrise lights the sky above Chappaquiddick as cormorants and seagulls loiter on docks and anchored boats bob on lapping waves. The Island is still mostly quiet, but at the town landing parking lot, truck after truck pulls in and gear is unloaded, waders pulled on, boats pulled in from their anchorage. Farmers rise early, after all, and despite appearances, the bay is home to one of the Island's most thriving agricultural industries. Beneath the surface of the water, millions of oysters are growing, filtering nutrients from the water and growing plumper and bigger by the day, tended by a growing group of dedicated farmers.
Part farming, part evolution of the Island's long-standing waterfront industries, oyster farming on the Vineyard is hitting its prime. Aquaculture began in earnest here nearly twenty years ago as a fledgling effort to provide fishermen with a more profitable, reliable, and sustainable way of life on the water as the nearby fisheries collapsed. While harvesting wild oysters and other shellfish is still an important Island industry, the wild harvest is seasonal and can be variable from year to year in terms of both quantity and quality. Cultivated oysters, on the other hand, have both given rise to and sated a growing demand for a steady, nearly year-round supply of locally grown, freshly harvested oysters that offer a taste of the ocean in clean, beautiful shells.
Through the years a human community has developed as well, connecting the original oyster farmers who founded the industry to younger Islanders who have committed to oyster farming as a way to make a living on the water. Oyster farms have spread to other parts of the Island, most notably Menemsha Pond, but the heart of the local industry is still Katama Bay, the original oyster farming grounds where a tight-knit community has emerged of old friends and family members working side by side, a place where even the seabirds are known by name.
"It's pretty much beyond what I would have ever thought would have happened," said Rick Karney, director of the Martha's Vineyard Shellfish Group. "I guess in my wildest dreams I thought we were going to have a successful industry and be making money and have a great product. And it's that and more.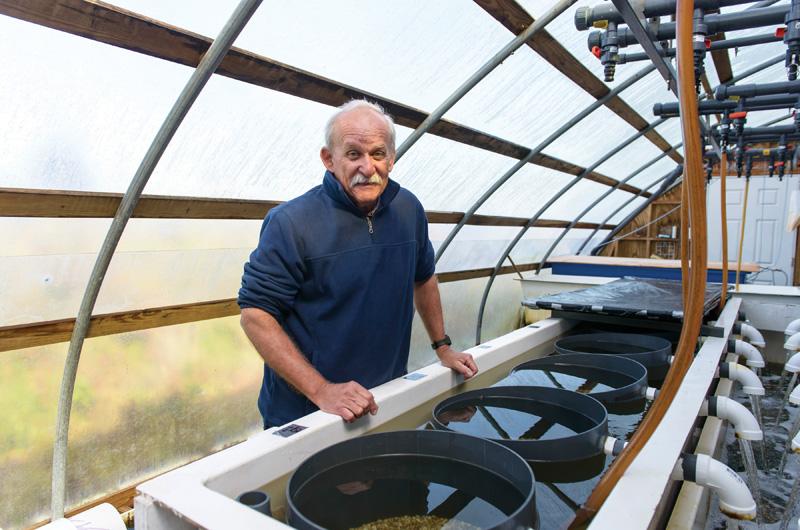 "We've got a lot of projects with the shellfish group, this is one of the ones I can point to and say, 'Wow, look at the success.' They just took it and went with it and the success is all theirs. All I did was give them a little spark to get them started."
Every spark needs fuel, and what drove the original farmers to take the leap was the collapse of the traditional commercial fisheries in the mid-1990s. In response to the closure of fishing grounds at Georges Bank, in particular, about a dozen Island fishermen enrolled in an extensive aquaculture training program, paid for through federal funding and conducted by the shellfish group. The opportunity was available Island-wide, but Edgartown jumped on board early.
"Nothing would actually be done right now if it wasn't for the [Edgartown] shellfish committee and the selectmen," Jack Blake, one of the original oyster farmers, recalled. Blake, a friendly, silver-haired man who pronounces aquaculture with a New England accent ("aquacultcha") was a quahaugger before he moved to farming oysters, and he is often singled out as a leader of the oyster bay farmers, an early riser who worked hard to build the industry. But he deflects the praise back to the town. "If the townspeople aren't behind it, it's not going to happen."
In 1996, Edgartown chose to lease one percent of Katama Bay as bottom grants for would-be oyster farmers, creating twelve one-acre oyster farms in waters that were seen as otherwise unprofitable. Though oysters have been farmed successfully in many parts of the world for generations, there is no standard method or set of equipment that works for every location. The early oyster farmers, therefore, including Blake, Roy Scheffer, and Scott Castro, had to almost invent the local industry from scratch. They figured out what equipment was needed, built it, and studied what the oysters needed to thrive.
It was hardly an overnight success out on the bay. Farmed oysters must be tended from seed to market. Baby oysters are raised in tidally powered "upwellers," designed by Blake, which are suspended in the narrows, an area of the bay with a strong current. As the oysters get bigger and quickly outgrow the nursery, they are moved out to the farm, placed in mesh bags, and then stacked in cages and submerged in the water, where they grow and are tended until they are harvested. Along the way there were tough lessons to be learned: Blake remembers in particular the time he bought at least 500 oyster grow-out bags that all turned out to be the wrong size. It took the early farmers five or six years to figure things out.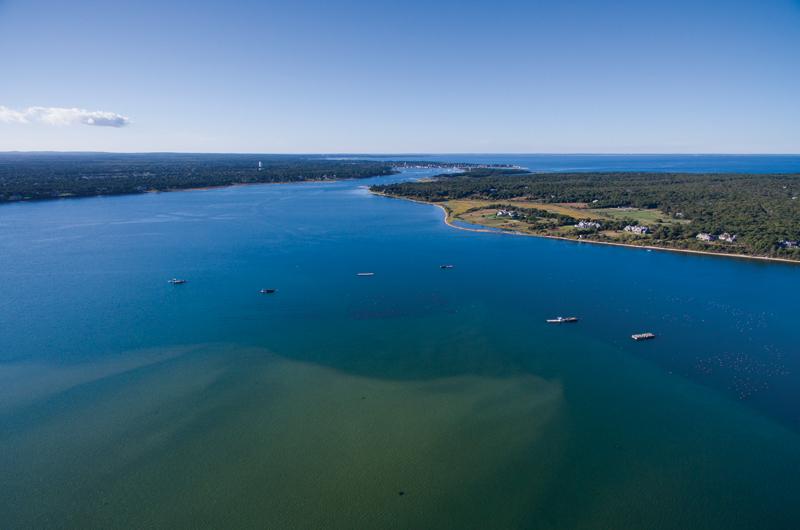 "That's when everyone else came on board and we showed them, this is the way to do it so you don't have to make a ton of mistakes," said Blake. Almost two decades later, Katama Bay is maxed out, with twelve oyster farmers leasing space, and four on a waiting list. Last year 2.3 million oysters were harvested from the bay at a value of more than $1.4 million.
Perhaps a better measure of success is the number of younger Islanders who have embraced oyster farming. "A lot of them...their parents were kind of wild fishermen, and it's kind of like the next generation, I think, seeing the fact that the wild fishery is certainly limited offshore," said Karney of the shellfish group. "A lot of these guys that fished offshore, their children are still invested in the industry of seafood, but they're looking at the farms rather than wild harvest.
"It's really healthy to see," he went on. "Whenever you see things like more young farmers and more shellfish farmers, that is very hopeful that the folks will be doing it for a while."
After graduating from college Ryan Smith came back to the Vineyard unsure about his future. But fishing was in his blood, and his father, Joseph, who was a commercial fisherman for forty years, suggested he look into oystering. "I had no idea what aquaculture was growing up," said the younger Smith, who is now thirty-one. "He kept trying to push me into aquaculture, because fishing's bad, it's getting harder and harder."
When an opportunity to take over an oyster lease in Katama came up nine years ago, therefore, he jumped on it and hasn't looked back. "I loved it and could tell I wanted to do it for the rest of my life." His father soon joined him on the water and loved it so much he stopped fishing. Today they run Signature Oysters together.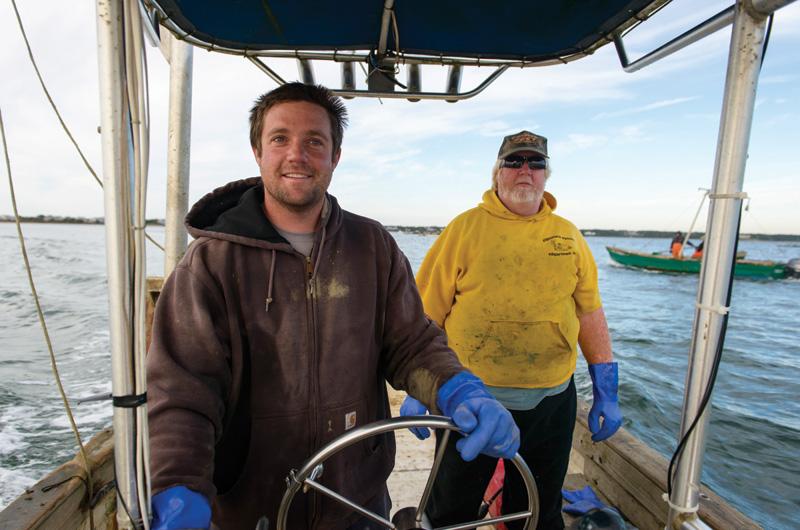 "In the beginning, aquaculture was new," Ryan Smith said in late September as he steered his skiff over rough, choppy waves out to their farm on the outer edge of Katama Bay. Back then, some buyers wondered why they should pay more for farm-raised oysters than wild oysters. The key, he explained, is in the tending that goes into cultivated oysters, which results in large, healthy oysters with clean, well-formed shells that look appetizing on a plate. "The more you take care of them when they're growing, the better you'll be."
On a wooden raft equipped with a small counter, he and two employees – Cosmin Lupo, who was days away from returning to Romania after three months on the Vineyard, and Islander Eli Ingraham, also a former fisherman – pulled up cages of oysters that were covered with two months' worth of plants and organisms. There were a few fish stowaways that were tossed back into the water. The men pulled the bags from the cages and emptied them on the counter, and then began sorting through to separate oysters that had grown into each other, assessing their growth, and knocking off jingle shells or any other organisms.
"Like on land there are predators, infestations," Ingraham said. "It's like farming." In particular, oyster farmers are always on the lookout for the aptly named oyster drill, a sea snail that drills a hole in the shell and eats the meat inside. According to Karney, oyster drills thrive in the relatively saline waters of Katama Bay and are likely one of the reasons the wild oyster population there has never been as robust as in some of the great ponds. The farmers also look for signs of various oyster diseases, which fortunately have largely been absent at Katama. After being handled, the crop of oysters were spaced out in clean bags and lowered back down to keep growing. It takes anywhere from about eighteen months to two years or more for the oysters to grow to a harvestable size.
The most worrisome infestation is invisible: Vibrio parahaemolyticus, a naturally occurring bacteria that thrives in warm water and can cause illness in those that consume raw oysters. The oyster farmers are vigilant about getting their crop on ice as rapidly as possible, but in each of the past three years, the farms have been closed for at least a week in August due to incidents of illness. There is talk of preemptively closing the fishery for the warmest weeks of the summer, which unfortunately are also the busiest weeks at local restaurants. "We don't want to make people sick and don't want a bad name," said Blake. "It seems to make sense to be proactive and try to correct it."
Above the raft a small wind turbine whirled. The Smiths, like most of the farmers on the bay, run their operation by wind energy. Smith lifted a panel on the raft to show an electrically powered green tumbler used to clean the oysters, built by his father out of a wash basket. At another end of the raft a juvenile ruddy turnstone pecked at sea critters. "The same little bird visits the raft every day," Ingraham said. "I named him Larry."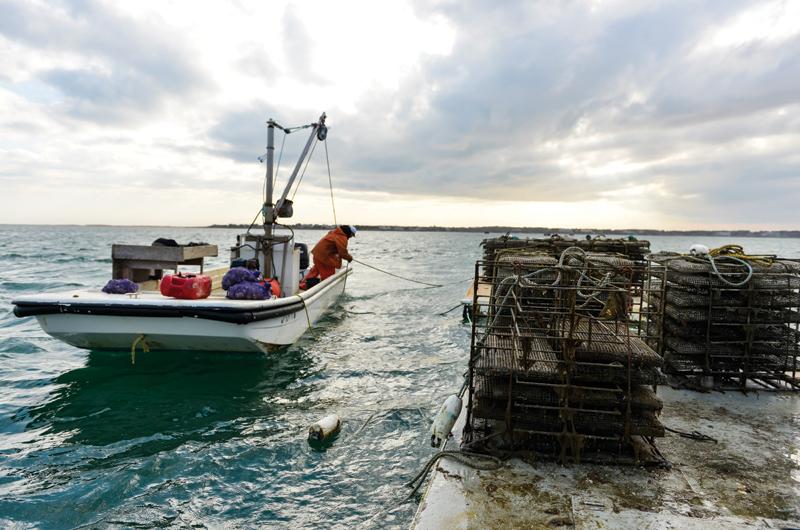 Having an office on the water is only part of the appeal of the job for Smith. Perhaps more important, it's also a way to live and work in the town where he grew up. He and his wife, Julia, have two daughters, ages six and four, and an infant son. Befitting his growing role in the industry, he recently joined the town shellfish committee and serves as chairman. "This is what I want to do for the rest of my life," he said, casually steering the skiff over choppy waves. "I want some input."
Another member of the younger guard is Jeremy Scheffer. "The thing I love about it the most is being outside," he said not long ago. "That's something that's clearly ingrained...it must be my fishing heritage."
Scheffer's father, Roy Scheffer, is a former fisherman and one of the original Katama Bay farmers. Jeremy started helping his father out at the farm in 2009 and within a year knew that he wanted to get into the business himself, particularly after seeing how well oysters did after the economic downturn of 2008. "I looked at trends of fish and shellfish, and oysters are the one thing that was really sustained," he said. The two now operate their own farms; Roy Scheffer markets his oysters as Roysters and Jeremy runs Spear Point Oysters. Jeremy's brother Noah is also learning the business, with a plan to take over Roysters when the elder Scheffer wants to retire.
"We're lucky to have something that's pretty consistent, and we're definitely lucky that it's something that's viable year round. You can make money year round on it," Jeremy said. "My grandfather and my dad and those generations had to go offshore. I'm lucky to be doing an inshore fishery; I get to go home every day. My dad and my grandfather were both offshore fishing, spending months and months away from their families."
As the Katama Bay farms have flourished, oyster farming is expanding in other parts of the Island, including other areas in Edgartown. The Smiths and the Scheffers have been granted aquaculture leases about three-quarters of a mile out in Nantucket Sound off of Eel Pond, though neither have actually started farming in the new territory.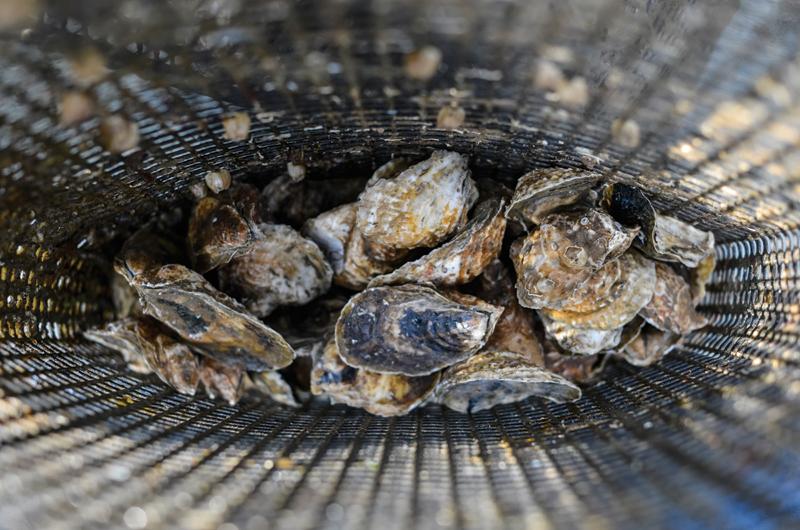 "I'm going to try putting something out there this upcoming year," Jeremy Scheffer said. "It's an entirely different ball game." The open ocean will require different equipment, for one thing. "Our oyster boats are pretty much meant for being in shore." But the water is there as an option. "If I ever needed to, I think I could figure it out," he said.
In nearby Sengekontacket Pond, Edgartown and Oak Bluffs have embarked on an oyster farming project with an eye toward combatting that pond's chronically high nitrogen levels. Since oysters are filter feeders that eat algae, they each improve the quality of roughly thirty gallons of water per day. On average, 10,000 active, grazing oysters will remove the nitrogen output from one household. With help from oyster farmers, particularly Blake, more than 500,000 oysters were grown in the Edgartown side of the pond, and for the first time this year they were put in the pond for recreational harvesters. Oak Bluffs' part of the project is also well underway.
A new oyster farm operation is also getting going in the open water off Eastville Beach, where brothers Dan and Greg Martino hope to harvest the first farmed shellfish from Cottage City Oysters in the spring. The brothers are originally from Texas, but have set down firm roots on the Vineyard. Dan, who is thirty-three, and his wife welcomed a daughter in early September, while Greg, who is twenty-nine, got married in June. The brothers once filmed a documentary on the industry for their other endeavor, Martha's Vineyard Productions, a multimedia filmography company, and they got the idea to go into business after working at Jack Blake's Katama oyster farm.
The Martinos aren't alone in their experience of the spirit of camaraderie and openness in the local industry, with established farmers more than willing to share what they've learned with beginners. "When I first dropped in on it, everybody was looking over my shoulder, making sure I was doing it right – Jack Blake, Scott Castro," Ryan Smith said. "Commercial
fishing is very cutthroat, very competitive, secretive. I don't really like that."
Besides, he added, everybody needs to succeed to maintain the Katama Bay oyster – and by extension the Vineyard – brand, he said. "One person could ruin the reputation."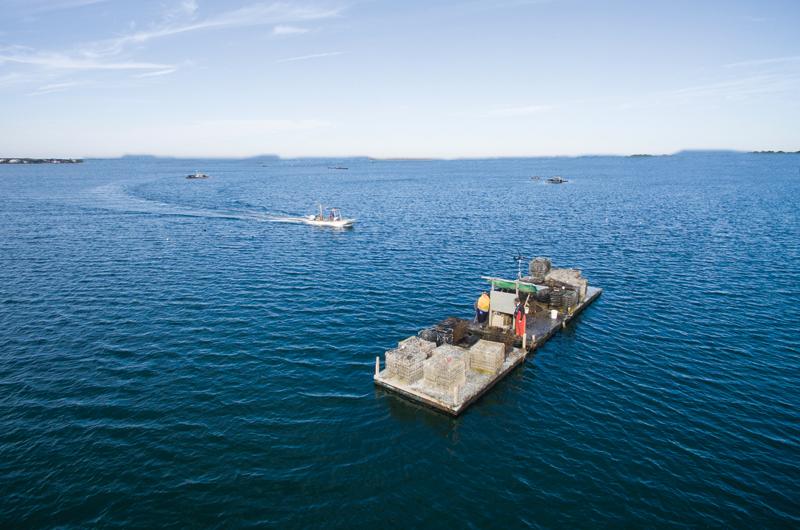 While other oyster farmers and the Oak Bluffs selectmen were supportive of the Martino brothers' efforts, the two-acre oyster farm met with early opposition from some homeowners nearby, who worried it would disturb their views and pose a hazard to recreational activity. (It's the Vineyard after all.) One went so far as to sue the town after they awarded the
license, but the case was dropped after the town and the Martinos agreed to several conditions, including restricting the hours work will be done at the farm, and a prohibition on using chemicals or additives when cleaning cages. With all the hurdles cleared, this past May, 50,000 baby oysters, about three-quarters of an inch in size, were put in the water off Eastville Beach, where the Martinos' farm is marked by a small raft and a stenciled sign. By September the oysters had grown to three inches.
For their part, the brothers from Texas shrugged off the delays. "This is new to us. It's fun and exciting and we're paying our dues," said Greg, perched at the bow of a skiff on the way out to the small raft. In the distance, ferries passed in and out of Vineyard Haven harbor. "We're lucky that this opened up to us."
"It encompasses so much of our local life – the environment, clean water, local economics," said Dan at the helm. "It's also a job out on the water." And besides, he added, looking out at the choppy sound and the sailboats in the harbor and drawing a connection to their Texas upbringing, "this is kind of like oyster ranching in a sense."
Cottage City Oysters is in fact a trailblazer of sorts, testing out oyster farming in open water instead of the protected waters of Katama Bay and Menemsha Pond. "It's a trade-off," Greg said. "We're not protected in a bay, but there's better flow, which can mean more food."
They know they are in for harsher weather in winter, and possibly different sorts of predation. But their frontier optimism is palpable.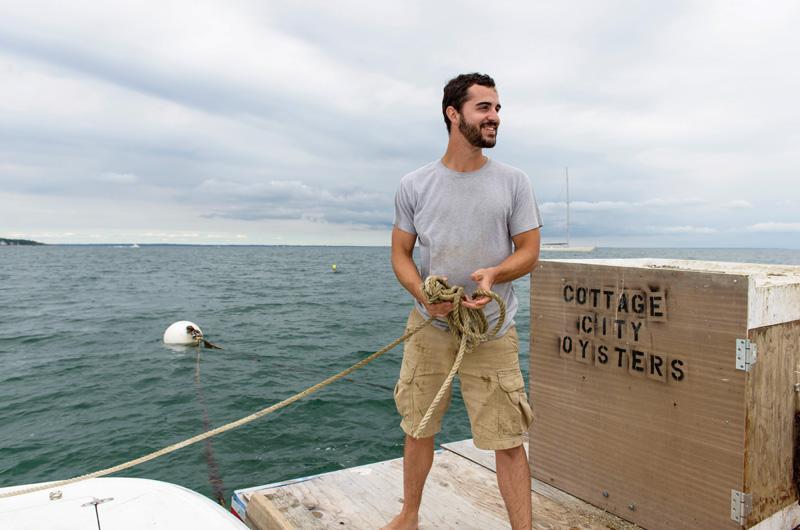 "It's real clear water," said Dan. "It'll definitely give us our own unique place."
Consider the oyster. As the effort to introduce oysters to Sengekontacket attests, oysters have a remarkable ability to change the habitat around them. Think wolves in Yellowstone. According to Greg Martino, scuba divers have confirmed a transformation at the site off of Eastville Beach in the one season since their oysters went in the water. Notably, there is an abundance of bait fish, which may be attracted to the oysters or simply to the structure of the traps. "It's really bringing back life to the area," he said. "That's the benefit of oyster farms and aquaculture."
The same thing has been observed in Katama, where Jack Blake recently found baby oysters attached to the oysters in his farm. That's a sign there could one day be a wild oyster harvest in Katama. And Rick Karney has heard about striped bass hanging out by the Katama oyster farms, lured by the critters that flock to the oysters.
With the established success of the industry, Blake said, other Island towns should get on board. By which he means, primarily, Vineyard Haven. "It's so silly not to have aquaculture in the Lagoon, where it's needed more than anywhere," he said. "It might take another ten years before they realize if they don't move on it, they'll have nothing."
But Blake, whose Sweet Neck Farm harvested about 50,000 oysters this summer, said he's happy to see younger farmers carrying the mantle. "That's where it's going to continue," he said. "To see so many families making a living down there, to me it's really encouraging. There's no fishing down there to be had. If there wasn't the farming, Katama Bay really wouldn't be producing anything right now."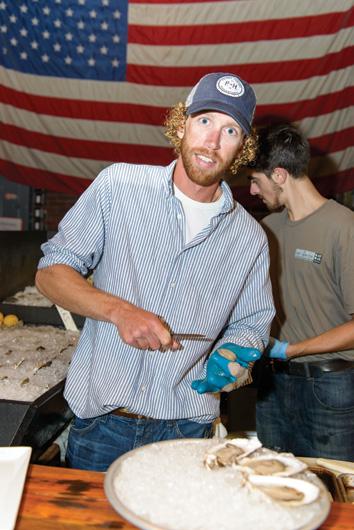 And after more than fifteen years, oyster farming "brings a smile to my face," he said. "It's a nice way to make a living."
Not surprising, perhaps, the success of the oyster industry has trickled down to Island restaurants, some of which are known for selling local oysters. Several thousand freshly-shucked Island oysters were sold this summer with grated horseradish, house-made cocktail sauce, and mignonette at the Port Hunter, a Main Street restaurant about two blocks away from Edgartown harbor.
"I take a good amount of pride that they are putting out such good product," said Patrick Courtney, who co-owns the restaurant with his brother, Ted. "We want to do our part as
well. It's not easy to grow oysters that look like that."
When the Port Hunter opened three years ago, the menu included off-Island oysters, but the Courtneys, who were raised on the Vineyard, quickly abandoned that idea. "When you have the best oysters in the world growing right down the street, it makes no sense to ship them in," Courtney said.
"Very few people come sit in a restaurant like this and eat oysters harvested the same day," he said. "I hear it all the time, 'These are the best oysters I've ever eaten,' and farmers are
doing a great job growing them."
For the most part, the oyster farmers said the industry has room to grow, with demand increasing. Oyster connoisseurs, like fans of micro-brewed beer, enjoy trying different varieties, Karney said. "It seems they pretty much can sell everything they grow. The demand is still higher than they can produce. From that standpoint, it's been really fantastic and I'm just thrilled."
The value of the private oyster production on the bay is about equal or greater than all the wild fisheries in Edgartown, he added. "That just kinda blows my mind."