The Second World War ended seventy years ago. But for some Islanders, the memories don't fade.
The Second World War ended seventy years ago. But for some Islanders, the memories don't fade.
Even today, at age ninety-four, Fred B. "Ted" Morgan possesses the ramrod-straight bearing of a military man whose World War II service ended just yesterday.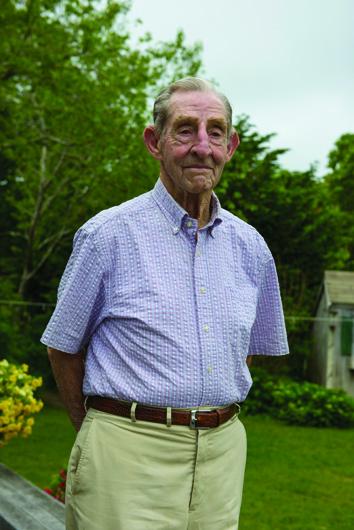 "I'll never forget," says Morgan, who was an Army medic in a parachute infantry regiment that saw combat all over Europe. "I forget many other things, but I'll never forget my experiences during World War II."
Morgan, who was born on the Island, left after high school to live with relatives in Shrewsbury before the war. He was working in a grocery store, with no apparent plans, when war broke out and he was eventually sent to Europe where he made four battle jumps – over Sicily, Italy, Normandy, and Holland.
"Even to this day, there are times when I think back on what I was involved with, what I did, and a lot of it, I've kept to myself," he says. "Occasionally I'm asked to talk about it – and I do – but for years I said nothing. My wife had no idea what I was involved with, my combat record, and then being a medic, seeing what can happen to the human body….I've never forgotten that."
More than six hundred Islanders served during America's engagement from 1941 to 1945, and no doubt thousands more veterans of the war visited or vacationed here in the decades since the end of the conflict. The war touched virtually every corner of the globe and claimed between an estimated 40 and 60 million soldiers and civilians before Nazi Germany surrendered to Europe on May 7, seventy years ago, and Japan followed suit a few months later, giving up the fight in August and signing surrender documents on September 2, 1945. But today, only approximately fifteen surviving military veterans of World War II now live at least part of the year on the Island. They are, literally, a dwindling band that bore witness to the costliest human conflict in history.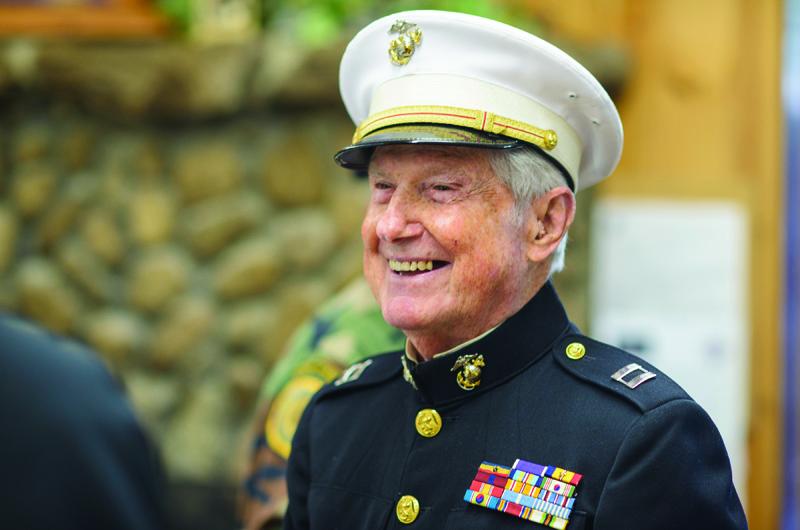 At the Memorial Day ceremony in Oak Grove Cemetery in Vineyard Haven this past May, Jo Ann Murphy, the Dukes County veterans agent, read the names of sixteen men and women who had lived on the Island at some point, served in World War II, and died within the past year. Nationally, of the 16 million Americans who served in the war, the U.S Department of Veterans Affairs estimates about 855,000 are still living. One of those is Gene De Felice of Oak Bluffs and Florida, who was wounded at the pivotal Battle of Guadalcanal in the Pacific. Looking fit in his Marine uniform at ninety-four, after the names of the recently dead were read on Memorial Day, he helped lay a wreath at the cemetery's World War II plaque.
There is also John Hughes, now ninety-three, who was born at home on Circuit Avenue in Oak Bluffs. He went into the Navy, where the population of a single aircraft carrier seemed to equal all of Martha's Vineyard, and eventually became the commanding officer of a minesweeper. And there is Bob Daniels, now ninety-one, who is known at farmers' markets for the potatoes he grows on his Edgartown farm. At eighteen, Daniels was the youngest person drafted from his small western Massachusetts town in 1943. He served in the medical corps of the Army Air Forces, mostly on bases in Georgia and Florida, where he served as a cook, trained as a dental tech, and worked as a driver.
"They drafted me on April Fool's Day," he says, laughing. "Only thing was, they took me – it wasn't a joke."
Anne Lesnikowski, ninety-four, came to the Vineyard in 1951 with her late husband, Bronislaw. During the war, however, she served in the Women Airforce Service Pilots, or WASPs, a group of female pilots who ferried planes from factories, tested aircraft, and even towed targets so that male pilots could practice with live ammunition.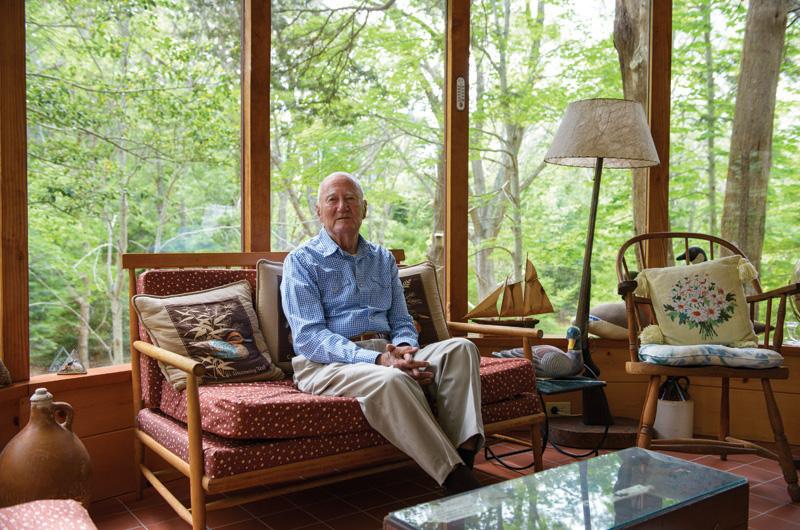 A native of Kentucky, she earned her private pilot's license while in college, then joined the WASPs in Texas for training, before assignments in California and Colorado. She and her colleagues faced some resistance from men virtually wherever they went.
"We were doing things that they felt they should be doing," she says, dressed in her blue uniform jacket with her silver service wings on it. "Some of them were really nice to us. Others wouldn't give us the time of day."
The discrimination was more than just a matter of niceness: technically, she and the almost 1,100 young women who served in the WASPs were not initially considered military veterans. Not until 1977 were they afforded military benefits, and in 2009 presented the Congressional Gold Medal, the highest civilian honor bestowed by Congress. "I'm glad we were allowed to do the service, and not hold back because we were women, and I think we opened up service for women," she says today. But in December 1944, with the end of the war in Europe at last in sight, the WASPs were simply disbanded and told to go home – at their own cost.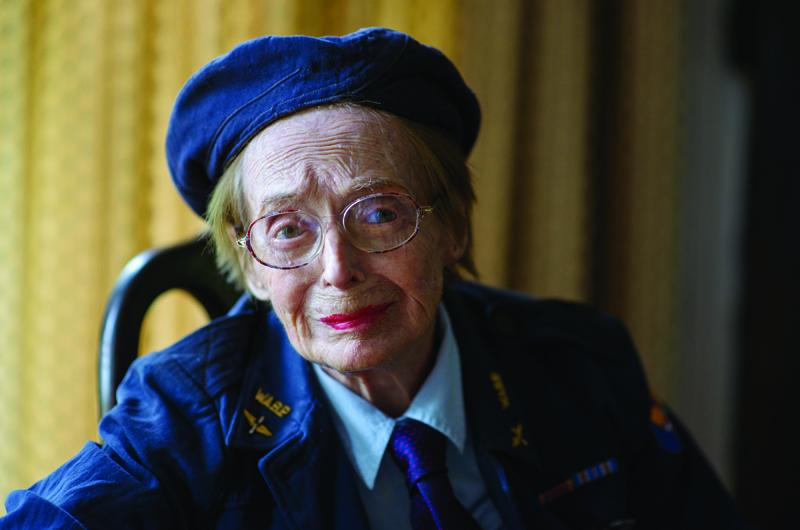 During the summer of 1945, after the war in Europe had ended, some anticipated what promised to be a long, bloody invasion of Japan. Instead, hostilities ceased after atomic bombs were dropped on Hiroshima and Nagasaki on August 6 and 9. Morgan – the former medic who eventually moved back to the Island and served as administrator of Martha's Vineyard Hospital and as an Edgartown selectman for more than thirty years – was in France at the time, preparing himself for a possible deployment to the Pacific theater, with the certainty that he was tempting fate with each successive jump into battle.
"I thought I'd beaten the odds after making four combat jumps and six battle campaigns in Europe," says Morgan. "I did beat the odds."
For Bob Falkenburg, who started summering in a family cottage in Oak Bluffs in 1962 and moved there year round with his wife, Jodie, about a dozen years ago, the day the war ended was one of joy – and of frustration. He was stateside at the time, stationed at Fort Knox, Kentucky.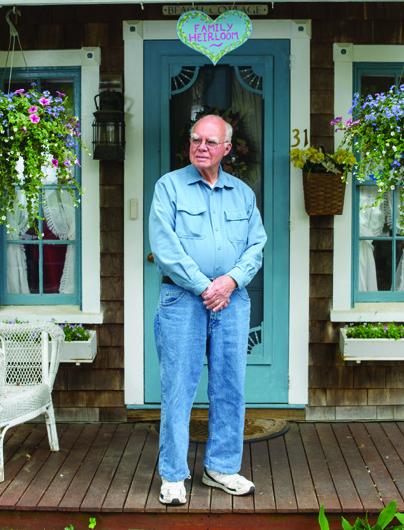 "It was a wonderful happiness and we were all slapping each other on the back as soon as we got the word about it," he says. "On the other hand, we were pretty glum because we couldn't leave the post."
He paused, laughed, and added, "Which was a wise move on the Army's part."
In characteristically stoic fashion, Bob Daniels says of his service in World War II, "I just did my job. It's the same as all of 'em – did their job." Likewise John Hughes, who eventually started the lobster hatchery on the Island, says, "I never got hurt, never got shot at. I was still young, in good health. I did what I was told to do [and] I grew up."
"I'll say one thing," echoes Morgan. "I think the war helped [me] because I learned to appreciate things more. I learned to appreciate people more. And because of my experience, I became a better person for it. I was just a youngster when I went in, but I was a mature individual when I came out."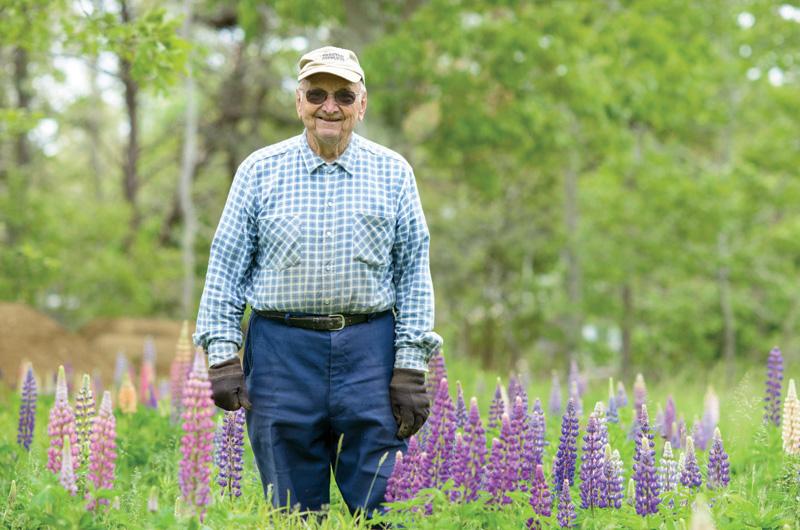 For Falkenburg, a relative youngster at eighty-eight, war's end was more complicated. While he was relieved that the conflict was over, he felt he hadn't had a chance to contribute by serving overseas. "I had been in the service, but what did I do to contribute? Not really much," he says. "At that time, they used to say for every guy on line, there were ten or eleven other ones doing other duties to keep the thing running. But it didn't feel right to me."
Perhaps it's the unfortunate inevitability of war, but even after the most destructive conflict in history, Falkenburg was called back to service just a few years later. There, on a remote Korean hillside, he barely sidestepped a bullet that had his name on it.