Tucked in the woods of West Tisbury, a stream of smoke rises from the chimney of a rustic workshop where Aaron Beck is transforming a small rectangle of unremarkable metal into something entirely different. He turns the crank of a coal-fired forge, fanning the flames as the metal turns red, orange, yellow, and finally white. Then to the anvil, where red and orange sparks fly as he uses a hammer to shape, bend, and flatten the stubborn metal. Willing it, morphing it, remaking it.
"The most interesting thing to me is that you can do that – you can take something that has a certain mass and you can change its shape," he said. "It's very similar to clay in that what you start with is what you end up with – you just move it around the way you want."
This "manipulation of mass," he said, is the core of blacksmithing.
For the past four years, Beck, who is thirty-five and makes his living as a carpenter, has been perfecting his skill in a trade that he was drawn to because of its rich history. "I wanted to reconnect with something that was more historical and more traditional and hand work," he said. He began in a customary way, apprenticing with blacksmiths across the country – in Montana, Wisconsin, and Mississippi.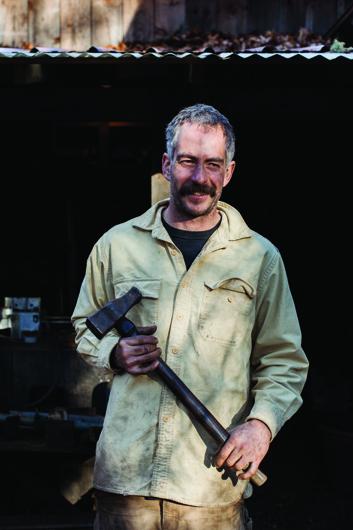 "They're all pretty gruff, but once you demonstrate a basic competence they warm up to you pretty quickly," he said of his various teachers. "You find these people all over the place, and without fail they all live very unique and interesting lives. They are very sharp and very individualistic people, so it's been a pretty cool journey."
Once he learned the basics of blacksmithing, he built his own traditional forge on the Island and began making basic tools to use in his carpentry and blacksmithing. With his mastery of
the art progressing, he is starting to create more custom pieces like bar rails and handrails, fireplace screens, and table legs for clients who generally find out about him through word of mouth. (To place an order, email handwroughttools@gmail.com.) Two years ago he also forged some parts for the Flying Horses Carousel.
"The same technology and the same competence that you can have to make a tiny and meticulous tool could be used to make a large handrail," he said. "There's a unique manufacturing capability that a blacksmith has. We can make something on short notice with very crude tools. We do custom really well. And that's something that's going out of American manufacturing."
Beck's connection and respect for traditional trades is evident in his skills: blacksmithing, carpentry, and even decoy carving. "Fifty years ago there was a lot more of this natural competence out there," he said. "People were more tied to how things were made and how to fix them, whereas now people think of things more as like a 'thing,' not how it became a thing.
"It is important to recognize that our role in creating an object is a gift," he added. "When the muses do not grant that the gift comes easily, or at all, one can get frustrated for sure. But generally the problem can be solved by a different approach and perhaps a bit more thinking." On the floor in a corner of his workshop sits a blue bucket filled with pieces that didn't turn out quite as he hoped. "I should have an art show with all of the things in the blue bucket," he joked.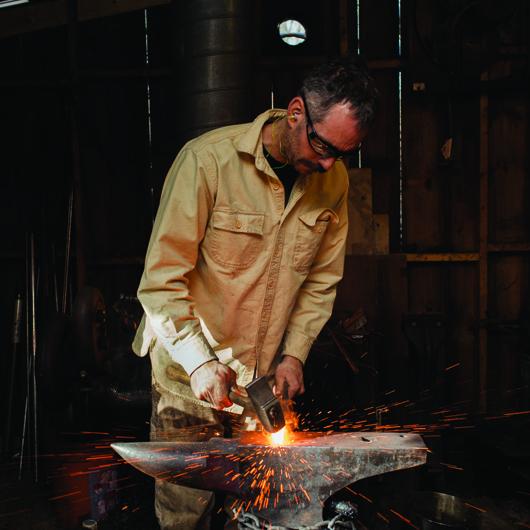 The bucket should not be confused with waste, however. "Blacksmiths have this underlying predisposition to hoard and scrimp and save and fix," he said. "I think it stems from the fact that a) they're not making a great living, but b) the thrift is in the fact that they can take a rusty old bolt and turn it into something. When you have that knowledge for yourself, and the manufacturing capability for yourself, you don't need a lot of stuff because it comes down to: I could make that and I could probably make it better – and I'd probably enjoy making it."
Making it slowly and thoughtfully, that is. "The thing about metal is that it takes a long time. I've found often when I've tried to share my passion with my friends that they are initially interested but feel like it's taking too long," he said. "It's hard to convey how hard it is to turn this bar into a pitchfork until you see it."
The other problem with newcomers to the art is that "no one knows what they want to make because they don't know what's possible," he said.
"But then you say: well... anything is possible."