Heather Maciel and I were sitting out on her back patio when her husband, Vince, wearing a sweatshirt that said kick some axe, came out with his laptop and said, "Hold on, you've got to watch this." Heather and Vince live in West Tisbury and run their own landscaping business. Heather is in her mid-forties, kind of laid-back, and attractive in an all-American girl sort of way; someone you might imagine talking to at a PTA meeting about Pinterest. But don't let looks deceive you – if Heather were on Pinterest, she'd kick its axe.
Vince is also in his forties and seems to keep himself in good shape. He's outgoing, gregarious, and at the moment he's fired up about what's being shown on his laptop:
"It's time for lumberjacks!" shouts a highly caffeinated guy with a buzz cut. Cue the heavy metal…quick cuts to axes flying, logs tumbling, chainsaws screaming – it's the Lumberjack Championships and IT IS ON!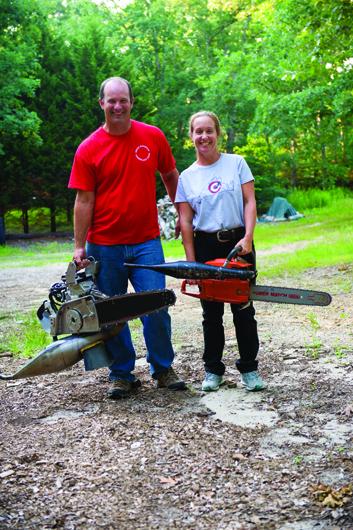 Lumberjack competitions are probably not on the radar for the vast majority of Americans, let alone Vineyarders. But for a small, ardent group of competitors, they're not just a sport, they're a way of life. Each year there's a full schedule of woodsmen competitions in the U.S. culminating in a national championship. This year the Stihl U.S. Timbersports® Championship was held in New York's Central Park. Still, other than Paul Bunyan, you'd probably be hard-pressed to name a lumberjack, but in countries like Canada and Australia, they practically put them on cereal boxes.
And well they should. To be a lumberjack – or lumberjill, as the women are called – it's not enough to excel in just one discipline. Most of these men and women compete in a variety of events ranging from axe throwing and log rolling to pole climbing, crosscut sawing, and chainsaw racing. It would be like saying to Bobby Orr, "Sure, you can score goals, but now let's see you do a triple axel."
So why is an Island guy like Vince, who grew up with parents who ran a marina, getting so revved up about lumberjacks? Actually, it goes back about twenty-five years to when Vince was first introduced to woodsmen events by a friend of his father's, the late Walter Ashley. "Walter brought me in," explained Vince, "and we travelled a bit to different competitions. But I had a mortgage to pay and young kids, so after a while it kind of took a back seat."
But then in 2008 he was at the Agricultural Fair and the woodsman bug bit him again. That year he and Heather helped run the woodsmen show and, as he put it, "I ended up doing the two-man crosscut saw event with Walter, and Heather and I did the Jack and Jill crosscut saw event – we had a lot of fun." The next year the couple took over organizing the woodsmen events at the fair, and Vince took the plunge and started to compete off-Island. He realized he not only enjoyed it, he was pretty good.
But he needed to upgrade his equipment. The fastest chainsaw engines were being built up in Canada by guys like J-P Mercier and Jean Simon Bertrand. "I ended up becoming friends with these guys," said Vince, "and they both said to me, if you really want to get good you have to come up to Canada to compete, and so that's what I did."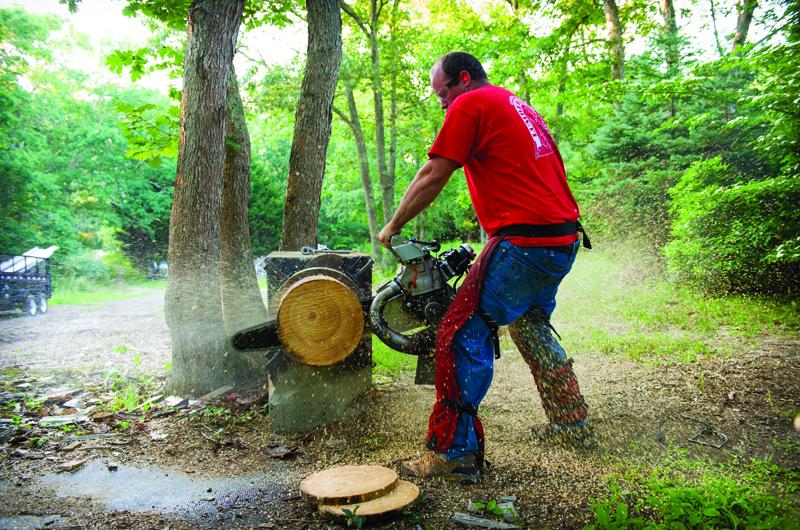 Not just occasionally, either: eight times in one summer alone. He was about the only American up there at the time and the competition was fierce. But that's where you could say he got his chops. It was also a pretty fun scene. "There were contestants from Spain, Australia, New Zealand – from all over," he said. "And there was a real fun atmosphere…there was rock music…they'd throw a beach ball around in the crowd… there were bars set up for the spectators… it was a party!"
Meanwhile, Heather was getting her own game together. By her estimation, as many as twenty percent of the competitors are women. They compete against each other; they compete in tandem with men in disciplines like the Jack and Jill crosscut saw; and in many disciplines they compete head-to-head with men. While Heather has won women's events, she has never won a men's event – but she came close. "Last year in Boonville, New York, I came in second to a guy in the chainsaw competition," Heather said. "I lost by two-hundredths of a second!"
Vince had a brush with greatness a couple of years back as well. It was at the Webster County Woodchopping Festival in West Virginia – or, as Vince calls it, the Daytona of woodsmen competitions. The event was modified chainsaw: twelve-inch round yellow poplar. Modified chainsaws, otherwise known as "hot saws," are big and loud and fast – imagine snowmobile engines with teeth – and they're a real crowd favorite. In 2013, Vince made three cuts with his hot saw in 3.75 seconds to set a new world record.
Vince has done his share of winning, including the 2014 New England Championship. But it's not like he's going to quit his day job. First of all, you can't support yourself being a professional lumberjack; the purses are too small and the expenses are too great. Even the acknowledged King of all Lumberjacks – Mel Lentz, or "Melvis" as he's known to his fans – has always had to have a part-time job to make ends meet.
Plus, it's becoming a young man's game. The three-time reigning U.S. Champion, Matt Cogar, is twenty-nine years old. Now in their mid-forties, both Vince and Heather can be competitive for years to come, especially now that there are more and more Masters categories. But to win at the highest level, you have to train every day and the travel can be exhausting – one year the Maciels competed in forty-five different shows around the country. With their own business to run, it's hard for the Maciels to make that commitment.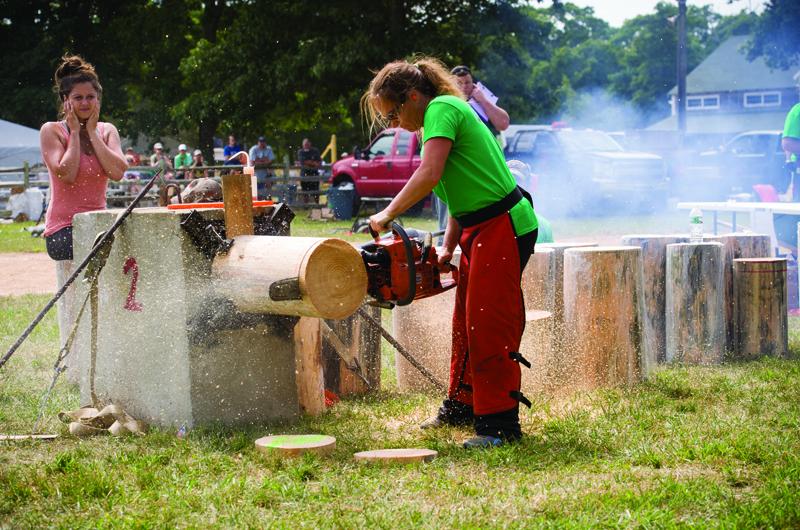 So if it's not the money, and it's not the fame, what keeps the Maciels competing?
"There's such a great community in this sport," Heather explained. "It's become a huge part of our life. We've gotten to know so many people and made so many friends – we go to weddings, birthday parties – and when it's time for the Ag Fair, sometimes we'll have around thirty people staying at our house."
Which is not to say there aren't a few bad apples. "It's like any sport," said Vince. "There are always going to be a few people who try to bend the rules – or sometimes they'll try to play mind games on you." One particular contestant would set up a camera on a stand and videotape Vince every time he'd compete. "He was just trying to get inside my head," remembers Vince. So Vince arranged to have one of his larger friends stand between himself and the camera.
Well played, Vince! And you thought being a lumberjack was just fun and games and Dinty Moore stew.