Islomanes," as defined by Lawrence Durrell in his 1953 book Reflections on a Marine Venus, are those who suffer a "rare but by no means unknown affliction of spirit." They are people who "find islands somehow irresistible. The mere knowledge that they are on an island, a little world surrounded by the sea, fills them with an indescribable intoxication."
Sound familiar? It does to jewelry designer Janet "Gogo" Ferguson, who has lived on islands for most of her life. A descendant of Thomas Carnegie (brother to American steel magnate Andrew Carnegie), she was raised outside New Bedford, Massachusetts, and spent summers and holidays with her grandmother on Cumberland Island, a forty-square-mile barrier island off the Georgia seacoast, most of which was purchased by the Carnegies at the end of the nineteenth century. And for the past twenty-five years or so, she has traded the hot summers of Cumberland for extended seasons on the Vineyard, a place she first visited with her huband, David Sayre, a former private pilot. "The Vineyard kept drawing us back," she said. Eventually they bought a home here, first in Vineyard Haven where she also has a boutique on Main Street, and then, about a year and a half ago, in West Tisbury. Both islands feature prominently as inspiration for her creations – nature-based jewelry, accessories, and home furnishings – that are loved and collected by friends, celebrities, and dignitaries alike.
To say that Ferguson is inspired by nature is an understatement, a little bit like saying the tides are inspired by the moon. Natural forms – from sea life to plant species to the skeletal shapes of woodland creatures – are as much a part of her designs as the metals and stones she uses to recreate them. Ferguson credits her sensitivity to and appreciation for the natural world to the experiences of her childhood on Cumberland, and most important, to the time she spent exploring the island with her grandmother, Lucy Ferguson
"I was incredibly inspired by my grandmother," she said when I met with her on the three-season porch of their West Tisbury home. "She really taught all of us how to look at nature in such a different way. She would teach us about the tracks on the sand dunes and who they belonged to, why they were moving the way they were, or how fresh they were. And looking at the tide line every six hours…." she mused, glancing through the porch window at the shores of Seth's Pond. "There are just such incredible gifts that come up every six hours with the tide."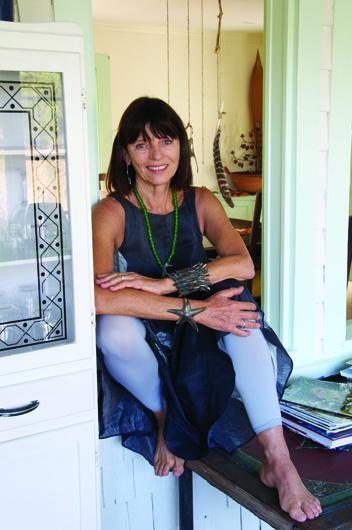 It wasn't just tidal treasures that Lucy loved. Ferguson and her grandmother spent the cooler months scavenging Cumberland's famous oak tree forests – the USS Constitution was built, in part, from Cumberland oak – looking for inspiration. "We would go horseback riding or hiking around the island and we were always adorning ourselves with a feather or some kind of bone that we'd tie on a string. That sort of sense of value for the beauty of nature was always with me."
That "sense of value" grew to define her creative process. A shell or a washed-up sea urchin would quickly serve as the foundation of a sketch, before it was molded into a pair of earrings, or a decorative pouf. Much of her jewelry is created through the art of "lost wax casting," a centuries-old process that relies on a core ensemble of talented craftspeople. The casting for Ferguson's designs is now done mostly in Mexico City, near her other home-away-from-home, in the artist community of San Miguel de Allende. But no matter where she is, Ferguson's process always begins with a walk on the beach. From her website: "Nature has perfected her designs over millions of years and the only improvement Gogo can make is to transform and cast them into wearable art."
Now a highly successful jewelry business, Gogo Jewelry began as a way for a single mother to make a life for herself while living on the island she so loved. After spending time in Washington, D.C., Ferguson returned to Cumberland around the time that her daughter Hannah was born in 1985, hoping to make the island their permanent home. She worked for a time at Greyfield, the nineteen-room, family-owned inn that was once home to her great-grandmother and has been the island's only non-camping option for visitor accommodations since the family sold or gave the vast majority of the island to the National Park Service in 1972. Though she had always felt the call to create, the motivation to sell her work came from a practical need.
"I went to art school and majored in textile design," she recalled. "I ended up taking a jewelry course, although I think it was more a determination of, 'How can I figure out how to make a living on Cumberland?' I decided I was going to put myself out on this limb and see if I could sell my jewelry."
She started by working on commissions for inn guests. It helped that since its opening in 1962, Greyfield has counted such celebrities as the late John F. Kennedy Jr. and Jimmy Buffet among its many visitors. (Kennedy and Carolyn Bessette were married there in 1996, and Ferguson designed the rings.) Still, business didn't take off right away.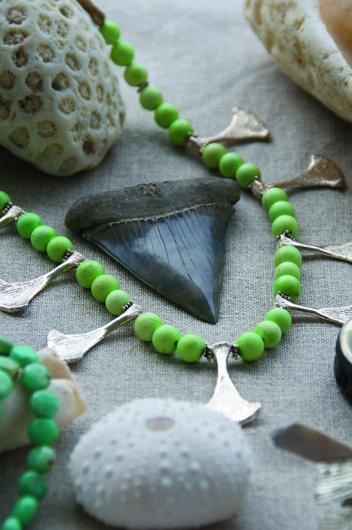 "It was slow going, but it was fine, because I was really there to raise my daughter," Ferguson said. A 1989 profile in People magazine put Ferguson on the map, however, and since then her jewelry designs have been worn by first ladies – Hilary Clinton and Laura Bush independently purchased the very same armadillo shell necklace. Hollywood also has come knocking on occasion, and recently Tomorrowland, starring George Clooney and Hugh Laurie, featured custom-made Gogo designs.
With newfound publicity and her pieces in high demand, life changed quickly for Ferguson, who was forced to bring a young Hannah, usually homeschooled on Cumberland, along with her on interviews and television appearances. "I had no choice and Hannah had no choice. She just had to ride on my back," Ferguson said, recalling brutal red-eye flights with her daughter in tow. "She'd literally fly out to L.A. in her pajamas, and she'd be in the dressing room sleeping on the floor, and then I'd give her to somebody in the audience to hold."
Hannah, who has occasionally dabbled in following in her mother's footsteps, now lives in England. But she, too, was influenced by Lucy Ferguson. "All of the women of that generation were very eccentric but very matriarchal and full of personality," Hannah recalled during a visit to the Vineyard. "They definitely used bones in personal adornment. With [my cousin] Lucy, I remember she would braid her hair and use shark vertebrae…"
"I think without even realizing they were designing something," Ferguson added. "When you're surrounded by nature you tend to incorporate it into your lives so much more. I mean, our house down there, you walk in and we have a giant whale mobile hanging in the living room. Our doorknobs are shark vertebrae. We have deer antler towel racks."
It's all part of a continual process of bringing as much of the natural world as possible into her life and work, with results that shift subtly when she finds inspiration here on her "other" island. Vineyard inspiration can be found in a number of Ferguson's classic pieces, including clam-and-mussel-shaped serving spoons and a 9-x-6-foot hanging wall sculpture inspired by New England seaweed that was included in a large retrospective of her work, "Gogo: Nature Transformed" at the High Museum in Atlanta, in 2013.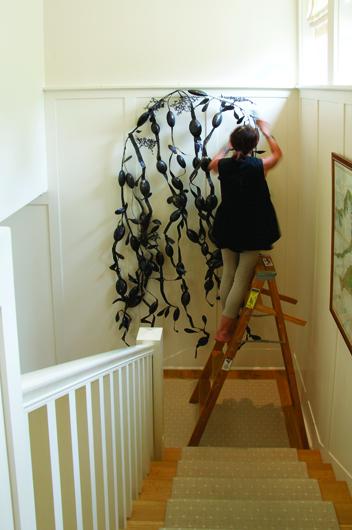 "We have many dear, dear friends here," Ferguson said of her seasonal life on the Vineyard. "It's in our blood." Living among friends and family is important to Ferguson, who grew up surrounded by beloved relatives, restored family homes, and antique heirlooms. But it's the history and natural beauty of her other island, Cumberland, that she credits with keeping the family close-knit. "We are now seven generations on Cumberland Island. It's a huge family. But if there was one thing I could say about what Cumberland has done, it's that it has kept our family so passionate and so close," Ferguson explained. "Most people don't even know their first cousins very well, but I know my fifth and sixth cousins."
"Life is so short, and family is so important," she continued. Family, she might have said, and nature – though for Ferguson there seems to be little difference between the two. Whether walking the shores of Cumberland or treasure hunting on Martha's Vineyard, Ferguson is constantly aware of how much she is fed, creatively, mentally, and spiritually, by her natural surroundings.
"To me, you can't extract humans from nature. The most important thing we can do for future generations is to teach people how to live on the land and protect it."