It began with a gut feeling. Chilmark writer Nancy Aronie is a firm believer in listening to her intuition, but on three separate occasions she ignored it. "Three people who didn't know each other flashed in front of me," she said. "And they all died. One of them was forty-three. I was devastated I didn't pay attention, and I vowed that the next person to pop into my head, I'm calling. It was Peggy."
"Peggy" was Margaret Howe Freydberg, the Vineyard-based poet and novelist who died this spring at age 107. Luckily for the rest of us, that tug at Nancy's subconscious led, circuitously but efficiently, to the publication in April of Poems from the Pond.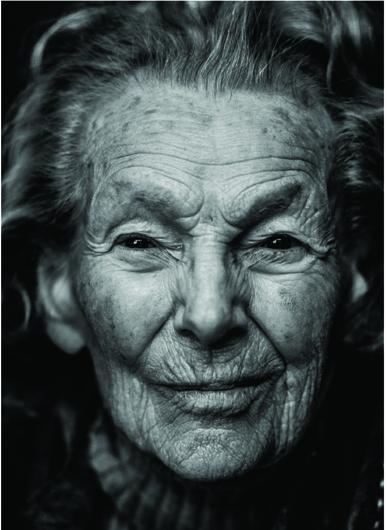 Aronie, who runs the Chilmark Writing Workshop, had been aware of Freydberg and her work for years, and often wished she'd had the chance to know the poet better. "I met her a long time ago," Nancy recalled. "Maybe twenty years, at the Women's Symposium in Chilmark. She read her poem 'A Letter To My Family, Explaining How I Feel About My Cats,' and I loved her. She was older than me. We really connected. But then, life takes hold, and nothing happened."
When Aronie finally got in touch, she asked Peggy if she could bring a poet friend to visit. They hoped to hear some of their favorite poems read aloud, but upon arriving at Peggy's home near Stonewall Beach, it became clear that Peggy, who had begun to suffer the effects of macular degeneration, would not be the one to read them. "We read to her," Aronie remembered. "It was more thrilling to watch her hearing us read."
Freydberg's first novel, of an eventual six, was published by Harper & Brothers in 1952. In 1998, her memoir, Growing Up in Old Age came out. But she didn't start writing poetry until the tender age of ninety. Reading the verses aloud, Aronie was moved yet again by the power of Freydberg's writing, its simplicity and honesty, the timeless themes of love, relationships, and growing older. She asked the elegant centenarian why she wasn't more famous as a poet. She replied, "I don't know. I would've liked that," and in an instant, Aronie knew what needed to be done.
And so it was that one evening last fall, a group of about thirty people gathered in the studio behind Aronie's house for an intimate reading of Freydberg's poems, presided over by the poet herself. The day of the reading, Aronie heard from another Chilmark neighbor, the author, producer, and environmental activist Laurie David.
"I emailed Nancy and said I really wanted to come," David remembered. Though she lives most of the year in Los Angeles, David had started spending more off-season time on the Vineyard. "I walked into the studio, I didn't know a single person there," David recalled. "I sat in the back and my jaw dropped as these poems started being read." Now it was David's turn to know just what needed to be done. "I said to Nancy, 'This deserves wider attention. We have to do a book. We have to do a book that's worthy of the words themselves.'"
Aronie brought David to visit with Freyberg, and soon the women had formed an unlikely friendship, one that spanned generations and, as David traveled back and forth to the West Coast, a continent. David, co-author of the cookbooks The Family Dinner and The Family Cooks, as well as the environmental handbook The Down-to-Earth Guide to Global Warming, could have connected Freydberg to a major publisher, but decided instead to publish the book independently. "It takes so long when you're working with a publishing house, and I wanted Peggy to see it in her lifetime."
Freydberg died shortly before the book's official publication date, but she was able to see and participate in much of the project as it came together. There was never any question that her poems – which have appeared regularly in the Vineyard Gazette and which she self-published in two small earlier volumes – would speak for themselves. The poet Billy Collins has called Freydberg "a secret I'm dying to whisper to lots of other people."
But David wanted a more comprehensive volume than the traditional chapbook. To this end, the poems are bookended by photos, essays, notes, and correspondence. There is also a tribute by fellow Chilmark poet John Maloney, originally written in honor of Freydberg's 100th birthday. "I wanted the book to tell a story from beginning to end," said David. "Once you read the poems, you want to learn more about her."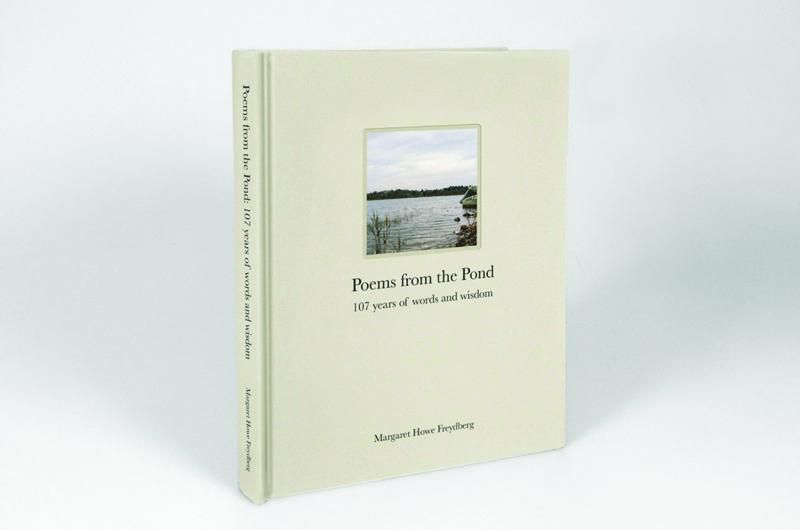 Chorus of Cells
Every morning,
even being very old,
(or perhaps because of it),
I like to make my bed.
In fact, the starting of each day
unhelplessly,
is the biggest thing I ever do.
I smooth away the dreams disclosed by tangled sheets,
I smack the dented pillow's revelations to oblivion,
I finish with the pattern of the spread exactly centered.
The night is won.
And now the day can open.
All this I like to do,
mastering the making of my bed
with hands that trust beginnings.
All this I need to do,
directed by the silent message
of the luxury of my breathing.
And every night,
I like to fold the covers back,
and get in bed,
and live the dark, wise poetry of the night's dreaming,
dreading the extend of its improbabilities,
but surrendering to the truth it knows and I do not;
even though its technicolor cruelties,
or the music of its myths,
feels like someone else's experience,
not mine.
I know that I could no more cease
to want to make my bed each morning,
and fold the covers back at night,
than I could cease
to want to put one foot before the other.
Being very old and so because of it,
all this I am compelled to do,
day after day,
night after night,
directed by the silent message
of the constancy of my breathing,
that bears the news I am alive.
Proceeds from the book will go to the Margaret Howe Freydberg Scholarship Fund, set up to encourage Vineyard poets to pursue their work. In the spirit of Freydberg's relentless passion and enduring literary gifts, writers may apply at any age.