In 1941, when Loïs Mailou Jones entered her iconic painting Indian Shops, Gay Head, Massachusetts in a competition at the Corcoran Gallery of Art in Washington, D.C., she had a friend submit the work. At the time Jones was already a graduate of Boston's School of the Museum of Fine Arts, a professor in the art department at Howard University, and the creator of such award-winning paintings as Les Fétiches, which she completed in Paris in 1938. But African Americans were not allowed to enter the contest, so she had a white friend bring the painting to the gallery. And when it won the top prize, she had the award mailed to her to keep her identity a secret. A half a century later the museum publicly apologized to the artist at its reception for her 1994 solo exhibition, The World of Lois Mailou Jones.
The artistic world of Lois Mailou Jones began on Martha's Vineyard. "It all really started on this Island," she told Martha's Vineyard Museum's oral history curator Linsey Lee in 1993. "As a matter of fact, it started at Menemsha. I loved the little fishing boats." Art lovers on the Island were thrilled to learn, therefore, that four works by Jones are joining the permanent art collection of the Martha's Vineyard Hospital. The gift, facilitated by Chris Chapman, MD, of the Chapman Pharmaceutical Health Foundation, includes three signed silkscreens of various subjects and a watercolor of the Polly Hill farm in West Tisbury. Also, next summer the Martha's Vineyard Museum is planning an exhibit on the life and work of the painter.
One hundred ten years after her birth, Jones is, with the possible exception of Thomas Hart Benton, the most acclaimed artist closely associated with the Island. But as the story of the Corcoran contest shows, her road to recognition was significantly steeper than that of Benton, who was, after all, the great-nephew and namesake of a powerful United States senator. As an African American painter and a woman coming of age in the 1920s and 1930s, the odds of making it in the white, male-dominated world were nearly nonexistent. Yet Jones possessed a rare combination of skill and tenacity in measures large enough to surmount even the greatest hurdles. Over ninety-two years, she harnessed every resource available to become one of the twentieth century's most prolific and respected artists.
Jones was born in Boston on November 3, 1905, to Thomas Vreeland Jones and Carolyn Dorinda Adams Jones, joining an older brother, John, nine years her senior. She said her artistic gifts came from her mother, a beautician and hat designer who was her staunch advocate and mentor. Her father was the superintendent of an office building across from city hall in Boston where the family lived on the top floor for thirty years, during which time he completed night classes to become the first black graduate of the Suffolk University Law School in 1915. "I think that much of my drive surely comes from my father," she told art historian Tritobia Hayes Benjamin. "Wanting to be someone, having an ambition."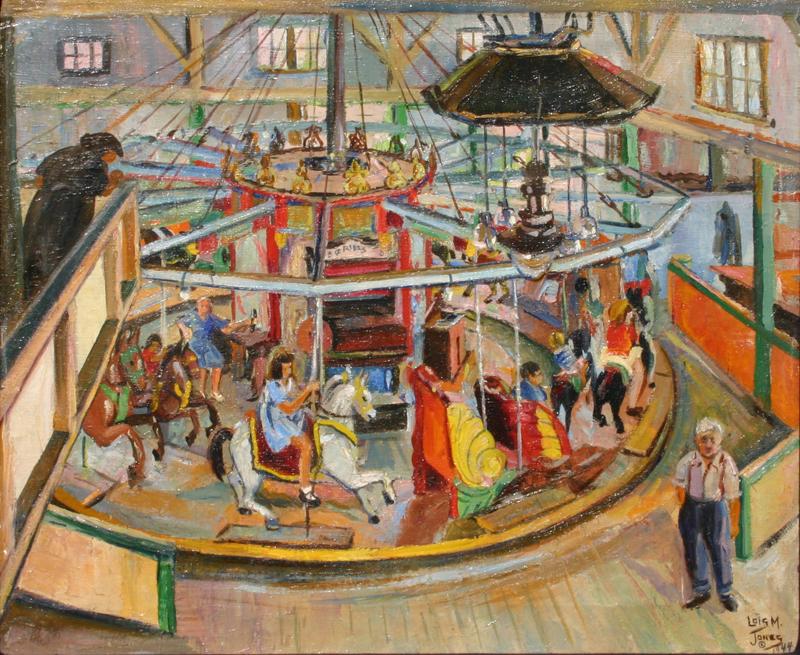 From early on she spent summers on Martha's Vineyard, where her maternal grandmother, Phoebe Moseley Adams Ballou, had begun the family tradition of summering in the late 1800s. Ballou worked as a nanny and housekeeper for the Hatch family, and was one of the first African American summer residents of the Island. According to Jones's nephew Robert Wesley Jones, Ballou agreed to come to the Island only if she could bring her children along.
The artist later told Linsey Lee her grandmother was treated like a member of the Hatch family. "That is, she ate at the same table and they loved her really. She was with them for many, many years and she had much foresight because she bought a lot of land in Edgartown and that was very unusual in those early, early days for a woman of color to do that."
Jones's mother maintained the family tradition of summering on the Vineyard after her marriage to Thomas Jones, renting a duplex on the harbor in Oak Bluffs, adjacent to where Our Market stands today. They shared the residence with the family of Dorothy West, Jones's childhood companion and lifelong friend who went on to become a well-known author, essayist, and publisher associated with the Harlem Renaissance. Family lore has it that the duplex caught fire during a rollicking game of bid whist on the second floor, and that Jones's father ran back into the burning house to rescue her brother. Following the loss of their rental home, the Joneses purchased a cottage on Pacific Avenue in Oak Bluffs, a Victorian the family owned until recent years.
The house on Pacific Avenue was the scene of Jones's first art show. From the time she was a toddler, her parents furnished her with a large inventory of art supplies, including paints, crayons, colored pencils, and watercolors. With these she drew and painted the world around her and created illustrated storybooks. The summer she was fifteen, her mother pinned her watercolors of the Island to the clothesline in the yard and invited neighbors, friends, and passersby to view and purchase the works. Her second show took place two summers later in the garden of Mrs. Henry A. Ritter's home in Vineyard Haven, next door to what is today the Mansion House hotel on Main Street. Among the accomplished African Americans she met on the Island in those years were the sculptor Meta Warrick Fuller, who studied with Rodin in Paris, and Harry T. Burleigh, a classical composer. Both urged her to go to France where, they said, she'd find fewer racial barriers.
Meanwhile, she cherished what she saw as an escape from "the smoke and tar of Boston to the ocean, daisies, and buttercups of Martha's Vineyard." It was, she said, where her "life in art really began." This isn't to say she was a self-taught summer painter. Far from it. Armed with the encouragement of her parents and the city of Boston's commitment to a liberal and practical education for its youth, she attended the High School of Practical Arts, where she won scholarships to attend after-school classes at the School of the Museum of Fine Arts, in Boston. Six days a week from 1919 to 1923 she made the long walk to the museum school, often stating that she made the museum her "home." She also apprenticed herself to a Boston-based costume designer who taught her to create African masks, the shapes of which later appeared prominently in her paintings of the 1930s and again in the works of her last decades.
Following high school, she continued with a scholarship to the museum school, where she was the only African American enrolled among more than one hundred students. She took evening classes at the Massachusetts Normal Art School (now the Massachusetts College of Art). In 1926, she graduated with honors from the Museum School, and immediately began graduate work at the Designers Art School of Boston where she studied textile design.
In short order, she became a successful independent designer of fabrics and textiles, taking her portfolio around and selling designs to top manufacturers, such as F. Schumacher of New York and F.A. Foster of Boston. It was enjoyable work, and on several occasions she startled employees of furniture stores across the region by pointing out that the fabrics on sofas or chairs in the showrooms were her designs. But when a manager in a Rhode Island shop replied, "You could not have done that – you're colored," she vowed from that day forward that she would sign anything she created.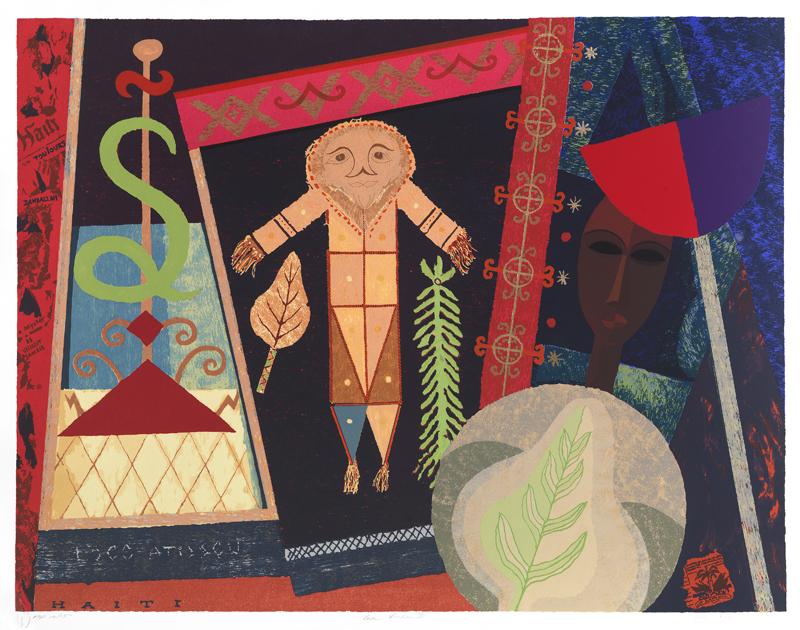 "The designs were printed and sold all over the U.S.A. but my name was never mentioned," she said sixty years later to Chapman, a close friend she often referred to as her godson. "As it was my wish to go down in history as a 'painter,' I decided to paint."
With her goal of returning to painting, Jones applied to her alma mater for a position as an assistant. The director of the graduate assistant program at the School of the Museum of Fine Arts acknowledged her academic successes and artistic talent, but flatly turned her down. "Go South and help your people," he advised.
Painfully aware that opportunities for black women were scant in the Boston art world, she accepted the suggestion and took a position teaching art at one of the country's first preparatory schools for black students, Palmer Memorial Institute in Sedalia, North Carolina. Less than two years later, however, she was recruited by James V. Herring, founder and head of the Department of Art at Howard University in Washington, D.C.
In 1930, at the age of twenty-five, she began a career as a professor at the university, where she remained until her retirement nearly fifty years later.
She was a passionate teacher and loved the work, saying: "My association with my pupils kept me young in my work and kept my interest in painting fresh and ever renewed." As important, the stable position at Howard enabled her to travel and develop her own skills. In 1937 she received a fellowship to spend her first sabbatical at the famed Académie Julian in Paris. Seventeen years after hearing on Martha's Vineyard that she should go to France, she seized the opportunity to spend a year of study and craft, working under many of the leading French painters of the day. It was a defining moment.
"It was just shackle-free," she told Charlayne Hunter-Gault a half-century later on the MacNeil/Lehrer NewsHour. "I was able to live freely, to go to any restaurant, to go to any theater, all of the galleries, and to exhibit in the museums, the leading galleries."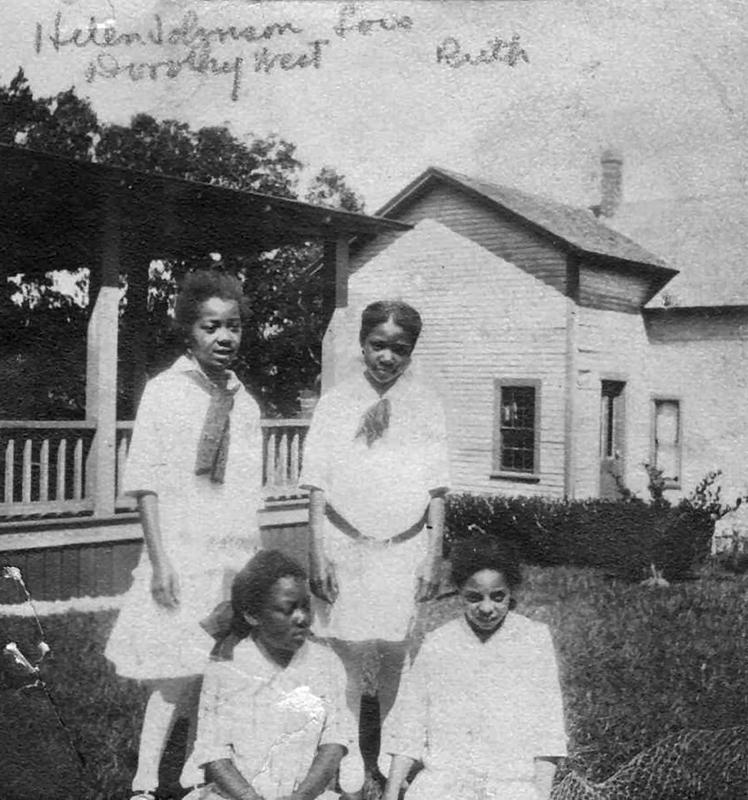 Freedom was productive, it turned out, and Jones created more than forty works during her sabbatical. Concentrating on oils for the first time, she painted still lifes and street scenes in Impressionist and Post-Impressionist styles.
Though inspired by French masters Monet, Cezanne, and Utrillo, Jones was beginning to gain recognition for her own interpretation, employing sensuous color, both paintbrush and palette knife, and a painting mode that synthesized her classical training in Boston and her immersion in European art. She became the only black female painter of the 1930s and 1940s to achieve recognition in Europe, and the earliest whose subjects reached beyond portraiture. As the first of many trips to Paris throughout her long life, the sabbatical sharpened her vision of her future as a significant American artist.
Soon after her return from France, Jones began methodically building a reputation in the U.S. While often prohibited from exhibiting her work in whites-only competitions and venues, she either mailed her submissions or asked white friends to deliver them. Once she began to amass an impressive array of awards, she went public with her identity. Gradually, museums and other institutions relaxed their restrictions, enabling her and other black artists to openly submit work and win awards.
She also moved toward a more overtly African American subject matter. She often depicted black people and African symbols in paintings and illustrations in the 1930s, but her colleague and friend at Howard University, the philosopher and poet Alain Locke, was imploring artists of color to create a "vigorous and intimate documentation of Negro life itself." In response to his entreaty, she created a series of works in the late 1930s and 1940s that focused more on the black experience, including one of her best known paintings, Mob Victim (Meditation), a 1944 depiction of a black man, hands bound, gazing skyward as he awaits his lynching.
"Married to her career," is how she described that period of her life. Until 1953, that is, when she married the accomplished Haitian graphic designer Louis Vergniaud Pierre-Noël, whom she had met decades earlier while they both attended summer classes at Columbia University. "That was the beginning of our romance," she explained to Lee in 1993, "and we had a lovely summer. Then it was time for me to go back to Washington, D.C., and I remember Pierre-Noël...giving me a photograph which I always kept on my dresser."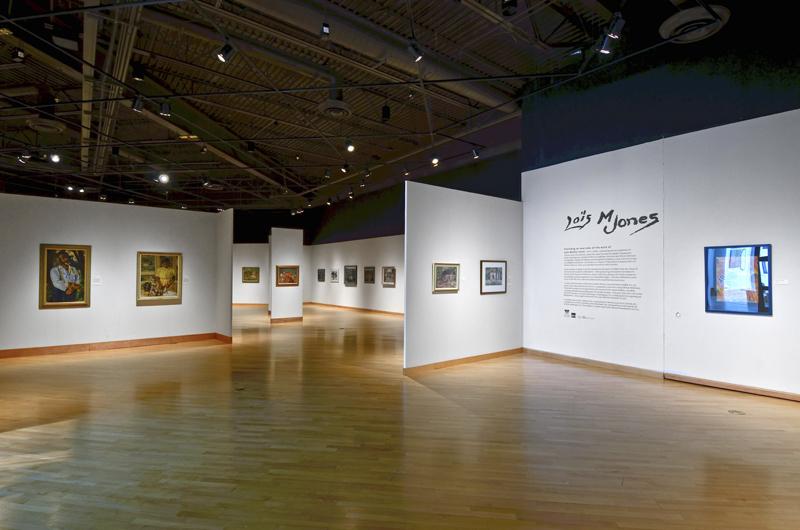 Twenty years later, just as her mother was visiting her in Washington and cautioning her not to end up with only paintings to keep her company, tall, handsome Pierre-Noël knocked at the front door. "Have you married yet?" he wanted to know. The response from Jones was an emphatic, "No, have you?" They wed shortly thereafter in the south of France.
They divided their time between Washington, D.C., the Vineyard, and Haiti. From her first visit, she fell in love with the Caribbean island and its people, embracing the vivid palette and energy of the place, as well as its cultural ties to Africa. Haiti, she said, changed her art, her feelings, and her life. It provided a bridge to a new phase of her work, drawing more on the Cubist and ultimately abstract perspective, her design skills, and passion for color, blending the country's religious and ritualistic elements to create a style that was uniquely her own.
In a strange twist, Bruce Blackwell and Brandy Wight, owners of the Granary Gallery in West Tisbury from the 1970s to 1996, represented Jones's work and enjoyed traveling to Haiti to purchase local paintings that they could then sell back on the Vineyard. They developed a friendship with Jones and Pierre-Noël, spending time with them on both islands. But in 1980, their relationship took a dramatic new turn.
"The Tonton Macoutes [Haitian Secret Police] stormed our apartment and held me for ransom," Blackwell explained. "We had to pay a thousand dollars to get my passport and exit visa back. We called Loïs and she insisted that we come and stay at her house until we could catch a flight back to New York. She put herself in danger offering us a safe haven." Nearly thirty-five years later, Blackwell's voice still shakes with emotion as he recalls the terrifying incident and the long week of lying low before the next flight back to the U.S. "Lois saved our lives."
A tireless traveler, in the 1970s Jones completed two major tours of Africa, lecturing in each large city she visited and serving as a cultural ambassador for the United States Information Service. Characterizing the journeys as a "revelation and a rich experience," she was struck in particular by the ways in which African art influenced the works of the African American artist. "I feel that Africa, black America, and Haiti are one," she said.
Until the end of her life on June 9, 1998 at the age of 92, Jones returned to the Vineyard each summer to recharge and reconnect with family, friends, and the settings that were so instrumental to her early inspiration. "I'd load her car with her paintings and drive her up to the Vineyard from Washington, D.C., at the beginning of each summer," said Chris Chapman. "She would talk about her life and art, giving me a graduate school education as we traveled."
Her first stop upon arrival in the evening was often Le Grenier restaurant, where she could enjoy the French cuisine she had come to love during her visits to Paris. Chiding Chapman for not wearing a tie to dinner, she would say, "When you go out with Lois Jones, you dress up."
"She was like a teenybopper," he added. "She went to all the parties. She went to dinner. She was out every other night. She liked to go to the beach with her niece, shop, have a glass of wine, watch TV, and read The New York Times. She kept up with entertainers like Whoopi Goldberg, Oprah, and Spike Lee. Some even came to see her."
Unremitting in her productivity, by the final decades of her life her groundbreaking work was finally garnering some measure of the critical attention it merited. Today her paintings hang, among other places, in the Metropolitan Museum of Art, the National Portrait Gallery, the Brooklyn Museum, the Phillips Collection, the Museum of Fine Arts in Boston, the Smithsonian American Art Museum, the National Museum of Women in the Arts, the Hirshhorn Museum and Sculpture Garden, and, most recently, the Martha's Vineyard Hospital. Honored by President Jimmy Carter at the White House in 1980, she also helped President Bill Clinton and Hillary Clinton select the watercolor Breezy Day at Gay Head from the Granary Gallery in West Tisbury in 1993 for display in the White House.
But her hard-earned recognition never went to her head. Laurence Holland, Jones's great-nephew, remembers her as "a lot of fun and never pretentious." While he understood she was a well-known artist and professor, he said: "She was just Aunt Loïs to us. She was a very down-to-earth person. She believed that family was important."
Her nephew Robert Jones added that she would arrive on the Vineyard and immediately head to Menemsha. "She loved the boats," he explained. "She'd leave in the morning and come back late in the afternoon."
Lois Mailou Jones is buried in Oak Bluffs, just a few steps from the family home on Pacific Avenue. Despite all her travels, there was never any question where she would end up. "I just had to come to this Island," she told Lee. "It does something to me spiritually, emotionally, health-wise, and it really gives me my start for the winter season. I mean there is something about this Island that is very important I think to my life….My brother and my mother are buried in the cemetery here. I think there is a little place for me; there is a place for three in the Oak Bluffs Cemetery. But I still have a lot to do. As my friends say, 'Lois, you are going to make it to one hundred.'"
Unfortunately, she didn't. But she is by no means forgotten, on the Island or around the world of art. And by her own standards, she can surely rest easy. Asked by Hunter-Gault how she would like to be remembered by history, she replied:
"Certainly as a person who has dedicated her life really to helping the younger generation of our blacks...and I have done that, to guide them, to lead them. In history, the paintings that I leave behind I hope will find their place as a contribution to American art in the broadest vein of it, and to really go down in history as an American artist who has made a mark in life, who has achieved."
The writer wishes to thank the many experts, family, and friends of the artist who made this story possible. Part of Linsey Lee's interview with Jones is at mvmuseum.org/oralhistory/Lois_Mailou_Jones.php.