No, Chilmark is not Chamonix, and Oak Bluffs is not Oberlech. Nor either is Tisbury Telluride. And God knows Edgartown is not Aspen, despite what the price of real estate and club memberships might lead you to believe. The Vineyard, taken as a winter resort, might not even be Wachusett, though it's worth noting that Wachusett has snowmaking and that's kind of like cheating.
All that is true and has been dutifully fact-checked. But look in the basement or the back hall closet of more than a few year-round Island homes, behind the hibernating croquet sets and the slumbering bocce balls, and you might just find a well-used sled. Or a pair of ice skates.
And if there are skates or a sled, there are likely to be some cross-country skis. Maybe not the latest and greatest cross-country skis; an old pair of woodies with some Nordic nonsense on their tips and three-pin bindings will do nicely as long as the shoes still fit.
Snowshoes, on the other hand – and there are snowshoes north of the Great Ponds in the upper altitudes of moraine country – are more likely to be the newfangled, lightweight, and relatively inexpensive sort. They were most likely picked up for 40 percent off on the way home from
the February school break at Loon or Cannon, Rangely or Bretton Woods.
And do not forget the kings of them all. They are rarely seen, and are spoken of in reverential and wistful tones by those who were there at Squibnocket Pond that last time they appeared, or even the time before that, but they are real. Ice boats: crazy fast creatures that seem at once futuristic and vintage. And howling – no, yowling – good fun.
Winter sports are a not-so-secret pleasure of Island life in the season between late fall beachcombing (or deer hunting, if that's your kind of thing) and the thrilling arrival of snowdrops. All the more so because the appearance of ideal conditions – ice that is solid and smooth and not snow-covered, snow that sticks around but isn't too sticky – cannot be predicted or promised. Only anticipated and prepared for.
The Island winter athlete, therefore, is more likely to be a generalist than a specialist. Not fussy about conditions, picky about equipment, or secretive about locations, above all we happy few are ready to drop everything and beg, borrow, or forage for gear that will work for today and go, go, go.
For as the late great Stan Hart captured so well in his 1978 essay reprinted here, the most unforgettable days cannot be planned for in advance. - MVM
Sledding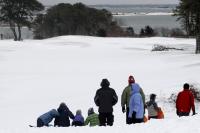 There's nothing quite like waking up to a fresh blanket of snow on the ground, the flash of school closings on the news, and the race to pull your trusty sled out of retirement and head to your favorite hill. After all, if you want prime sledding real estate, you've got to hit the hill early. With only a handful of spots and throngs of children to populate them, the supply and demand ratio on the finest winter days can easily be thrown out of whack.
Arguably, the most popular sledding locations are Sweetened Water Farm in Edgartown and the Tashmoo Overlook in Vineyard Haven. The third hole at Farm Neck in Oak Bluffs offers a steep incline and views of Sengekontacket Pond – a perfect backdrop for your hot chocolate break. Parking is limited, though, so while the crowds are smaller, the early snowbirds get the best runs.
For the more adventurous and older crowd, the hill by the Tashmoo boat launch, at the end of Lake Street in Vineyard Haven, and Blacksmith Valley, off of State Road in Chilmark, can satiate any daredevil's appetite. Pre-plow, Lake Street offers a steep incline for those who like to go fast. As for Blacksmith Valley, get your adrenaline pumping as you attempt one of the larger jumps.
Pond Skating
The sandlot version of hockey? Easy – frozen pond, milk crate goals, and old leather skates. Whether you're there to pass the puck or practice triple salchows, nothing beats an outdoor skating "rink."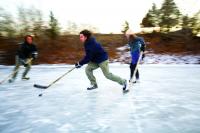 When freezing temperatures stick around long enough for ice to thicken, it's time to grab the shovels, skates, and hockey gear and head for fresh water ponds. Duarte's, Seth's, Mill, and Parsonage Ponds – all in West Tisbury – are popular, with the super shallow Parsonage Pond a best bet as the first to freeze.
In Edgartown, Jernegan Pond, Sheriff's Pond, and John Butler's Mud Hole offer a quieter skating experience, while Crystal Lake in Oak Bluffs has a front-row view of the ferries coming into Vineyard Haven harbor.
Before the fun can begin, though, make sure that the ice is safe. Walk around the edge, listening closely for the sound of cracking. And steer clear of brackish ponds – they rarely freeze.
Most important, always bring a buddy with you. If someone does fall through, call 911 and keep the person calm until help arrives. If you're feeling nostalgic, bring your own pair of "ice picks" – nails driven through wooden handles that can help pull you from the hole.
Skiing/Snowshoeing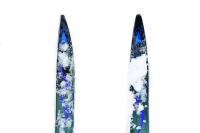 Winter-weary trails come alive again when topped with a fresh blanket of snow, the untouched pathways an inviting course for a cross-country workout.
If you're looking to not break too much of a sweat, stick to flat areas. Any of the public beaches, golf courses, or even Felix Neck Wildlife Sanctuary in Edgartown and Quansoo Farm in Chilmark can be good starting points for the less experienced skier. And, of course, the state forest is full of flat trails and fire roads. But if a double black diamond terrain is more your style, head up-Island to Waskosim's Rock Reservation in Chilmark or Gay Head Moraine in Aquinnah.
The Trustees of Reservations, Martha's Vineyard Land Bank Commission, and Sheriff's Meadow Foundation all manage trails that are ideal for cross-country skiing. Rarely disturbed dirt roads and secret family forest trails can also do the trick.
Ice Boating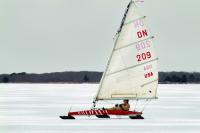 Back when the Vineyard regularly experienced much colder winters than what we generally see today, the bigger ponds froze over and the amazing spectacle of boats zipping across at breakneck speeds took place.
People oohed and aahed from the shore and out on the ice as what appeared to be average sailboats, only with runners underneath, skated past at speeds up to sixty-five miles an hour.
Hugh Taylor of Aquinnah has been involved in ice boating on the Vineyard since the late sixties. He recalls "loping along on Squibnocket Pond, no other person in sight, on a hundred year old ice boat. [It's] as close to religion as I'll ever get."
The sport was even popular enough that a fleet was created – the Squibnocket Ice Rocket Association. The group, which Taylor was a part of, would get together and race each other over the ice. And maybe offer a ride or two to interested observers.
Although it's been at least a few years since ice boating was experienced on the Island, the boats and their captains are patiently waiting for the next major freezing to occur so they can get back out on the ice.
Snowkiting
Let's go fly a kite? Why not – the wind works just as well (and maybe even better) in the winter. On blustery days kiteboarding enthusiasts trade in their water-friendly boards for snowboards. "We try to seize those small windows to go kiteboarding on the snow," says Nevin Sayre of Vineyard Haven.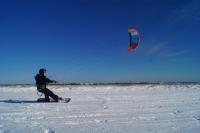 As long as you have your kite, a dependable pair of skis or snowboard, and a helmet (of course), head for...uh, well, er...let's just say it's a flat open space out on the outwash plain.
Ice Fishing
If you don't have the patience to stake out a spot on a frozen lake for hours on end, ice fishing might not be for you. Cold tolerance is also a good trait to possess. And a buddy or two isn't a bad idea. As with pond skating, there is safety in numbers.
Trevor Maciel of West Tisbury likes to be well prepared for a full day of fishing. "I have a sled that I pull around with my tip-ups, jigging rod, bait, auger" – essentially a giant corkscrew used to cut a hole in the ice – "and food. And of course an ice pick in case I fall in."
Ice that is four inches thick or more is your safest bet. From there you set up the tip-up above the hole. A flag attached to the tip-up goes into the air if you have a fish on. Perch, pickerel, and large mouth bass are the most common fish to catch, Maciel says. "Some trout, too, but very rarely."
Seth's Pond in West Tisbury and Fresh Pond in Oak Bluffs are favorite locations for the local ice-fishing crowd. But pretty much any pond that freezes over can work – just be sure you know where the fish tend to be. Or be prepared to wait till spring.