They're easy enough to find. Check the high school soccer field in the fall and the broad grassy spread of Veterans Park in the spring. Look for the quick passes and the grinding defense, the hustle and the anticipation of every move their teammates make. It's not that they make soccer look easy, but rather they have an uncanny ability to channel their combined effort into something greater than its parts. So watch the scoreboard, too. Its numbers change slowly, as numbers do in soccer, but they are nearly always in favor of the Vineyard team.
It started in their first travel soccer season. They were playing in the under-11 age bracket. They won their first-ever game 5-0 and never looked back. First season jitters? Nope. The team earned a league championship, then came in second place in the postseason state tournament. They were playing teams a year older than they were, because there was no tournament for U-11s.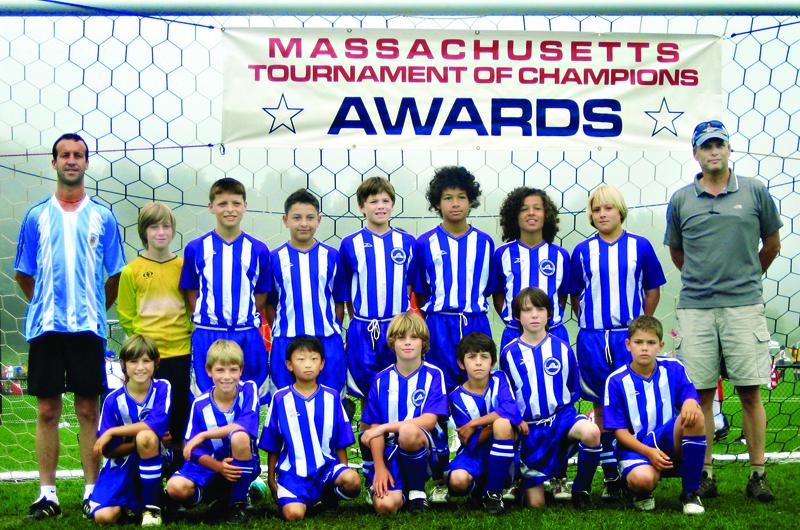 Four years later they won it all, again playing up. And they did it again this past year, taking five games in two days without allowing a single goal. They've made it to the finals every year but one since they first started. The boys are now in the under-18 bracket. They're going into their senior year of high school. This will be their last fall and their last spring of playing together.
Some faces on the roster have changed over time – some discovered other interests as they entered high school, others took their passion for soccer to another level off-Island. Some play only in the spring. But the core group has been the same since 2008: Colin Cameron, Lee Faraca, Yannick Gonsalves, Alex Gordon-Beck, Elie Jordi, Jason Lages (the lone junior on the squad), Ben Poole, Matt Stone, Gordon Moore, and Ryan Uva. Later, they were joined by Brandon Dwane, Noah Kleinhenz, Tim Roberts, and twins Arthur and Peter Ruimerman.
They've been together a long time, these boys of fall and spring.
Their travel soccer coaches, Esteban Aranzabe and Matt Poole, have been working together even longer. The pair first started coaching shortly after Aranzabe arrived on the Vineyard from Uruguay in 2002. He had coached soccer since he was seventeen years old; in 2010 he told the Vineyard Gazette that when he coaches a team, he likes to stay with the group from when they are very young until "the next step," be it high school
or college.
Initially, Aranzabe and Poole worked with an older group of players, but when Poole's younger son, Ben, started playing the coaching duo began working with Ben's age group instead. Before high school, the boys played recreational soccer together in the fall. In the winter, they worked out at the Martha's Vineyard Boys & Girls Club. Spring is when they truly shined: four undefeated regular seasons in a row, from 2008 to 2011.
When the group started high school, three made varsity as freshman, while the others were on the junior varsity team, coached by Aranzabe. Both squads posted an undefeated season.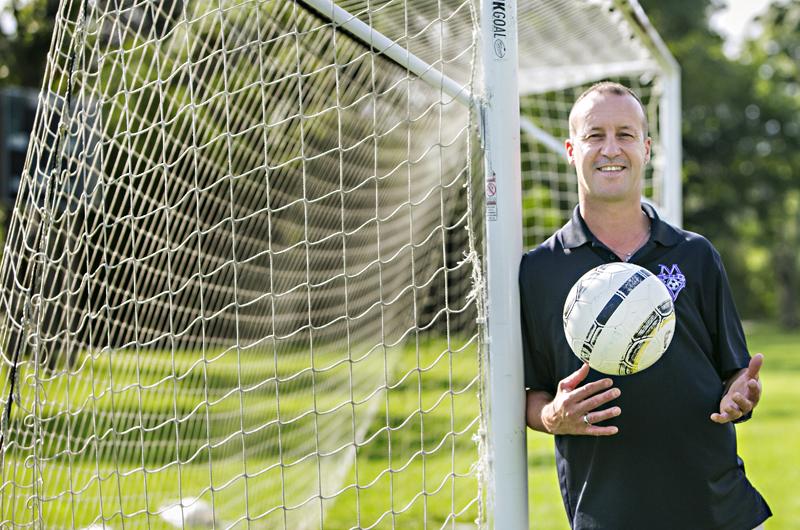 Though the team has its powerhouses, it works not because of the stars but because of its cohesion. By last fall, the entire core group had moved up to varsity, bolstering an already solid group of seniors and one newcomer freshman. And – there is a pattern here – the team was undefeated in the regular season, falling only in sudden death overtime at the section semifinals.
So what now? How does the team anchor its already record-worthy career? Even the best sports predictions go awry, but it's safe to say they are positioned for a couple more postseason runs. And this fall, for the first time, Aranzabe is coaching the varsity squad. It's a fitting way for both the players and their coach to take the next step. Keep your fingers crossed and your eye on the ball.