Perched above Lambert's Cove Road in West Tisbury, with views across the wetlands to Vineyard Sound and the Elizabeth Islands, The Folly is Friederike and Jeremy Biggs's unexpected paean to classical Italian living. Their two-story stucco villa and surrounding seventeen acres reflect the couple's passion for travel, art, romance, whimsy, comfort, and natural beauty. And while post-and-beam architecture and weathered shingles may be more the norm on Martha's Vineyard, the Biggses have somehow managed to make their Folly appear right at home.
Friederike, an interior designer, and Jeremy, an investment executive, purchased the estate in 1997 and embarked on what became a two-phase renovation. By 2006, the couple had completed a total transformation of the formerly mid-century ranch-style house and grounds. Today, the property creates the illusion of having served generations of inhabitants, with its classical pavilion, balustrades, columns, pilasters, pergolas, arbors, and fountains fostering a sense of antiquity and timelessness.
Dubbed The Folly by Friederike and Jeremy, its name was adopted from Holcombe Folly, Jeremy's cousin's home in the Cotswolds area of England. The American version lives up to its moniker, an elegant yet fanciful property brimming with life, from its plethora of paintings, throw pillows, and plantings to its idiosyncratic messages inscribed in stones and on the trompe l'oeil library ceiling. A framed calligraphic quotation often attributed to Erasmus, the Dutch Renaissance humanist, reminds us: "The highest form of bliss is living with a certain degree of folly." Just steps away, etched in stone, a quip attributed to Mae West seems to aptly characterize this one-of-a-kind nod to Italian splendor: "Too much of a good thing is wonderful."
"We probably should have torn the original house down," Friederike says.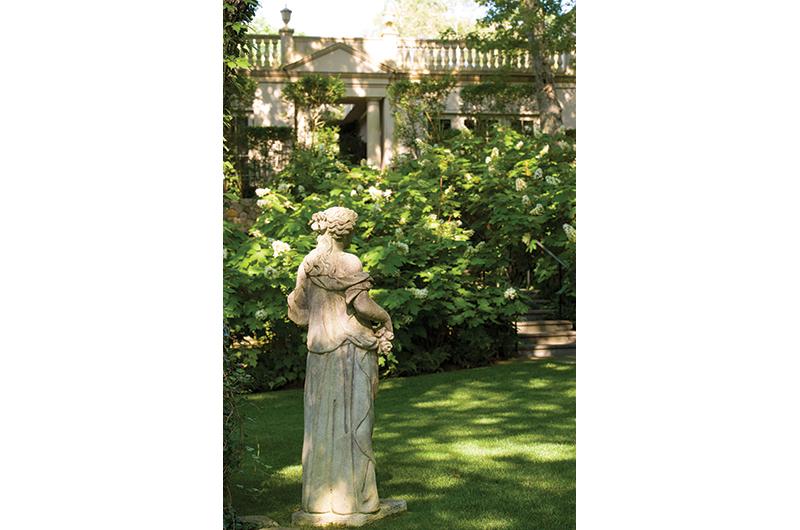 A stylish, slender woman with an easy elegance and warmth, she explains that her husband nixed the demolition, wanting to keep the renovations as
unobtrusive as possible. "He didn't want to be too Wall Street whippersnapperish," she adds, with a twinkle in her very blue eyes.
Very blue is a pervasive theme at The Folly, where varying shades of Friederike's chosen color appear throughout the interiors of the four-bedroom home and guest cottage, as well as across acres of manicured gardens. Why blue? "I'm blue eyed and blonde," Friederike explains. "I wore blue as a child and always had a blue dining room. Then I had enough of it. But when we did this house, I pictured it as my romantic blue cottage."
Employing blue as a unifying theme, Friederike envisioned extending the inside out, blurring the boundary between interior and exterior. With blue and white reflected in vintage ceramics, tiles, rugs, upholstery, draperies, and other art and collectibles, the French casement windows and doors open to myriad blues and purples in the landscape: a pool, striped chair cushions, more than a dozen species of hydrangea, as well as wisteria, iris, anemone, delphinium, plumbago, cleome, and agapanthus. Most of the house is only one room wide, allowing natural light in and drawing the eye out to the verdant terrain.
According to professional gardener Peggy Koski Schwier, whose Vineyard Haven–based firm maintains The Folly's grounds and gardens, Friederike's ardor for collecting has resulted in the accumulation of nearly two hundred containers, all strategically placed across the grounds under the artistic eye of their owner. Each week, Schwier's staff spends hours watering, snipping, and painstakingly tending to the plantings.
"The style of the gardens sprung from the design of the house," she says. "Normally I like everything to look like it belongs on Martha's Vineyard, but they created an amazing sanctuary and achieved a formality that seems low-key."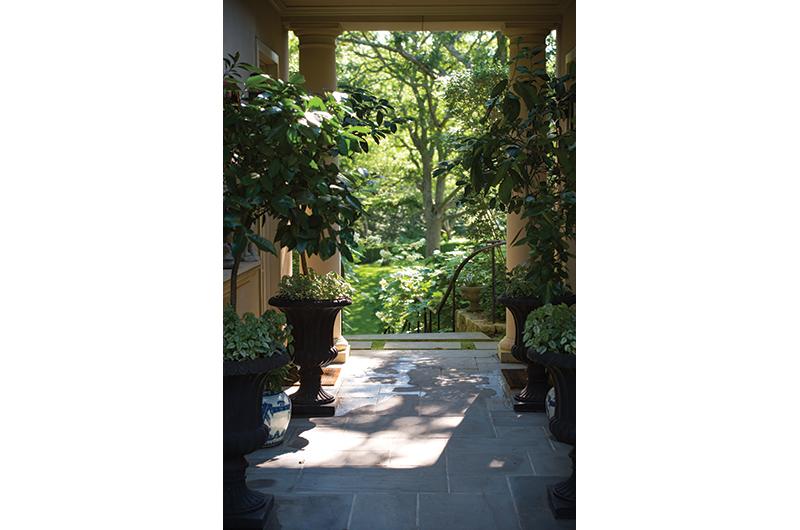 Pointing out that at The Folly, the garden is the "entire property," Schwier, even after twenty-five years in the business, marvels at the many separate environments that compose the whole. "And it's ever-changing," she adds. "Friederike can't stop creating."
The landscape, inspired by both formal and more rustic Italian gardens, is a blend of precisely trimmed hedges, fountains, winding paths, and arbors
covered with flowering vines. Native Mediterranean plants – boxwood, citrus, and herbs – are present, as well as the heavy concrete urns, pots, patios, pergolas, a pavilion, and statuary that so typify Italian Renaissance gardens. Wrought iron gates and stair railings by Island artisan Whit Hanschka dot the grounds.
The couple's frequent travels, including trips to such far-flung destinations as Myanmar, Dubai, Russia, and throughout Europe and Africa, have yielded a treasure trove of collectibles. "I always know where I'll put the things I buy," she says, speaking of the many decorative accessories, paintings, and rugs she has purchased around the world. "We have a bucket list of destinations and would love to see more of Russia. It's easy to return to places you love," she observes. "You have to stretch yourself. We like to try one new place a year."
Friederike attends the annual Garden Sculpture and Antiques Fair at the New York Botanical Garden (where she serves on the board) and an antique garden statuary show in Connecticut in search of new finds. She also cites part-time Edgartown resident Barbara Israel, an expert in garden ornamentation, as a proven resource.
While their primary home is on Manhattan's Upper East Side, Friederike and Jeremy view The Folly as a cherished escape from their busy lives in the city. Summers are a time to welcome visiting friends and family, as well as to open their home for occasional philanthropic events. A generous supporter of The Vineyard Playhouse and many other nonprofits on the Island and in New York, Friederike states simply: "We're so fortunate and believe in giving back."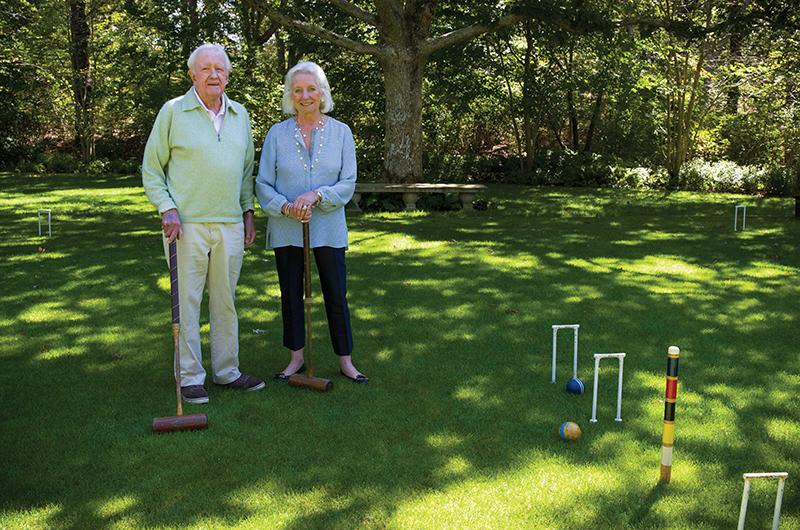 They utilize their Vineyard retreat year-round, returning monthly throughout the off-season and spending holidays at The Folly. The pool, bocce court, and
magnificent croquet lawn add to the property's festive air during the summer, a time of year that both Jeremy and Friederike relish.
Jeremy says that he particularly enjoys the Vineyard's sunshine, relative peacefulness, long days, and beautiful sunsets during the season, while Friederike admits that her favorite time is really the early autumn. "The Island is quieter – we still have many friends [here] and, although I hate to see the summer go, it is a time of tranquility to be enjoyed as often as possible, for we know that winter will be coming."
"Live like it's heaven on earth," reads a hand-lettered inspirational quote on Jeremy's library ceiling. The Folly, with its unique blend of rustic antiquity and playful charm, makes that exhortation eminently possible.