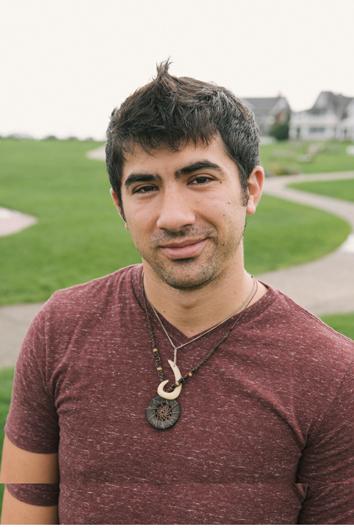 KF: How much time do you get to spend on the Vineyard these days?

JS: I'm here for about a month this trip, which is a lot less than I'd like, but the world series of poker is at the beginning of the summer. It kind of sucks, because on one hand, it's the one thing that as a poker player I feel like I have to do, but then on the other hand, it's the time of year where the only place in the world I want to be is home.

KF: How does a kid growing up on Martha's Vineyard decide to become a professional poker player?

JS: I watched the movie Rounders with my dad when I was like twelve. Before that I had no idea that you could make money playing games. I was obsessed with games, so when I found that out, I was like, oh wow, this is awesome. Then when I was around seventeen, I saw the World Series of Poker on ESPN. It was the first time they really aired it. It was a pivotal year for poker. A guy who was an accountant, and even says himself that he wasn't the best at the game, goes and plays the main event and wins it for two and a half million. Everyone realized you don't have to be the best player to win. That's an incredible feeling, that everyone has a chance.

KF: Were you always good at cards?

JS: When I was little, my whole family played games. We played cribbage and gin rummy and stuff. I remember my sister Randi would always quit gin rummy in the middle of the game because I would tell her what her entire hand was. To me it was natural, because you pick up cards, so you can watch them take the cards. Most of the cards are played face down, but you can kind of figure out, okay, she hasn't laid this card down, then it has to be the two of spades or the three of hearts.

KF: When did you start taking poker seriously?

JS: When I reached college [at California Lutheran University], I realized that if you were serious about it you had to play online, so I started playing online and I did that for about four years. The first couple of years, I didn't really make very much money, but I was doing all right. I thought I was better than I was. Everyone always thinks they are; I still think I'm better than I am. By the third year, things started clicking. I started winning money. Then by the fourth year, I won a lot of money playing tournaments online.

KF: What did you do after you graduated?

JS: When I finished college, I moved to Boston. It was right during the recession. There were no jobs and I was like, why am I going to bust my ass trying to find a job? There's really no downside [to playing poker] when you're right out of college. If it doesn't work out in six months, you can still go find a job somewhere. So I went for it.

KF: Did you continue playing online tournaments?

JS: I moved to Vegas and two months after I moved the US government shut down most online poker, and I was out of a job almost immediately. I was lucky that I played on a site that was really good to their customers and part of their negotiation with the government was that they paid us all of our money. So I took my money and went to the casino and started playing there.

KF: How'd that go?

JS: I played every single day. I ate sushi with my friends and talked about poker. I drank at bars with my friends and talked about poker. I hung out at my house and watched TV with my friends and talked about poker. It was like 95 percent poker. In Vegas, people respect it as a job, where like everywhere else, if you tell them you play poker, they ask you if you can count cards; they ask if you know the rules to craps. They don't understand that it's a legitimate profession.

KF: How has your game changed since you started playing?

JS: At first I thought that poker was a lot about looking at people's faces and figuring out what they had based on that, and there's a little bit of that, but that is certainly not all of the game. I started realizing there are mechanics to the game beyond staring at your opponent and trying to figure out what they have. There are betting patterns and how frequently they play a hand and a bunch of other stuff. How often they call; how bad a hand they call with or raise with; or whatever. I realized there's a thought process that's more technical and that was something I was really good at.

KF: You won in the neighborhood of five million dollars at the World Series of Poker Championships in 2012. What have you done with your winnings?

JS: My accountant was like we can set up a 401K, and I've had my dad telling me for years [to do that]. But otherwise I haven't done too much with it. The first thing I did was I got this house. I never really needed much. I really like traveling and I really like having a backpack with some clothes and stuff, and I don't really need much else than that. I don't require very much money to live. When I have it, I'll spend a little extra. But I've always been very into minimal possessions. So you know, I didn't really splurge much when I won the tournament. The house was more of a thing for my mom [Marlene DiStefano].

KF: That's so nice.

JS: I won a tournament in college online. When that happened I could pay off all my college loans, but it turned out my mom had taken care of it and never told me about it.

One of the reasons I got this house is kind of a thank you to her. She made me promise, she'd only accept it if the house was in my name because she didn't want to own it. I've been trying to move her in for months. I'm trying to set it up so that she'll live in it, but she's very proud and difficult.

KF: You donated a game of poker to the Martha's Vineyard Community Services Possible Dreams auction last summer. Did you already play that game?

JS: We played at Jim Ferraro's house, which is a beautiful home. Todd Rebello won and Jim's son, James, took second. I took third. We had like 15 people. We just had a little game, a little tournament. Russell Thomas [another champion poker player that Sylvia brought on board] played in it too. I'd do it again next year.

KF: What's next for you?

JS: I'm definitely going to play. I still want to travel a lot. I still don't want to own a lot of stuff, but it would be nice to have a home base. So that [me and my girlfriend] aren't paying rent somewhere else in a place that we're never living. We're going to close on a house [in Las Vegas] and that will be my main residence. I'll have a few friends that play poker living there, playing and discussing hands and all that good stuff. I'm excited about that.

KF: Can you ever see yourself living on the Vineyard year-round again?

JS:Yeah, but that will be like when I have kids probably. It's funny because when I was in high school, everyone was like, this is such a great place to raise kids, and I was like I would never raise kids here. But now looking back at it, I realize this is the ideal place to raise kids. I grew up here and it's my favorite place in the universe. I will never not call this place home.