Alec Gale, 37, and Liz Davis Gale, 33, Vineyard Haven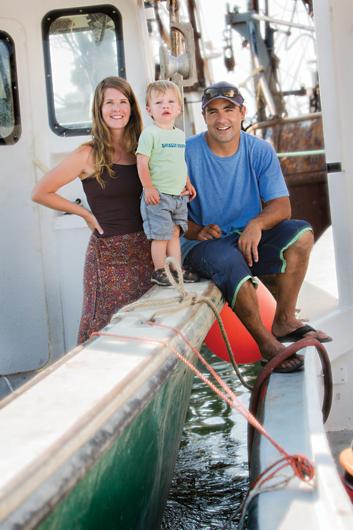 After many summers spent traveling to the Vineyard as a nanny, Liz Davis Gale realized that she had fallen for the Island lifestyle, hard. "I skipped my graduate school graduation to move here as soon as I'd finished my final exams," she explains. Only a few months later, she found herself at a house party and fell hard, again – this time for fisherman and Island native Alec Gale – and today their two-year-old son, Riley, rounds out the family trio.
In her roles as a full-time medical social worker at the Martha's Vineyard Hospital and as an emergency services clinician at Martha's Vineyard Community Services, where she works with patients with acute mental illness, Liz supports the Island community every day. "As a crisis clinician, I have the privilege of advocating for one of the Island's most vulnerable populations. Both jobs combined offer me a priceless perspective into what tough times really look like," she says.
While Alec still works as a fisherman and mussel farmer, he now also runs the Menemsha Fish House, a dockside business that operates on an eat-local premise, connecting commercial outlets with locally caught fish. Though he readily appreciates the beauty of his "office," Alec concedes that his work can be made challenging by the constraints of Island life. "Living here can make it tough when I need parts to fix my boat or I need to have something repaired. It's often a logistical puzzle," he says.
Originally from Natick, Liz occasionally misses the conveniences of mainland life too, but it's a trade-off she's willing to make. "Living on the Island makes it easier for me to differentiate between the things I want and the things I need. I also feel like there is a different value system here, one that supports and encourages simple living."
Brice Delhougne, 34, Edgartown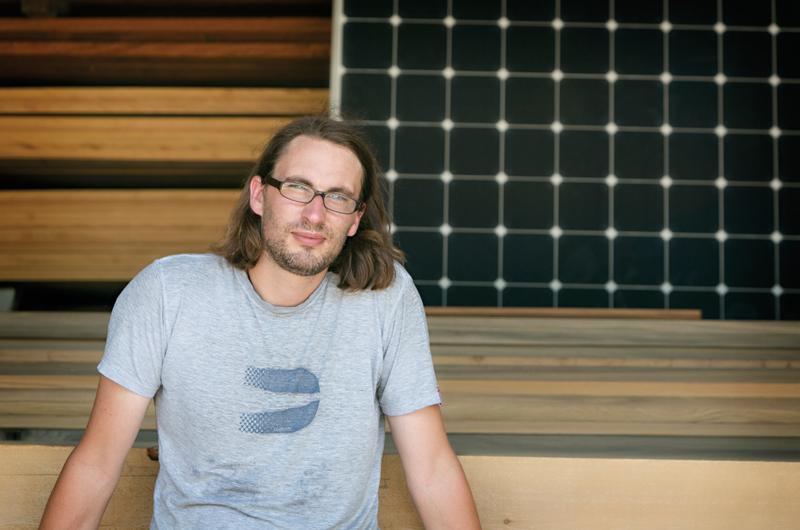 Originally from Paris, France, Brice has always had a strong sense of wanderlust. "When I was sixteen years old, I thought to myself, 'Where is the furthest place I can get to?'" His love of travel and desire to learn a skilled trade eventually led him into Les Compagnons Du Devoir, a highly respected European crafts apprenticeship that dates back to the Middle Ages. Young men and women tour France and Europe, studying with trade masters in various disciplines. Brice (pronounced Breece) worked and studied with the program for eight years. "The compagnonnage is an original way to learn a trade while developing character by experiencing community life and traveling," Brice says. During one study period, he was assigned to work on a renewable energy project, and was immediately captivated by the experience and eager to become more involved.
After years of globe-trotting, Brice and his wife, Rebecca, who grew up outside of Boston and teaches at the Vineyard Montessori School in Vineyard Haven, decided to search for a place to "finally settle down." They chose the Island after Brice landed a position as an energy analyst with South Mountain Company in West Tisbury. He consults with clients on ways to make their homes as energy efficient as possible.
"Many communities work to reduce their energy usage and build more efficient houses, but changes happen slowly and sometimes go unnoticed. We have the chance on the Island to attract more attention and make more of a difference," says Brice.
Elizabeth Rothwell, 33, West Tisbury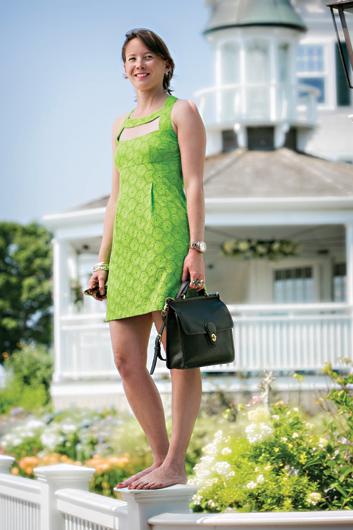 In the business lives of many young Island professionals, networking can take on a uniquely personal meaning. While mainland counterparts might rely on social media tools and meet-and-greets, for Elizabeth Rothwell, director of marketing and special events at the Harbor View Hotel in Edgartown, a chance encounter at Cronig's Market can be just as effective.
Elizabeth moved to the Vineyard with her family at the age of nine, and is proud to report that she hasn't missed a single summer since. Seasonal positions at the hotel evolved into a full-time role, which now includes public relations and event planning. In addition to her work at the Harbor View, Elizabeth lends her skills to the greater business community by serving on the board of directors for the Martha's Vineyard Chamber of Commerce and the Edgartown Board of Trade.
Although she once saw herself living in a more urban setting, extra-long beach days and the Island's countless trails – she lists William Flender's Walking Trails of Martha's Vineyard (Vineyard Conservation Society, 2010) as a "glove compartment must-have" – have kept her moored on the Island where she lives, works, and plays.
Sondra Murphy, 28, Oak Bluffs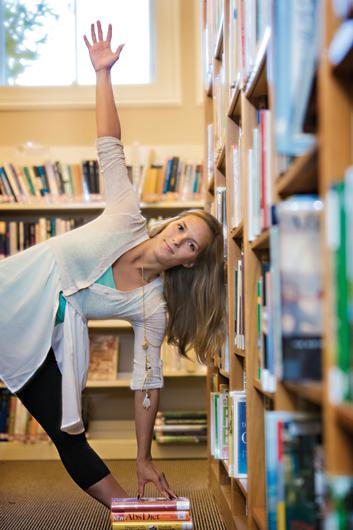 When her father accepted the position of project superintendent in charge of building the new Martha's Vineyard Hospital, Sondra Murphy spent her summers here with him, working to pay for her graduate studies in library science. Little did she know she'd soon be back on the Island full time, first as a children's librarian and now as director of the Oak Bluffs Public Library.
"I certainly never imagined being here," says Sondra, who grew up outside of Worcester. "I'd never even been to the Island before my dad came here to work." But after three years, she's starting to appreciate the slow and simple side of year-round Island life. "I love that my commute to work is five minutes," she says. "I used to miss malls and drive-thrus more, but now anytime I go, I feel out of place."
As director, Sondra's roles and duties are constantly changing. While her days tend to be chock-full of administrative obligations – "boss-type stuff"– she also gets to flex her creative muscles by designing posters and signage for library programs. Off-duty, she maintains physical flexibility as an avid yoga practitioner. Her favorite at-work moments are those spent with patrons. "I try to spend time out of my office, talking to community members and hearing their suggestions and ideas for the future. And sometimes I help people with their computer problems!"
Anthony Esposito, 31, West Tisbury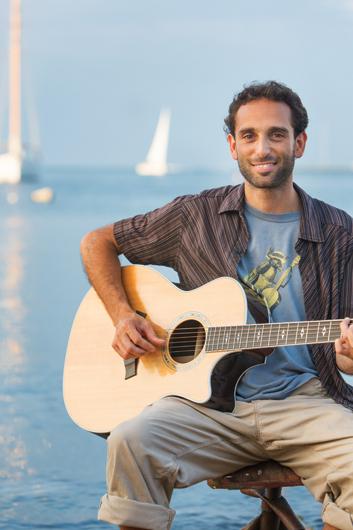 Growing up as the son of Island musician and recording engineer Charlie Esposito, Anthony Esposito was exposed to the music industry from an early age. A self-taught musician, Anthony plays a number of instruments, including guitar, ukulele, bass, and drums, and writes his own songs. This love of music in all forms, combined with time spent helping his dad in the studio, naturally led Anthony to begin recording himself and his friends.
His interest in photography took off when Anthony entered high school. Unable to get into the upper-level darkroom classes, he bought his own film camera, learned some basics from his dad, and began developing black-and-white photos at Featherstone Center for the Arts in Oak Bluffs. He now shoots weddings with photographer Tim Correira and has his own videography business.
Anthony, active in a number of community projects, is always looking for ways to share his love of music and film with others. He ran an open mic night at the now-closed Oak Bluffs music venue, the Pit Stop. This year he collaborated with the Martha's Vineyard Film Festival on a series of educational short films for their weekly summer children's program, Cinema Circus.
"My favorite part of working on the Island is the diverse amount of work there is to do here," Anthony says. Sometimes he'll be in photography mode, other times editing video or working on a community project. And some days he brings it back to where it all began: the recording studio, where he now helps local musicians record their work. "That's what I love to do most."
Maggie Lumkes, 27, Chilmark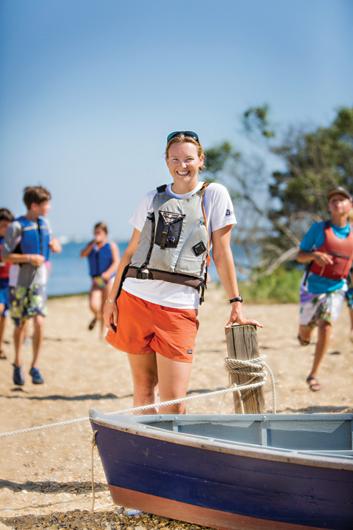 Maggie Lumkes is most at home on the water. An avid sailor since the age of eight, Maggie attended St. Mary's College in Maryland, where she captained her varsity sailing team to a first-place national sailing championship win. Her love of sailing and a passion for teaching led her to instruction and coaching positions at the Annapolis and Chicago Yacht Clubs. After spending a summer as head instructor at the nonprofit Sail Martha's Vineyard, Maggie was invited back full time as the waterfront director.
"I worked for a public relations agency after college, and lived in a cubicle," the Chicago native remembers. "Now I have an office next to the water, and I get to work with kids all day." In addition to youth programming and summer camp, Maggie runs adult classes, and in the colder months she is busy hiring and planning for next season.
Maggie says the personal interactions are the most rewarding part of her job. "Working for a community program has allowed me to work with people of all ages who wouldn't have necessarily learned to love the sport of sailing," she says.
Maggie also serves as assistant coach for the Martha's Vineyard Regional High School varsity sailing team. With head coach Andrew Burr, she leads a coed group of about twenty students and travels with them to regattas. "Working with the team is one of the best parts of my job! It's great that I can pass down my knowledge to this group."
Paulo DeOliveira, 29, Edgartown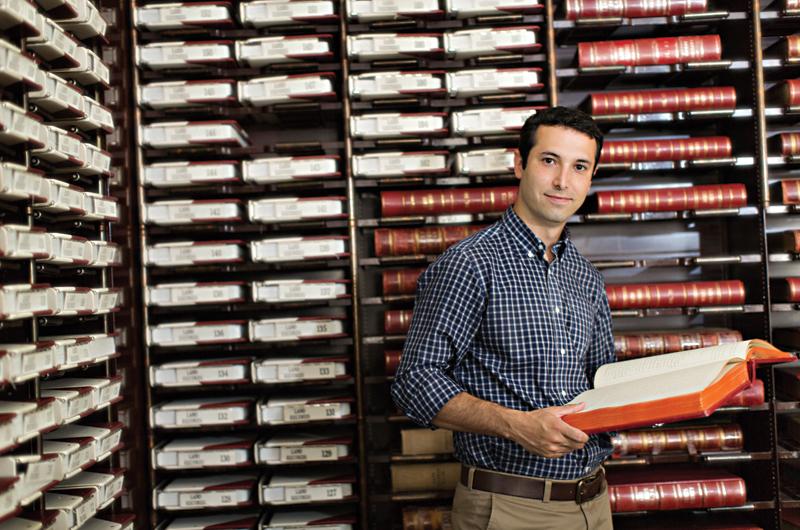 Born in Belo Horizonte, Brazil, Paulo DeOliveira moved to the United States when he was fifteen and went to high school in Boston. Following graduation, he spent a busy year in the city working at Bain Capital as part of Year Up, a nonprofit internship program; he returned to Brazil for college, and then moved back to the States.
Paulo was first drawn to the Vineyard because he has family here. "When I was younger, I didn't really have an idea of where I wanted to end up," he says, but after meeting his wife, Justine, who grew up on the Island, and finding a close-knit Vineyard community, Paulo knew this was where he wanted to set down roots.
He now works as the information technology manager and clerk at the Dukes County Registry of Deeds in Edgartown, which has been preserving Island documents since the seventeenth century. Outside of his day job, he serves as an Edgartown volunteer firefighter and EMT.
Members of his wife's family are active in the fire department, and Paulo, who had worked as a lifeguard in Boston and on the Vineyard, was inspired by the life-saving impact of their work. He also realized the need for a Portuguese-speaking responder and decided to begin training. "I feel like I am able to give back to the community and contribute in a positive way," he says.
Paulo enjoys relaxing with family and friends, and swimming at the YMCA with his young son, Mateo. He looks forward to fall every year, when the weather is warm but the traffic and crowds have vanished. He says, "all it takes is a day of driving around off-Island to remind me of how much I love living on the Island."