For this year's competition, we received 165 entries from across the United States and as far away as the island of Guernsey in the English Channel. Thanks to everyone who shared such amazing photographs taken on Martha's Vineyard.
Here are the top three winners and seven honorable mentions – plus the magazine's cover photo is an entry from Steve Fischer of Chilmark and Cambridge. The images celebrate nature, people, and the water that surrounds us. Black-and-white photos take four of the top ten spots, and all of the photographers whose works were selected are first-time winners in the contest.
We're amazed by the creativity and diversity of images this contest attracts. Even as we celebrate this year's winners – chosen anonymously by a panel of ten judges – we can't wait to see what next year brings!
First Place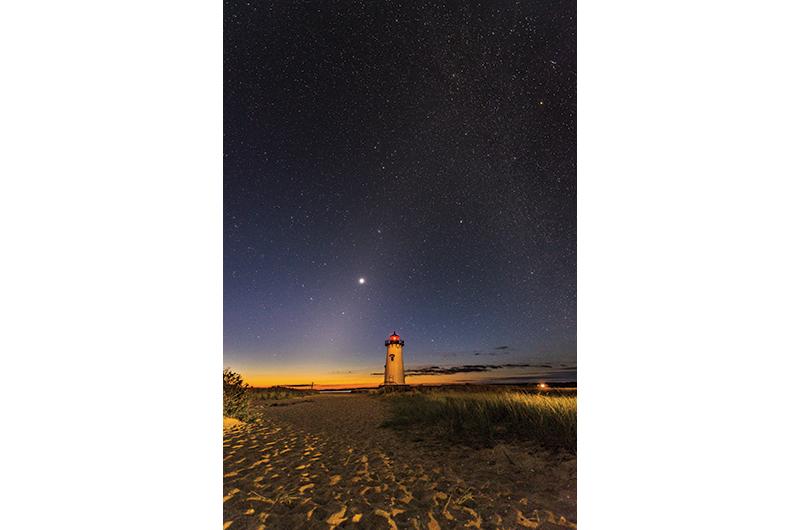 Thomas Byrne, Hudson, New Hampshire
This dramatic moment at the Edgartown Light was a runaway favorite among our judges. Thomas, who visited the Island for a week in late September, made a fifteen-second exposure at 5:20 a.m. that captured Venus rising and the Milky Way (upper right). "It's a wonderful juxtaposition of a man-made navigational beacon set amongst the natural beacons of the sky," says judge Wayne Smith. "I love the feelings this image evokes, a vastness of our universe of which we are such a small part. I wish I made this image."
Second Place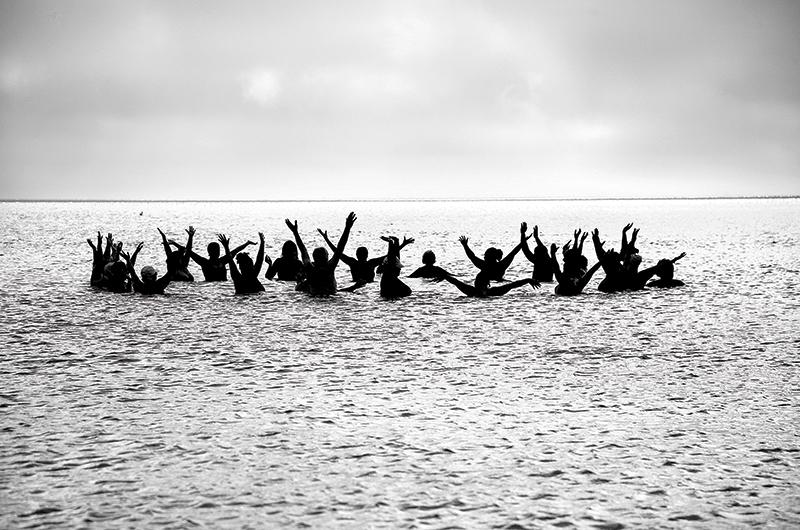 Michael Johnson, Oak Bluffs and San Francisco
The early-morning swimmers at Inkwell Beach in Oak Bluffs call themselves Polar Bears. This image "captures the joy and blissful nature of summer on the Vineyard," says Michael, a former year-round resident for fifteen years who now divides his time between the two coasts. Contest judge Kate Feiffer says, "A combination of elements appealed to me: the subtle light, the outstretched arms, the one hand that almost touches the horizon line, and the unexpected – and in my opinion, jubilant – subject matter."
Third Place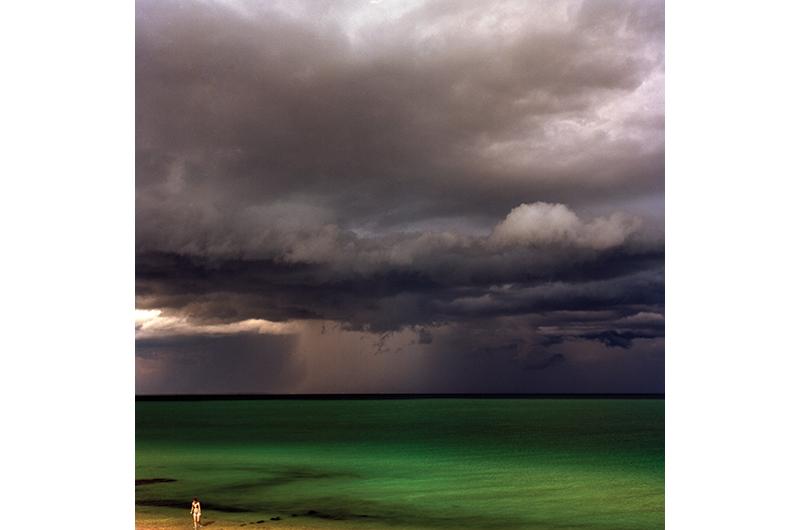 Brendan Devlin, Easthampton
"An amazing, otherworldly afternoon in Oak Bluffs before everyone was sent scrambling for cover!" reports Brendan, who used an old Rolleiflex camera with Ektar film he developed himself for this shot of a storm rapidly approaching from offshore last June. A longtime Island visitor, the photographer says the combination of natural light and incoming clouds over the eerily deep-green water lasted only a few moments. "The image is truly magical," says judge L.A. Brown. "I was drawn in by the quality of light, a dark and moody background with the person in the foreground highlighted by direct sunlight. Perfect! This image stayed with me from the moment I saw it."
Honorable Mention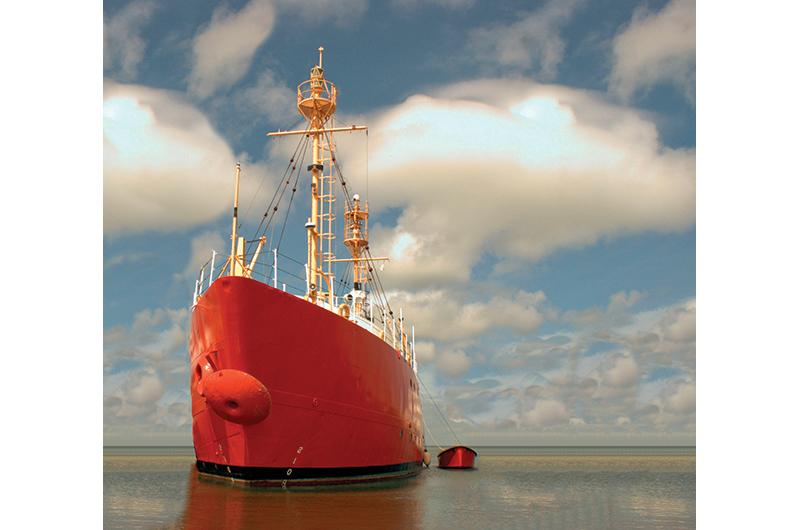 Phillip A. Long, Aquinnah and Suffolk, Virginia
The Nantucket Lightship is a popular photographic subject, but Phillip's shot of the vivid red ship and her matching dinghy is particularly engaging. "These ships/boats stopped me in my tracks! Pow! The colors were amazing," he says of an August day on Vineyard Haven harbor. "Reminds me of a very overprotective mom showing up to grammar school with her kid." Judge Jared Maciel says, "The strong composition and vibrant colors caught my eye. The photo has great contrast with interesting, natural lighting."
Honorable Mention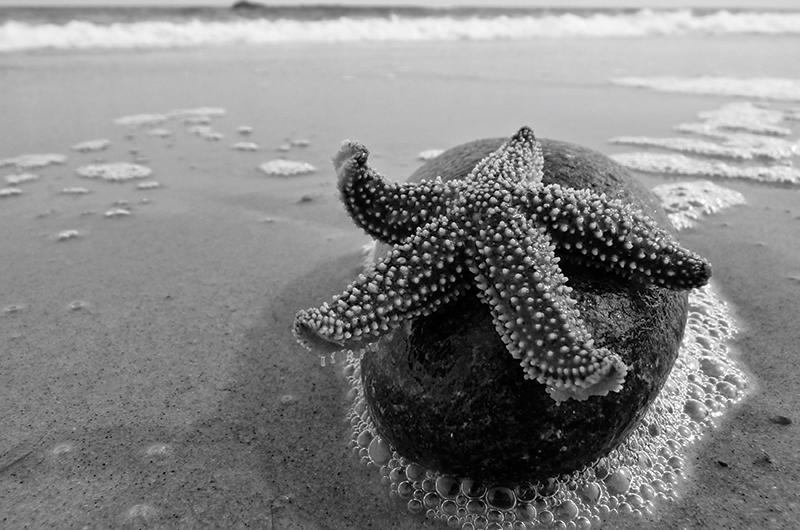 Sam Ebby, Chilmark and Bryn Mawr, Pennsylvania
Fifteen-year-old Sam found a starfish at Lucy Vincent Beach in Chilmark last year and placed it on a rock near the water's edge. "While I was taking pictures, a gentle wave came and left bubbles on the sand," he says, adding that he returned the creature to the water after its photo shoot. Contest judge Alley Moore liked the playful nature of the shot: "I love how this starfish, flopped on a rock, resembles a human form, with its arms beckoning and its feet tipping aloft."
Honorable Mention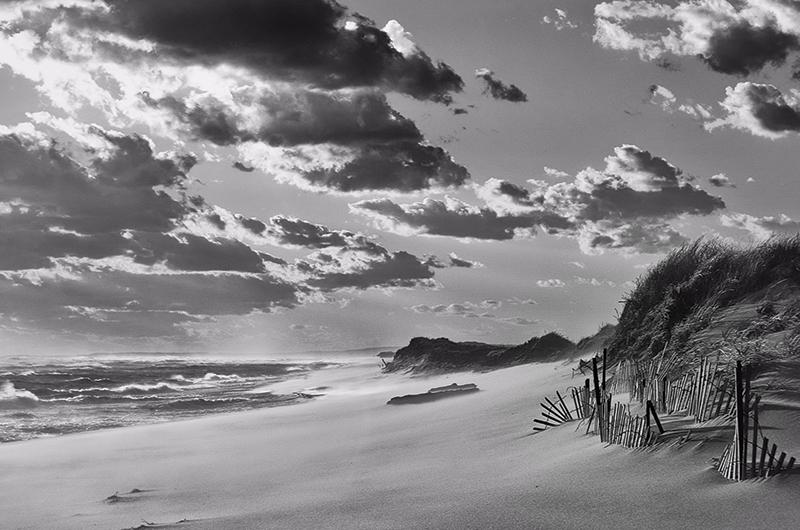 Leslie Self, Edgartown and Johns Island, South Carolina
"A timeless, evocative image of sea, sand, and sky," observes contest judge John Kennedy. "As a storm recedes here, we are left with a moment so visually rich and pure it resembles a painting." A year-round resident for more than thirty years and now seasonal for half the year, Leslie says of this moment at South Beach in the spring: "A storm had moved off, with the wind still howling, but the sun starting to break through. How often do you see the beach without any footprints, wiped clean, with no presence of man?"
Honorable Mention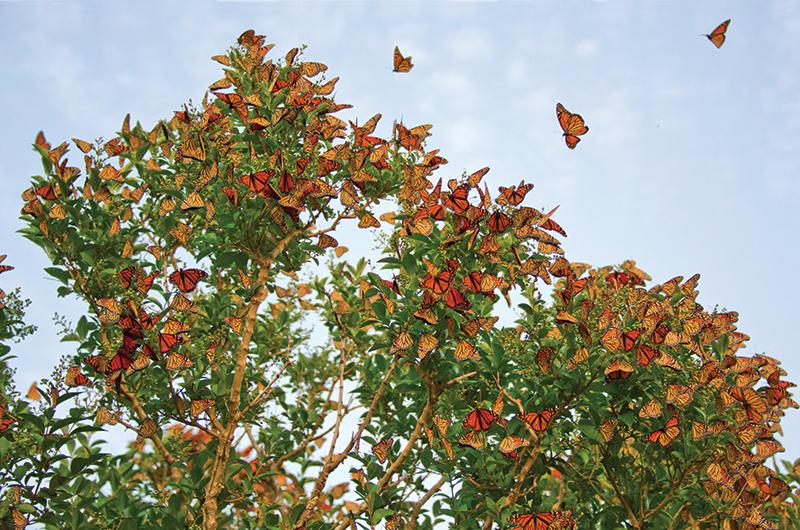 Lisa Vanderhoop, Aquinnah
Last year was "an incredible year for the monarch butterfly migration here on the Island, particularly in Aquinnah," reports Lisa, a year-round resident. Her photograph captures hundreds of them clustered together, an unusual and dramatic sight. "This photo is like a puzzle, as you realize those aren't flowers or colored leaves," says contest judge Nicki Miller. "I've never heard of or seen such a proliferation of butterflies in one place on the Island, so this photograph has a high wow factor. Beyond being in the right place at the right time, the photographer chose an angle that highlights three monarchs arriving to the party."
Honorable Mention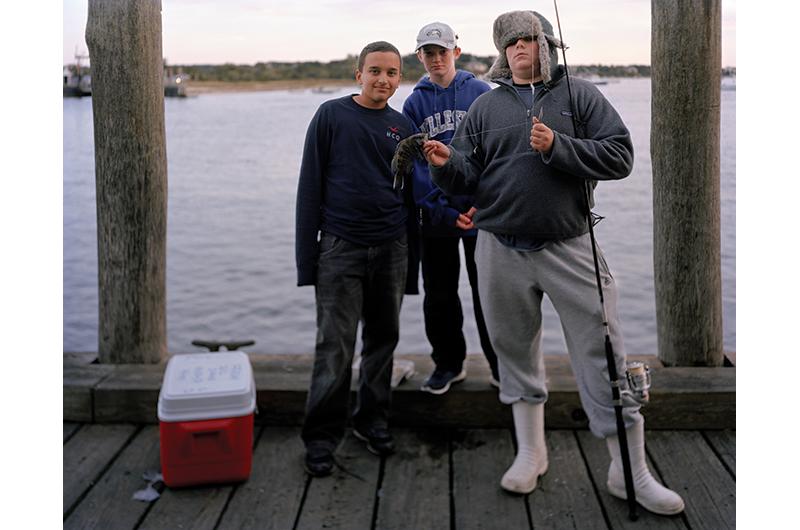 Maggie Shannon, Brooklyn, New York
Raised on the Vineyard, Maggie is focusing on the connection Islanders have to the ocean for her master's thesis at the School of Visual Arts in New York City. She shot this image last fall at Edgartown's Memorial Wharf during the Martha's Vineyard Striped Bass & Bluefish Derby. "This photo intrigues both in material as well as the subjects' ironic pose," says contest judge David Welch. "Here, three young men, no doubt swept up by a familiar derby fever and its calls for dedication and perseverance, pose with their catch. They hoist their proud trophy, in an apparent kinship with those legends of fishermen passed. Was it a keeper? Probably not, but the photograph certainly is."
Honorable Mention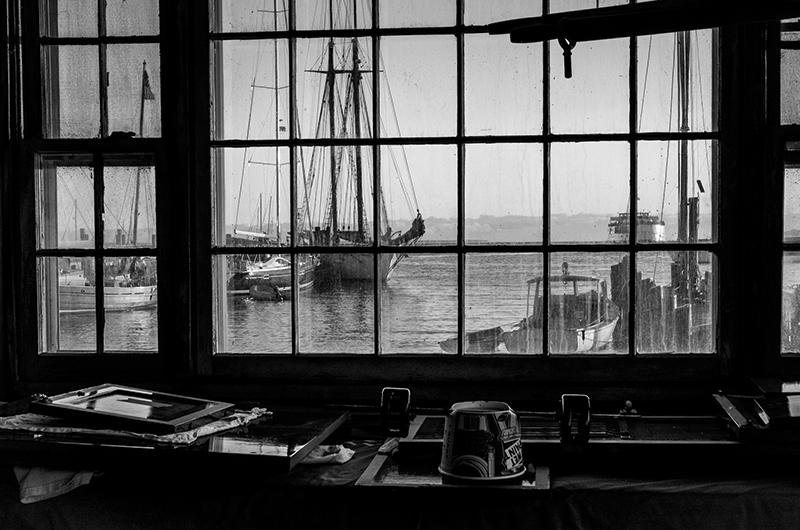 Terry Goplerud, Edgartown and Reston, Virginia
The Vineyard Haven waterfront during an October sunrise, viewed from inside the Coastwise Packet building, is the setting for this photograph by a longtime Island visitor and homeowner who describes the "timeless and somewhat mysterious feel of boats and boat making. There's the Alabama and the ferry in the picture, which [juxtaposes] new and old." Contest judge Ray Ewing likes the quiet, evocative nature of the image, saying, "The ocean light spilling through that glass tells me more about Island life than any post card. I can smell the old wooden frames, I can hear the tiny harbor waves, and I can feel the warmth of the rising sun."
Honorable Mention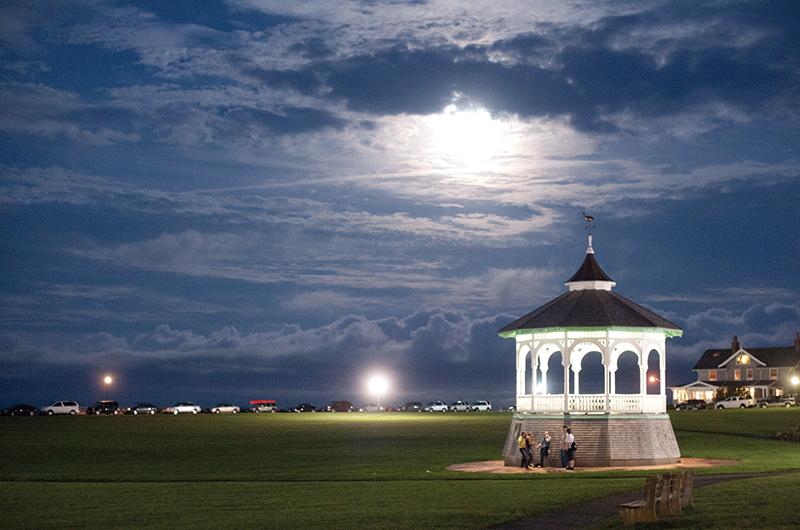 Cristen Farrell, Andover
A summer visitor for more than twenty years, Cristen was captivated by an August moon rising over Ocean Park in Oak Bluffs on her last evening on-Island in 2012. "I stopped in my tracks and gasped as I saw the beautiful, huge full moon and the dramatic way it was lighting up the clouds," she recalls. "The lights of the gazebo and the streetlights and houses just completed the scene perfectly." The content and composition both resonated with contest judge Chris Morse, who observes, "It's as much a good photojournalistic essay as it is an attractive fine-art composition." Cristen adds, "I'd never be able to duplicate [the shot] because everything was just so right at that very moment. A perfect way to end a Vineyard vacation."