Let's take a break from Jaws. It's time to extract ourselves from the great white's pernicious clutches and swim on to other cinematic fare relevant to our Island. After all, Jaws, while filmed here, takes place in the fictional town of Amity. The movies listed below all include scenes intended to be set on the Vineyard, yet not all of them were filmed on location, which means Martha's Vineyard does not always look like Martha's Vineyard. Even when filmmakers sent camera crews to the Island, artistic liberties were taken. To be honest, the real fun in watching most of these films is taking note of the glaring inaccuracies. Hollywood's Martha's Vineyard is a place where affluent African Americans spend the summer and masters-of-the-universe keep a cottage. It is also a discreet hideaway, a restorative getaway, and a supportive hometown to a set of conjoined twins. Use this viewer's guide to launch your own tour of Hollywood movies set on Martha's Vineyard.
Jumping the Broom (2011)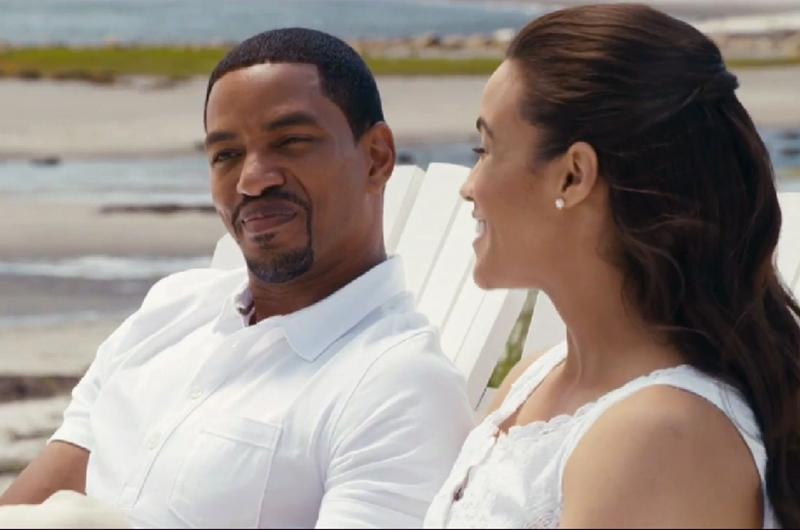 Starring Paula Patton, Laz Alonso, and Angela Bassett.
The basics: It's wedding weekend on Martha's Vineyard for Sabrina Watson, an African American woman from a wealthy family, and Jason Taylor, her working class fiancé. After a whirlwind courtship, the couple and their families find themselves at the bride's swanky family estate, but everything starts to unravel when their families can't get along.
Best quote about the Vineyard: "You know those people up in the Vineyard. They are so loaded even their sermons are rich."
Funniest Vineyard-related conversation: After arriving in Vineyard Haven, Jason's mom's best friend scans the area for two very familiar faces.
Jason's mother: What you looking at?
Friend: Girl, what you think I'm looking at? It's August on the Vineyard. I'm looking for Barack and Michelle.
Really filmed on MV? While most of the film takes place on the Island, very little of it was shot on location. There is a scene that takes place aboard the ferry Island Home and outside the Vineyard Haven ferry terminal. There are several scenic shots of the actual Vineyard, including a few shots from various angles of Vineyard Haven harbor.
What to look for: Take careful note of the scene in which some of the wedding guests are transported in a minivan from the Vineyard Haven ferry terminal to Chilmark. When there are no actors in the shot, the locations are authentic Vineyard. However, when the actors are present, make sure to look out their windows. Yes, that is a parking meter. Also note the route from Vineyard Haven to Chilmark takes a curious path beginning on Beach Road heading toward Oak Bluffs, past Ocean Park in the direction of the Oak Bluffs ferry terminal then past the Entering Chilmark sign.
The Ghost Writer (2010)
Starring Ewan McGregor and Pierce Brosnan.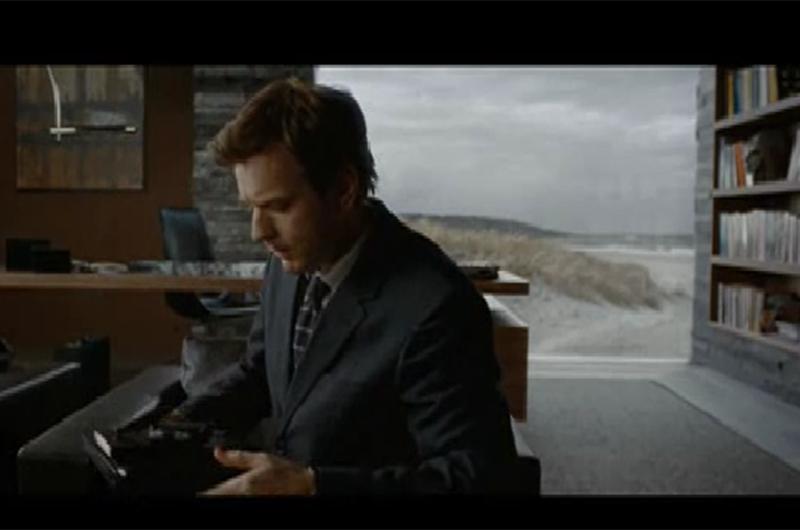 The basics: An unnamed ghostwriter is hired to help a former British prime minister, in seclusion presumably on Martha's Vineyard, finish writing his memoir after the previous ghostwriter mysteriously died.
Funniest Vineyard-related conversation: The ghostwriter pulls up to a drive-through ticket counter at the ferry terminal and purchases a ticket to get his car off the Island.
Clerk: Single or return?
Ghostwriter: Return. I hope.
Clerk: Forty bucks, please.
Really filmed on MV? Not a chance. Fugitive-from-justice director Roman Polanski did not risk coming to Martha's Vineyard to make his film.
What to look for: Polanski's wind-swept dunes are evocative of the Vineyard, but he didn't try to capture more than the essence of the Island. The closest he gets to actually naming the Vineyard as the secret Island hideaway is during a scene in which the ghostwriter is driving in his car and the GPS displays the words: Edgartown, Vineyard.
Stuck on You (2003)
Starring Matt Damon and Greg Kinnear.
The basics: Conjoined hamburger-flipping Island hero twins Bob and Walt Tenor leave their hometown of Oak Bluffs for Holly-wood in order to pursue Walt's dream of becoming an actor.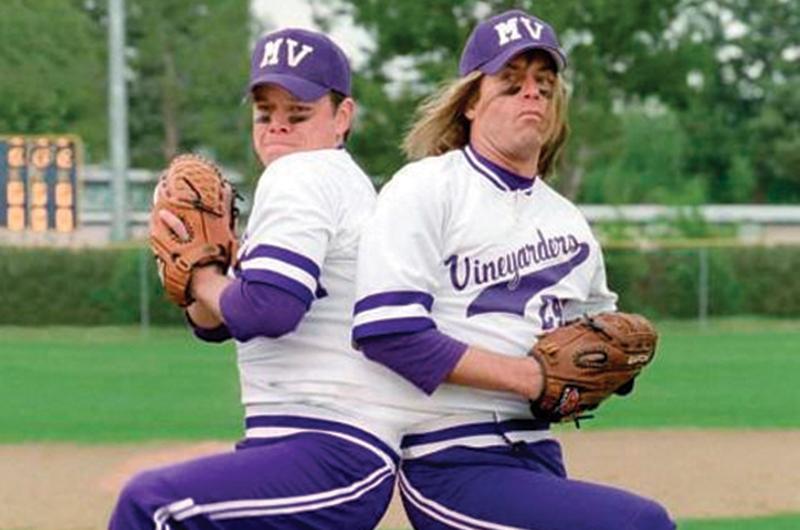 Best quote about the Vineyard: "I'm a burger flipper from Oak Bluffs, Massachusetts."
Funniest Vineyard-related conversation: Once in Los Angeles, Bob and Walt see Meryl Streep, who plays herself, at a restaurant and approach her.
Walt: We're from Oak Bluffs on Martha's Vineyard.
Meryl Streep: Oh, I've been there.
Walt: I know you have. Actually, we're friends with Timmy Sheehan.
Meryl Streep: Who?
Walt: Timmy Sheehan. Remember? He waited on you one time at Jimmy Seas restaurant.
Really filmed on MV? Most of the Vineyard scenes were not shot on location. The Martha's Vineyard in Stuck on You is quite different from the actual Island. Filmmaking brothers Bobby and Peter Farrelly, who have seasonal connections here, opted more for symbolic authenticity instead of shooting the film on location. They didn't try to re-create the look of the actual Island with the fishing village where the brothers live. They did shoot at the Portuguese American Club in Oak Bluffs and included a shot of the ferry Martha's Vineyard and scenic shots of Edgartown harbor and Menemsha.
What to look for: The first sign that this film takes place on the Island comes in the form of a Black Dog baseball cap. During flashbacks, we see Bob and Walt in Vineyard jerseys playing hockey, football, and baseball.
Sabrina (1995)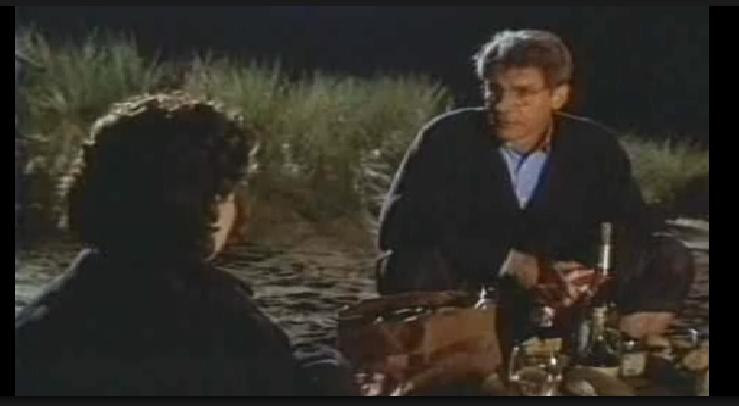 Starring Harrison Ford, Greg Kinnear, and Julia Ormond.
The basics: Wealthy businessman Linus Larrabee whisks plain-Jane-turned-glamour-girl Sabrina away to Martha's Vineyard so she doesn't interfere with his playboy brother's pending nuptials.
Funniest Vineyard-related conversation: Sabrina and Linus stop to look at the building we know as EduComp.
Sabrina: Oh, what a beautiful building. Nobody builds with brick anymore.
Linus: That's, uh, late eighteen hundreds.
Sabrina: In Paris they'd consider that brand new. I hope they don't tear it down.
Linus: They won't. I own that whole block. I donated it to the village as a halfway house.
Really filmed on MV? The scenes that take place on the Vineyard were filmed on location, which doesn't mean the Martha's Vineyard in Sabrina is the real Martha's Vineyard.
What to look for: Take note of the view from the Larrabees' Menemsha cottage. Yes, that is indeed the Edgartown Lighthouse. When Linus and Sabrina take a bike ride through Vineyard Haven, they head down Spring Street and turn right onto Main Street, yet in the next shot they are going in the opposite direction toward West Chop. Cut to the next shot, and they are headed the other way again. Perhaps most surprising, though, is the destitute man foraging in the garbage in front of Moonstone Jewelers and Brickman's.
The Inkwell (1994)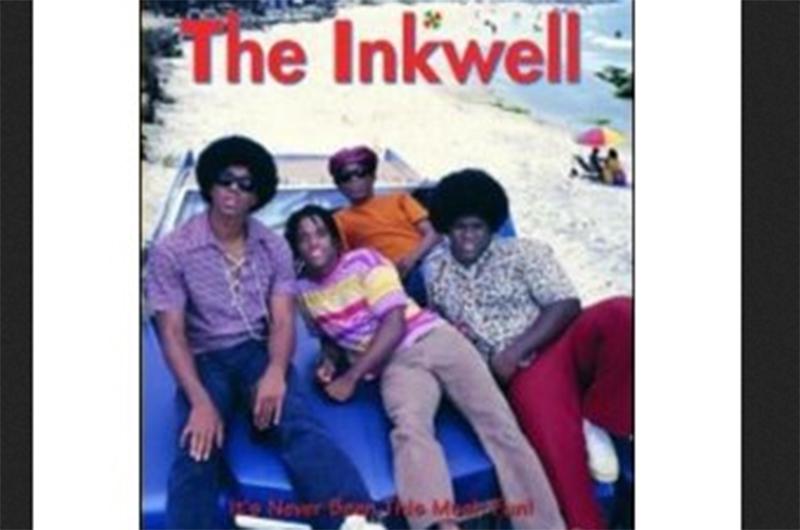 Starring Larenz Tate, Joe Morton, and Suzzanne Douglas.
The basics: Drew is an odd teenage boy whose parents are worried because he talks to a doll. It is the summer of 1976 and Drew's family comes to Oak Bluffs for two weeks to visit his aunt and uncle.
Funniest Vineyard-related conversation: On Inkwell Beach with Drew's father, a former Black Panther, and his Wall Street Journal–reading uncle:
Uncle: When we discovered it [the beach], the white folks started moving to the beaches up-Island.
Father: What I always wanted: my own black beach.
Uncle: We have obtained the American dream.
Father: What about the black folks that weren't allowed to make it? Where's their Inkwell?
Uncle: Coney Island.
Really filmed on MV? The film was not shot on Martha's Vineyard, nor did director Matty Rich take any steps to create an accurate or authentic depiction of the Island.
What to look for: There are numerous scenes that will have you scratching your head and grumbling. Everything from a Welcome to Martha's Vineyard sign to the trees bordering Inkwell Beach to the look of town is infuriatingly wrong.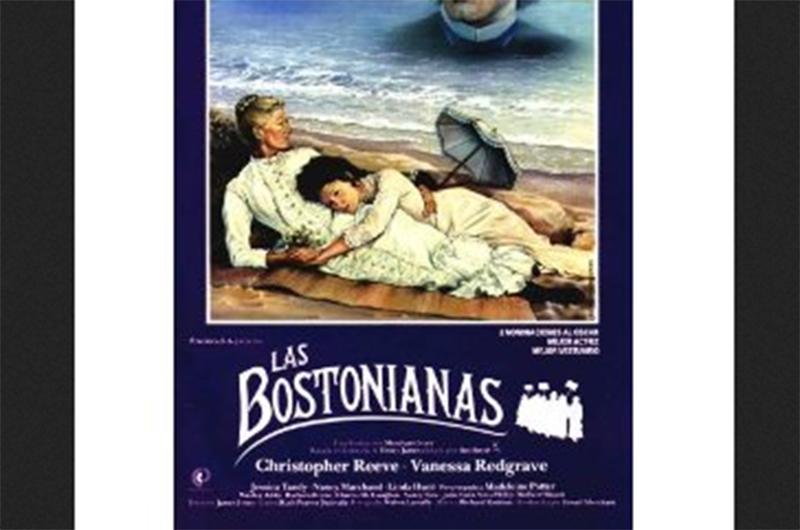 The Bostonians (1984)
Starring Vanessa Redgrave, Christopher Reeve, Jessica Tandy, and Madeleine Potter.
The basics: A charismatic up-and-coming leader in the Boston arm of the nineteenth-century women's movement finds herself torn between her love for a man and the movement she champions.
Best quote about the Vineyard: "This is a place you can wear your old clothes and lie on the ground."
Really filmed on MV? The suffragettes retreat to Martha's Vineyard for a few weeks in the summer. These scenes were shot on the Island and capture its sublime beauty.
What to look for: Fourth of July fireworks at Ocean Park in Oak Bluffs and shots of the Wesley Hotel.
A Stolen Life (1946)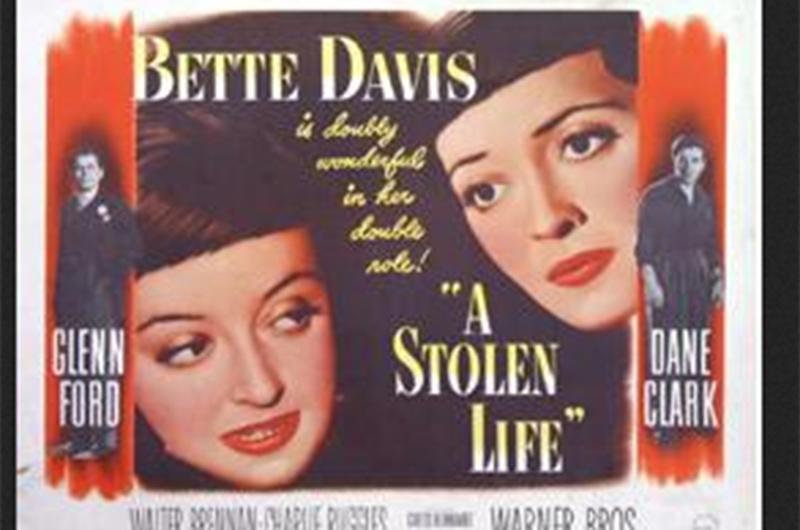 Starring Bette Davis and Glenn Ford.
The basics: Identical patrician twins Pat and Katie Bosworth both fall in love with Bill, a handsome lighthouse worker, whom they meet on "the island," which could be Martha's Vineyard.
Best quote about the Vineyard: "Let's forget everything that happened, as though we never left the Island."
Really filmed on MV? Nope. The cliffs look far more like Malibu's than any cliffs on Martha's Vineyard.
What to look for: The film opens with a shot of a map of Martha's Vineyard and Nantucket, which perhaps makes the question of destination the viewer's choice. There's a lot of whaling talk that makes it seem like Nantucket, but when Katie misses the steamboat from New Bedford and persuades handsome Bill to take her to the island, he says it's approximately two hours away by motorboat – sounds like the Vineyard.
Other noteworthy films
There are five additional films worth mentioning. Four of them didn't have a wide theatrical release; the fifth was not set on Martha's Vineyard, but we decided to include it with an asterisk.
• Mow Crew is a 2009 independent film directed and written by Vineyard native Taylor Toole; the film is about lawn-mowing Vineyard musicians in their twenties who are given the opportunity to leave the Island for a record deal.
• The 2001 HBO movie Dinner with Friends is Greg Kinnear's third link to the Island. Also starring Dennis Quaid, Andie MacDowell, and Toni Collette, the movie about two marriages includes flashbacks to Martha's Vineyard for an earlier look at the two couples.
• The 1996 television film Losing Chase had a limited theatrical release. The action is set on the Vineyard and revolves around the relationship between an acerbic middle-aged woman recovering from a mental breakdown – which she had in dramatic fashion on the tower of the Gay Head Lighthouse during a raging rainstorm – her husband, and a beautiful caregiver.
• The 1921 silent film Annabel Lee, based on the poem by Edgar Allan Poe, contains some of the earliest film footage of the Vineyard and this superb title card: "The nymph of our imagination flits before us to the kingdom by the sea, the village of Martha's Vineyard."
• The asterisk is attached to the 1966 comedy The Russians Are Coming. The film, which stars Carl Reiner, Eva Marie Saint, and Alan Arkin, is set on an island off the coast of Massachusetts that is widely rumored to be either Martha's Vineyard or Nantucket, but is actually the fictional island of Gloucester.
For their cinematic expertise, special thanks to Anne Evasick and Jamie Alley at Island Entertainment in Vineyard Haven, which stocks all these movies for rent, as well as to writer and historian Tom Dunlop.