Escaping life's responsibilities can be as simple as a walk on the beach, watching cormorants dive for fish and listening to waves swish against the shore. Even feet feel rejuvenated brushed by the damp, exfoliating sand.
Seeking the perfect souvenir is another welcome distraction. Hidden among grains of sand are glints of color, noticeable only to beach walkers paying close attention. A single piece of beach glass whets the appetite for more, but each piece is a treasure – from the most common brown, green, or white fragments to the extremely rare red shard, estimated to be a one-in-five-thousand find.
Drawn by the eye-catching bits of color in the sand, some collectors are also captivated by the potential stories that exist behind each one-of-a-kind piece.
Beach glass expert Isaiah Phillips of Oak Bluffs spends hundreds of hours collecting each winter. "The kicker for me is the history of it," he explains. "You can pick up something that looks like a rock, but it's something someone threw off a ship three hundred years ago. With the historical activity around here, that's not a stretch."
The color, texture, thickness, shape, and location of a beach glass discovery can help unlock the mystery of its history. Characteristics like uneven thickness and the presence of air bubbles can be clues; a piece with both qualities is likely from the early 1900s, before the advent of automated bottle making.
For some, the colors and dates don't matter at all. It's a walking meditation for Marina Lent of Vineyard Haven, who says searching slows her down to "hear the ocean, feel the sun, smell the beach, [and] look down – in a way that means I'm really seeing."
Most beachcombers describe their walks as tranquil and serendipitous, but they may have to look a little harder now too, since beach glass is becoming scarce. Increased use of plastic bottles and improved recycling and trash disposal practices are factors in the dwindling supply.
"[Ten years ago] I used to find fifty to sixty pieces of glass on a winter day," remembers retiree Alan Willens, whose collection includes more than ten thousand pieces found along the shores of his hometown, Oak Bluffs. "Now I'm lucky if I find one or two a day."
Treasure hunting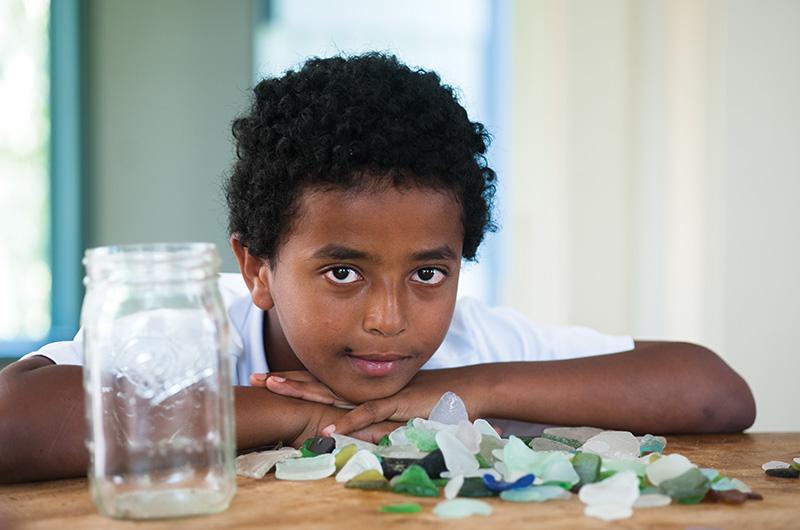 Despite its growing scarcity, beach glass isn't necessarily something people want to pay for. "I wouldn't buy it in the store," Marina says. "The pleasure is in finding it myself."
The search often feels like a mysterious process. It can be underfoot in plain sight but invisible to many. Sometimes a piece can be lost just by blinking. Adding to the mystique is a notion Isaiah shares about gender. "Men are said to be drawn to brighter colors, and women to pastels, aquas, and pinks."
The Vineyard is a prime spot for collectors because of its rich maritime history and rugged shorelines. Beaches near a common hangout spot or along a popular boating route, from today or yesteryear, will wash up more glass. While some collectors swear by State Beach or the beach below the Gay Head Lighthouse, others will say they've never found anything at those places. Most agree down-Island beaches offer the greatest possibilities.
The ultimate coffee table guide, Pure Sea Glass by Richard LaMotte, recommends searching during the first low tide after a storm, or after a rain that might have exposed buried glass. Following lunar patterns can help, since the moon can affect how low or high the tides are.
Practice helps glass seekers develop a keener eye. Isaiah reveals, "After you've been looking long enough, you can start to identify stuff by texture alone. [Beach glass has a] different look than surrounding stones. I dig a little too. [Like in a] pile of gravel, next to a jetty. It's all worth being sifted through because stuff just gets locked up in there."
Seasoned collectors also learn tricks, such as not searching in their shadows. Many comb the beach during overcast conditions, since this allows them to see a fuller color spectrum. Expeditions during the fall and winter here, with more storms and fewer collectors, tend to turn up more wash-ashore treasures.
Geraldine Brooks of West Tisbury, a writer with a keen interest in history, used to bring her younger son, Bizu, to help locate pieces she might otherwise miss, since his eyes were sharper and closer to the ground. But she inadvertently cultivated a competitor, she explains. "Unfortunately, he got rather into it and has started his own collection now, so I can't purloin his finds anymore."
Art for all
Richard LaMotte in Pure Sea Glass suggests keeping a collection can feel as if "we're bringing the healing powers of the ocean into our home."
Just as each glass quest differs, each person's way of celebrating it does too. Many keep it simple, scattering it on a bathroom windowsill or filling a light-catching glass pitcher with selected pieces. Others put more effort into their display, arranging sea gems around a picture frame or mounting it in a kitchen backsplash.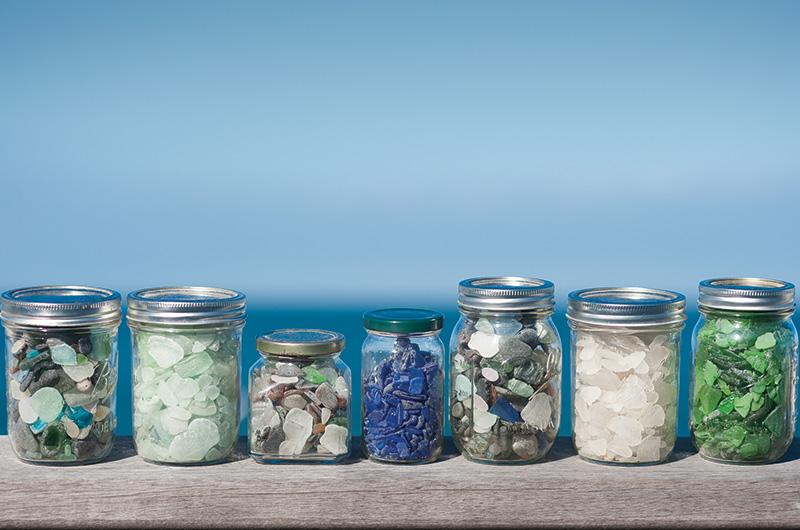 Geraldine celebrates two of her passions by keeping her favorite finds in a crystal bowl she received as a literary award. Many little trophies in one.
Marina's handcrafted oil lamps showcase her best glass. She usually layers shimmery golden shells with white beach glass inside a glass oil lamp to create what looks like a watery scene, and tops it with a thick wick. Except for the occasional present made for a friend, she keeps these magical lamps at home, where she often lights them.
Alan recently finished a massive sorting project of his many pieces – "a slow and very deliberate process." He filled several tall glass cylinders with a few hundred favorite sea gems, which are now showcased near his driftwood mantle, and he is still thinking about what to do with the rest of his collection.
Professional artists also find inspiration in beach glass. Ashley Medowski grew up collecting it with her artist grandmother, and hearing maritime stories from her fishing captain grandfather. Now, she uses sea-kissed glass to create jewelry and windows, which are showcased at her own Saltwater Gallery and at the Vineyard Artisans Festival, both in West Tisbury.
"My customers will show up with a bag they've collected. I go through it with them [to] design something personally for them," says Ashley. "Often it's a simple single, double, or triple strand necklace....I like to let the stone [sea glass] speak for itself."
Charm bracelets and pendants are the most common beach glass–related requests for jeweler Jen Foxlee of CB Stark Jewelers in Vineyard Haven and Edgartown. "Sometimes 'Grandma' has been collecting for thirty years and will have a charm made for all of her grandchildren," Jen says. People come in beaming about the significance of a specific shard ("I found this piece on my birthday") and will talk with Jen about the possibilities: bracelets, cuff links, rings, and more.
When he was low on cash one holiday season, Isaiah created recycled woodwork art featuring Island beach glass for gifts. With the encouragement of friends and family, he started his own company a few years ago. Reclaimed Island now features furniture, rock stacks, and framed montages of Island beach glass. He enjoys talking with fellow sea glass enthusiasts who visit his booth at the Vineyard Artisans Festival, engage with him on his website, and sign up for his Twitter updates.
Isaiah's personal collection, which he says he'll never part with "because it's too rare and unique," includes some black glass, which is likely more than a hundred years old, and a piece of Vaseline glass from the 1920s. He displays it all simply, in Mason jars on a bookshelf.
Whichever objet d'art showcases one's sea gems, beach glass is likely to fascinate people long into the future, especially in light of its scarcity and the time and energy it takes to find it. For many collectors, finding these ocean-tumbled gems only makes the lure of the sea stronger. They are drawn to seek it out. Even with the windy, wet, winter walks that yield up some of his best treasures in mind, Isaiah wholeheartedly states, "I enjoy it on every level."