Here are the top three winners and seven honorable mentions – and the magazine's cover photo is an entry from Katie Hutchison of Salem. Our top ten features the work of nine photographers, as our first-place winner, Nicole Carman, also captured an honorable mention. Two photographers have received past nods: Gary Riedel came in third last year, and Ethan Stead came in first in 2010.
Thanks to everyone who shared their photographs of Martha's Vineyard (see all of them below, along with comments that accompanied the entries), and keep your cameras at the ready for this year's contest.
The judges
Our panel of ten judges includes magazine photographers Elizabeth Cecil and Wayne Smith; Donald McKillop of Dragonfly Fine Arts Gallery in Oak Bluffs; Kate Feiffer, a former photo editor and now children's book author and contributing writer for the magazine; Ivy Ashe, a photographer and writer for the Vineyard Gazette; Jane McTeigue, graphic designer for the Vineyard Gazette; Jane Seagrave, publisher of the magazine and Vineyard Gazette; and magazine staffers Morgan Taylor Lucero, Nicki Miller, and Alley Moore. Our judges offer some comments on their favorites, along with notes from the photographers.
First Place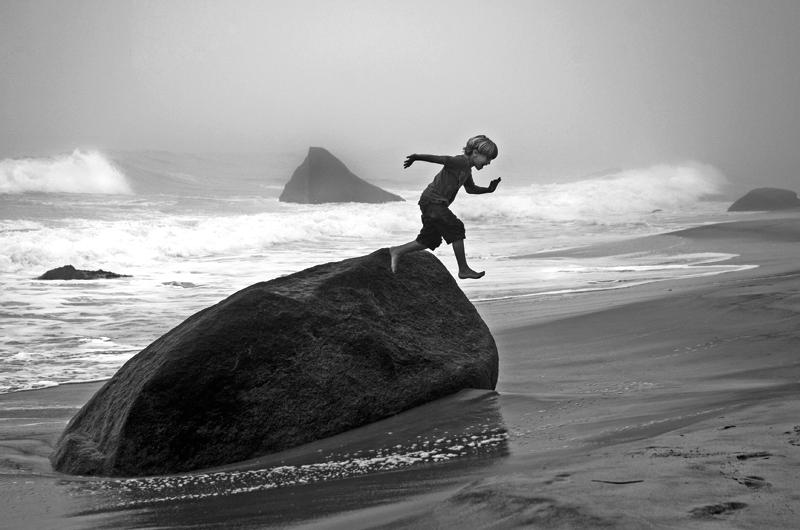 Nicole Carman, Brighton, England
"It had been raining, the sea was choppy, and it was really foggy. My little boy Finn was running and jumping off rocks and the beach was really quiet for an August afternoon. I managed to capture this image of him in mid-jump looking very pleased with himself!" says Nicole, who visits family here most summers and took this photo on the beach at the Gay Head Cliffs. Contest judge Don McKillop of the Dragonfly Fine Arts Gallery says the mix of contrasting elements in the photo appealed to him. "I like the fact that it is black and white – that really adds a lot," he explains. "The stormy and foggy background make a powerful juxtaposition to the clear joy of the little boy who is probably ignoring his parents' call to be careful, thereby creating his own storm! I mean, doesn't he just look like a kid having a ball?"
Second Place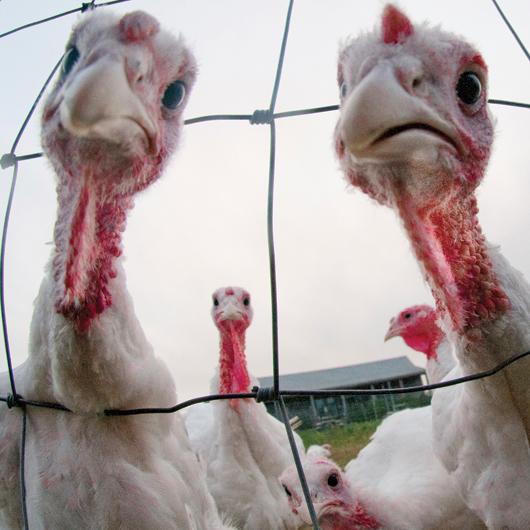 Jim Linsky, Milford
Turkeys at the FARM Institute in Edgartown caught the attention of Jim, a regular Island vacationer and a participant in a workshop led by Oak Bluffs photographer Alison Shaw. "At first sight, this image made me laugh," says judge and photographer Elizabeth Cecil. "You can feel the curiosity as the turkeys stare into the lens. The photographer puts the viewer level with the turkeys and gives us an in-your-face look at these peculiar creatures. The bold red of their necks stands out against the white of their bodies and the blank sky. This image has a great sense of humor, a unique perspective, and bold composition."
Third Place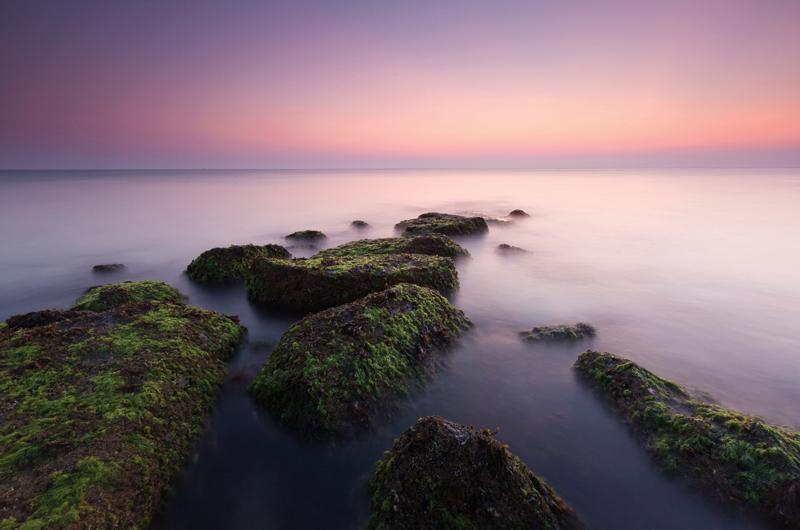 Andrew E. Nixon, Hanover
An early start to the day rewarded Andrew with this moody shot in Oak Bluffs during his September vacation. The surface of the water especially appealed to contest judge Kate Feiffer. "This photograph is stunning because of its restraint and elegance," she says. "A truly memorable photograph should draw you in and keep you rapt and that was the case with this photo: Gorgeous green-covered rocks seemingly afloat in a veneer of mist stretch out into a subdued sunrise. I didn't want to stop looking."
Honorable Mention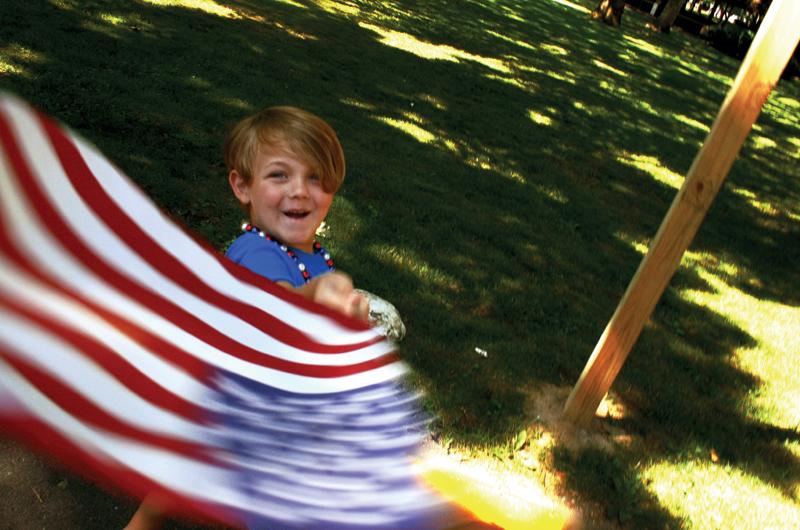 Amanda Benjamin, Palm Coast, Florida
Her son Haven's exuberant flag-swirling at a Fourth of July celebration at the Camp Ground in Oak Bluffs caught the attention of Amanda, who vacations here each summer. Vineyard Gazette photographer Ivy Ashe observes, "What really stood out to me about the photo was the energy it had, which comes out in both the bright, saturated colors and the motion blur. It took what could have been a standard vacation shot and made it all the more memorable. Plus, the expression on the boy's face is wonderful."
Honorable Mention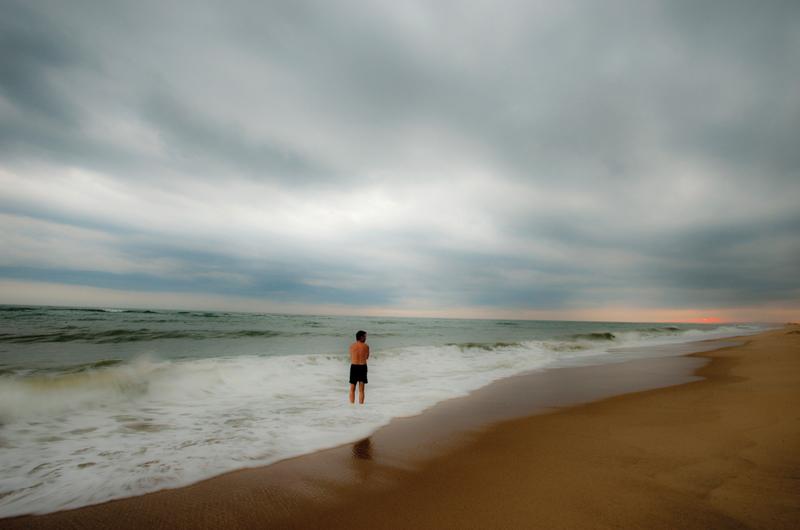 Honey Bernstein, Oak Bluffs and Goshen, New York
This image of a lone man standing in the surf was taken at sunset at South Beach in late September. "I love the loneliness and bravery of the man against the sea and the color of the water and sky," says Honey, who often comes to the Island in the off-season when it is "quiet and calm." The sense of unsettledness in this image appealed to Art Director Alley Moore, who notes, "The surf is swirling around and it is getting dark. The swimmer's arms are crossed protectively in front. He is looking back to land for some unknown reason. The photographer has done a good job at capturing a beach scene that is uncomfortable and filled with some low-level stress."
Honorable Mention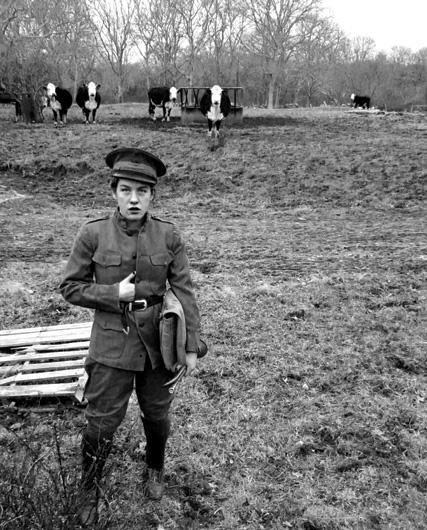 Mariah Campbell, Chilmark
Sixteen-year-old sophomore Mariah Campbell took this photo on her family's Chilmark property, with her identical twin sister, Jessica, wearing their ancestor Percy Brown's World War I uniform. The photo is one of many Mariah took for a photography class at the Island's regional high school. Editor Nicki Miller says, "This photo shows many sides to year-round life on the Vineyard, such as an appreciation for history and agriculture as well as a general creativity of spirit." Mariah says she didn't have to do much to get the cows to participate: "They are interested in whatever goes on in their field."
Honorable Mention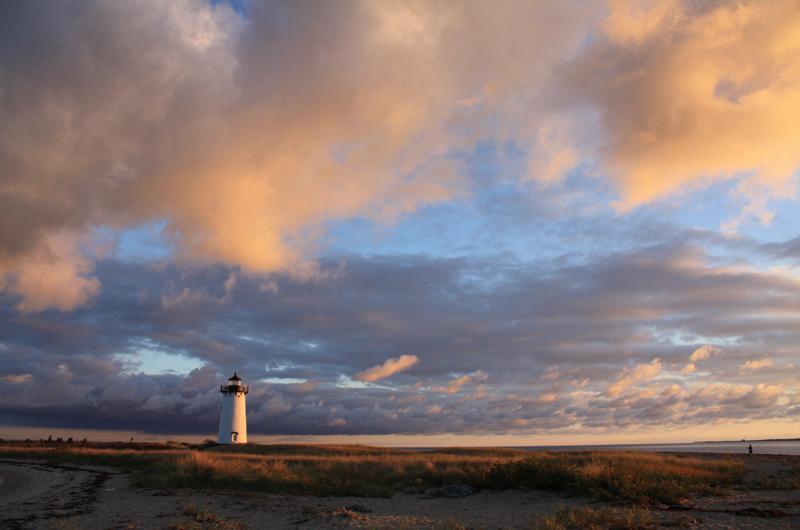 Jerry Murray, Edgartown
"The Edgartown Lighthouse is in itself an iconic Island image, but it is the overall texture and composition of this shot that sets it apart," says Vineyard Gazette publisher Jane Seagrave. "The wild sky, the dawning light, a lone fisherman all contribute to the drama of the picture." The photo was taken while fishing for albies, says the year-round Island resident and photographer, who couldn't resist "the battle between the intense sunrise versus the heavy autumn clouds."
Honorable Mention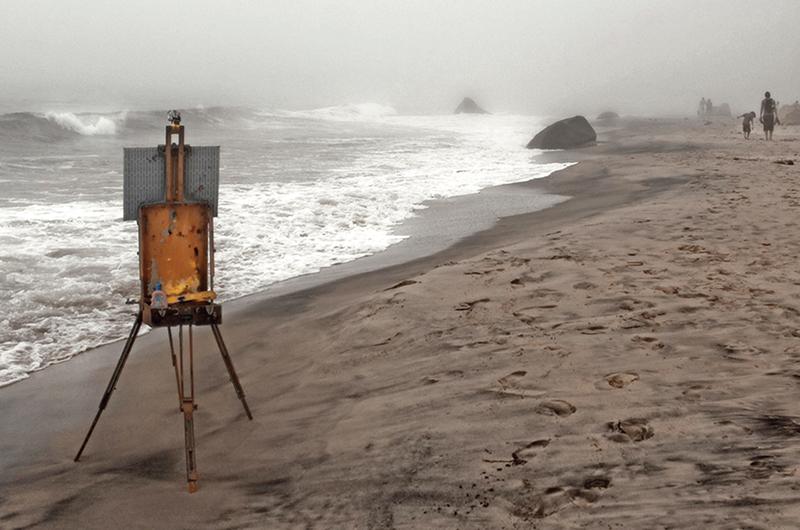 Nicole Carman, Brighton, England
On this misty August afternoon at the far end of the Gay Head Cliffs, the photographer says, "The beach was almost deserted apart from a lone artist who was painting a seascape. I saw him leave his easel and head into the sea for a swim and I loved the scene he left behind." The clean composition and evocative nature of the heavy surf, fog, and people down the beach appealed to contest judge Wayne Smith. "I loved the composition. It fits the frame perfectly and just feels good. The fog removes potential distractions from the background allowing you to focus on the simple details that are present," he explains. "The photograph is monochromatic in nature, but yet color bursts from the wood of the easel and there are hints of the warm tones of the sand. I would like to be there."
Honorable Mention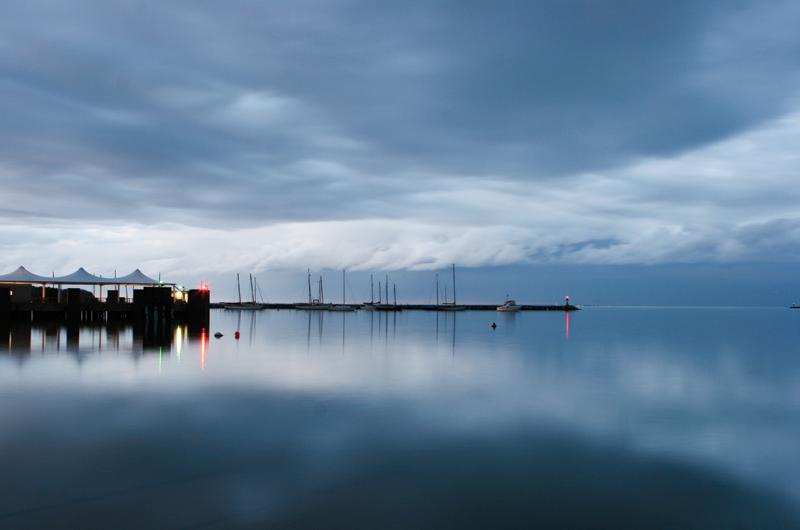 Ethan Stead, Oak Bluffs and Austin, Texas
A receding March storm over Vineyard Haven harbor pulled in Ethan, a regular in Oak Bluffs and on Chappaquiddick, who notes the heavy clouds in this photo balance the mirror-smooth water, and the peaks of the ferry dock's tenting echo the masts of the moored boats. Graphic designer Morgan Lucero is drawn to the quietude of the image: "While the cool harmonious colors and striking reflections are certainly appealing in this photograph, what really draws me to it is the Island in its rawest form – at dawn, when there are no people to impress, no boats coming or going, not even a breeze to put a ripple in the water."
Honorable Mention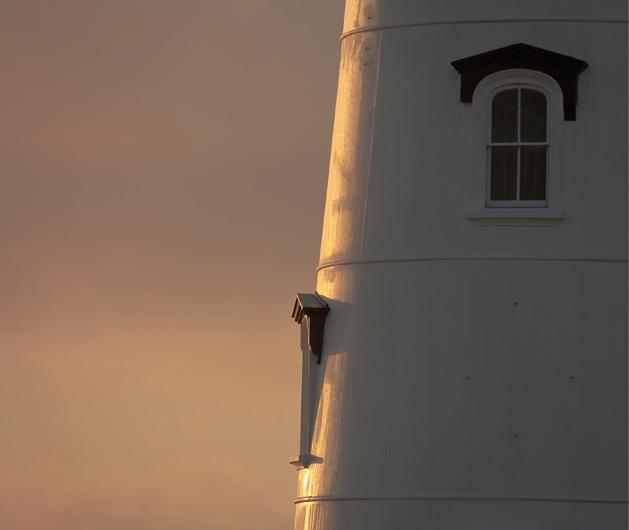 Gary Riedel, Kensington, Connecticut
A summer visitor, Gary is drawn again and again to the Edgartown Lighthouse at sunrise. Graphic designer Jane McTeigue understands the attraction, saying, "We can see that this spectacular sky is saturated with light yet somehow the colors and the density of the clouds defy that light and create mystery. At first glance, the composition, lines, subject produce a pleasingly stark, serene, sparse photo. Then the image pulls me in and I experience rich layers of visual complexity." Gary says, "I like the natural warm tones and the simplicity of this image. The highlight on the lighthouse almost makes the photo look like a painting."