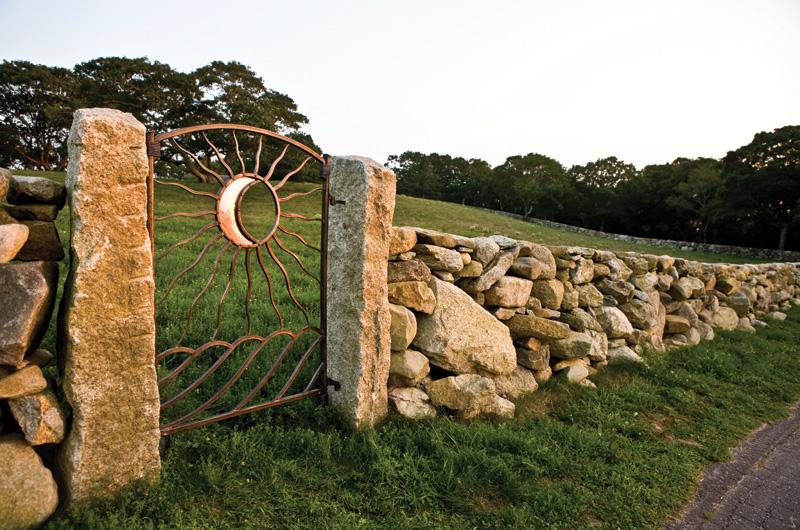 Used to be that you needed a blacksmith for everything made of metal, some of which were more mundane than others," says Vineyard blacksmith Whit Hanschka. "A latch for a church door would obviously be more ornate than a latch for an outhouse, and a blacksmith might need to be able to make either. But these days people tend to call a blacksmith when they're looking for something special."
He leans over the metal forge he built in his Vineyard Haven workshop fourteen years ago, as he slides the leading six inches of a four-foot cylindrical bronze bar into the white-hot flames rising from the bed of hot coals.
"You have to pay attention," Whit says, eyes focused on the blaze. "The bronze will melt pretty suddenly and then it's useless. That's why I work on one bar at a time – if you heat too many, one can melt – hence the saying 'too many irons in the fire.' It's actually a very literal expression." He rotates the metal in slow quarter-turns, soot-blackened hands grasping the cool end away from the flame. He is dressed for work – his jeans are blackened too, his checkered flannel shirt has a few large rips, and the front hem is frayed, looking as if it might have caught fire, perhaps more than once.
Whit raises the bar with one hand and scrapes away crusty bits of coal with a wire brush, examining the result. The metal is inanimate, but the hot end glows a beet red that somehow looks angry. "I don't burn myself very often when the metal gets this hot," he says. "When you see the red, you keep your hands away."
He is transforming this smooth, uninterrupted piece of bronze, and eight more like it that are laid out on his work table, into simulated bamboo, with its signature sections, notches, and fibrous contours. He will then use the bronze "bamboo" to build the frame for a four- foot-long coffee table that will have a glass top.
Glowing metal in hand, Whit walks over the concrete floor to the power hammer across the shop, where he works by himself. He passes the twelve-foot-long steel-plate work table; around him is an uncountable jumble of welding tanks, compressors, hammers of every shape and size, files, saws, clamps, vises, stacks of metal bars (bronze, copper, stainless steel), a pile of shavings, a couple shelves of solvents and varnishes.
Cartoonist and inventor Rube Goldberg would be intrigued by the seven-foot-tall power hammer with its elaborately curved foot treadle and spinning, rattling black leather belts. The machine runs on electricity but appears older than that power source. Whit places the glowing tip of the bronze rod on the machine's well-worn anvil, then raises and lowers a clanking fifty-pound ram with the deft touch of his foot as he twirls and adjusts the rod between blows. He coaxes the hammer to render six inches of the cylinder into a form closely resembling bamboo. Satisfied, he returns to the forge to heat the next half-foot of metal until it too becomes malleable enough to work.
"A piece like this has a fair degree of calculated irregularity," Whit says. "I call it eyeball work, but some pieces have to be measured to the sixteenth of an inch."
Nature as inspiration
Whit started making bronze marine hardware while building wooden boats at Gannon & Benjamin Marine Railway in Vineyard Haven in the late 1980s. Later, while teaching woodworking and boatbuilding to troubled adolescents at the Penikese Island School, he assembled his first forge and began simultaneously learning and teaching blacksmithing.
"The first thing I made was a heart made of metal that one of the students stole from me, but I ended up getting it back and my wife still has it," he says.
He opened his own blacksmithing business in 1996. Whit doesn't know how many pieces he has created in his fourteen years as a blacksmith on the Vineyard. "I've made things for maybe a few hundred homes on the Island," he says. "But I don't keep count."
The aesthetic quality of his work is evident whether touring the Island homes where his creations are displayed or viewing his online portfolio at www.finemetal work.com. Whit has created fireplace doors and screens adorned with flickering metallic flames, and others with Island-inspired marine motifs: fish, waves, the ocean floor.
Gates, fences, and railings feature ornate leaf patterns, cresting waves, rising and setting suns. Some gates are constructed to appear as if made from bent branches rather than iron. Sometimes his work feels like sculpture – a weather vane that's a bronze guitar, another one with a cow and two calves – or it may contain a smaller artistic surprise, such as a wrought-iron rose or miniature bird nestled in a cluster of metal leaves.
Metal is a hard medium but Whit's replications of feathers, leaves, and flowers are delicate and captivating. Some of his pieces feel intentionally precise, others more free-form and whimsical.
"The design process is different for every job," he says. "Some people call and just say, 'I'm looking for an interesting gate to go in my stone wall, something striking looking. What can you make for me?' And then we take it from there. And other clients have very specific ideas about what they want."
Much of his work is designed for a particular site, the metal work adapting to preexisting architectural conditions, such as a hearth, a stairway, or a fence. Some pieces are inspired by unexpected discoveries on the property or in the home. "I almost always walk around a place before designing anything," Whit says. "Sometimes I take photographs; other times I just try to get a feel for the drama of the landscape."
One of his most recent pieces was an open-ended assignment to construct a gate for a stone wall high on a bluff in Chilmark. On one side of the wall is a field large enough that the end lies somewhere beyond sight; the tall grass is strewn with lichen-covered boulders and stark, stand-alone oak trees. On the other side is a panoramic view of Vineyard Sound with rolling water below and a seemingly endless sky above.
Whit wanted to design something that meshed with this dramatic setting and expansive vista, and he found his spark in an old wooden sign mounted on a barn at the top of a rise in the meadow, a black plank with a white crescent moon and the painted words White Moon Farm. The result was a metal gate with a combined sun and crescent-moon design featuring beams of light emanating from a central orb and a progression of waves curling below the sun-moon rays.
"The bronze will weather and age gracefully out here and become more beautiful over time," he says. "That's what bronze does."
Versatility
In addition to his artistic metalworking skills, Whit earned a degree in mechanical engineering in 1987 from Stanford University, and some assignments benefit from both elements of his background.
He was asked to put the finishing touches on a double-sided central fireplace in a newly built Chilmark home by constructing a glass viewing panel for the back and a screen for the front. "They wanted a large screen that would somehow be moveable despite its size," Whit says. The fireplace mantel and hearthstone are each twelve feet of granite, and the hearth opening is five feet wide and five feet high. His solution was to design and install a metal track running the length of the hearthstone, so the heavy screen he made could easily slide back and forth.
At a home on the Lagoon in Oak Bluffs, he designed different exterior stair railings for the front and back yards. The front railings lead from a semi-formal circular drive down toward the house in straight lines matching the lines of the steps and in keeping with the feeling of the driveway and the front yard's planted borders. The stairs in the back are more of a playful, twisting stone path surrounded by natural vegetation descending to the water, and Whit built a set of curvaceous railings following the long meandering walkway. "The idea back here was to create something that seemed more casual. It was fun to lay out this much railing without any straight lines," he says.
For a home in West Tisbury that resembles an elegant European château, with high French doors, a stone facade and columns, and sprawling gardens decorated with urns and statues, he built a rose-covered wrought-iron garden gate and a custom fireplace screen, along with elegant indoor and outdoor bronze railings. "A distinctive enclosed-X pattern is a design theme throughout the house, especially in the windows and doors," he says, "and the owners asked me to incorporate that into the metal work."
The creative aspect of Whit's pieces comes from both the conception and implementation of his work, from the interplay between the design and construction processes. Only a year ago, he said he didn't consider himself as much an artist because his creations tend to be functional as well as aesthetic. But now, he concedes, he sees his work as being on the cusp. "The division between art and craft is a blurry line," he says.
Like many endeavors, it turns out, blacksmithing is what you make of it.