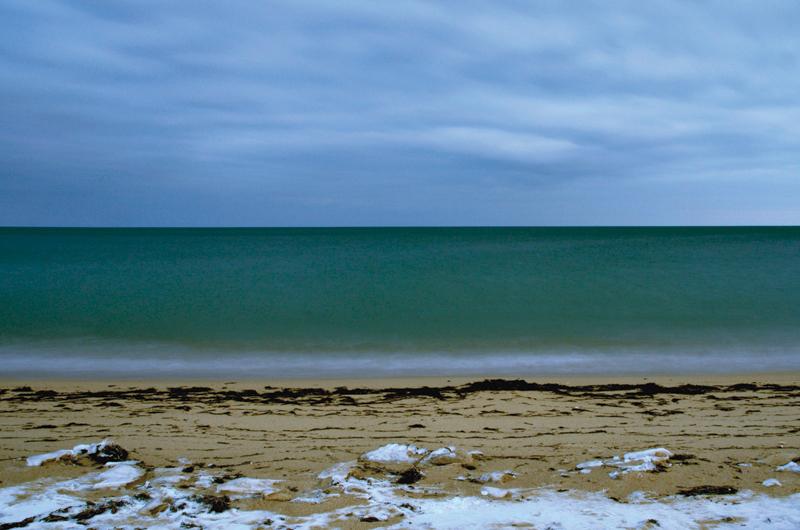 Now that every square inch of the Vineyard is spoken for, it's difficult to remember a time when Island property was won or lost in a casual poker game or plucked up at a tax auction for a few dollars. In such an environment, a few far-sighted individuals and groups looked to the future, to a day like today, when land (and the animals and plants that reside there) once thought to be worthless is now known to be priceless. As great journeys begin with single steps, the great movement toward land conservation on the Vineyard began with single properties – some modest, some grand – for our Island conservation groups.

Sheriff's Meadow Foundation began, simply enough, with a field in Edgartown known as the Sheriff's Meadow. Henry Beetle Hough, for forty-eight years the editor of the Vineyard Gazette, and his wife, Elizabeth Bowie Hough, founded Sheriff's Meadow Foundation for the most basic of reasons – to preserve a lovely view. From their house on Pierce Lane in Edgartown, the Houghs looked out across a meadow toward a small pond. In 1958, the Houghs scraped together enough money to buy the field and keep it wild, rather than see houses built upon it. The only glitch was that no existing conservation group wanted to oversee the property, so the Houghs created their own.

Of course, Sheriff's Meadow Foundation was hardly just about the Houghs' view. Henry Beetle Hough was a dedicated conservationist, and in the fifty-plus years since his original purchase, the nonprofit organization has added more than two thousand acres all over the Island, and conservation restrictions on almost six hundred acres more. These are properties tiny (a quarter-acre) and huge (four hundred acres), some meant for enjoyment by human visitors and some for the benefit of nature alone.

Sheriff's Meadow Foundation prides itself on maintaining Henry Hough's original vision of conserving lands that other organizations can't or won't. "We are willing to work with all types of landowners, and the Sheriff's Meadow property is a good example of that," says Executive Director Adam Moore. "We're a conservation option for every landowner." A visit to Sheriff's Meadow itself allows one to see what the Houghs observed fifty years ago: Maybe every undeveloped place is worth preserving. www.sheriffsmeadow.org

The Trustees of Reservations was established by the Massachusetts State Legislature in 1891 "for the purposes of acquiring, holding, maintaining and opening to the public...beautiful and historic places...within the Commonwealth." The Trustees is a private, nonprofit organization, but it is a testimony to the vision of founder Charles Eliot, a Boston landscape architect, that his idea to hold land tax-free for the public to enjoy was so novel that the state legislature had to approve it. "Charles Eliot was a true visionary," says Chris Kennedy, regional director for the Trustees. "He understood early on that working-class people needed...beautiful properties where they can shed their work-a-day cares, and we provide that."

Today the Trustees' one hundred thousand members have helped protect twenty-five thousand acres on more than a hundred properties statewide, including historic buildings and collections, gardens, working farms, and archeological sites. True to Eliot's original vision, all are open to the public.
Cape Poge Wildlife Refuge on the island of Chappaquiddick was the Trustees' first Vineyard property. Building upon the original acquisition in 1959, fourteen subsequent land gifts and purchases, the last in 1995, have swelled the current reservation to 516 acres of spectacular and fragile coastal property along Nantucket Sound that includes the Cape Poge Lighthouse. www.thetrustees.org

Vineyard Conservation Society, founded in 1965, focuses on environmental advocacy and outreach, as well as land protection. VCS helps protect land through a variety of methods such as conservation restrictions, agricultural preservation restrictions, covenants, and other means, but VCS itself does not own land. "We try not to get into that end of the business," says Executive Director Brendan O'Neill, noting that not having to placate landowners and potential donors allows VCS the freedom to advocate aggressively.

"The impetus for the creation of the VCS in 1965 was the land-use controversy of the Lobsterville Moors," says Brendan, who – at the helm of VCS now for twenty-five years – has helped negotiate many sensitive land deals between property owners and the Vineyard's land conservation groups. The nascent VCS helped forestall development of the lands along what is now West Basin Road in Aquinnah, and the land was eventually transferred in trust by the federal government to the Wampanoag Tribe of Gay Head (Aquinnah), which manages the land for ecologically sound traditional use. www.vineyardconservation.org

The Massachusetts Audubon Society owns one property on-Island that is open to the public: Felix Neck Wildlife Sanctuary, a 250-acre gem between Edgartown–Vineyard Haven Road and Sengekontacket Pond. The majority, roughly two hundred acres, was acquired in 1968, and the remaining parcels were added over time; the Felix Neck Wildlife Trust owns one hundred acres adjacent to the sanctuary that are managed cooperatively with Mass Audubon.

According to Sanctuary Director Suzan Bellincampi, the triangle logo of Mass Audubon represents "conservation, education, and advocacy." Suzan acknowledges the statewide organization does land conservation, but she notes, "we're known for education. It's our leadership role on the Island." The organization's natural history education program offers a huge number of outdoor activities for all ages, including its Fern and Feather summer camp and what Suzan calls "citizen science." "We really engage people in real research to help us understand what's going on out there," she says. One recent citizen-science project was a survey of the Island's horseshoe crab numbers, which are dwindling.

The Felix Neck property gives Mass Audubon a richly diverse environmental setting for its educational programs and offers visitors, human and otherwise, a tranquil refuge in any season. www.massaudubon.org

The Vineyard Open Land Foundation was founded in 1970 and has helped protect more than two thousand acres on Martha's Vineyard, including 271 acres that it owns. "VOLF was set up by professional planners," says Executive Director Carol Magee. "They saw that the Island was going to come under tremendous development pressure. People have to live somewhere."

In light of that reality, VOLF's founders created "an organization to guide development and provide an example of saving land in conjunction with limited, environmentally sensitive development," according to Carol. VOLF has helped create sixteen "conservation subdivisions," the first of which, in 1973, was Sweetened Water Farm in Edgartown. The property was zoned for 110 houses; VOLF created fifteen house lots, and in the process conserved thirty-two acres and, more importantly, the rolling hills of one of the Island's most beautiful landscapes right on the doorstep of Edgartown. www.islanderis.net/users/VOLF

The Martha's Vineyard Land Bank Commission was created in 1986 by Island voters alarmed at the disappearance of their open spaces and their freedom to hike, hunt, fish, and wander unimpeded by "No Trespassing" signs. Funded by a two-percent surcharge on real estate transactions on the Island, the Land Bank has set aside almost three thousand acres for the environment, but also for farmers, hikers, beachcombers, birders, hunters, and other constituents.

"Because the other [Island conservation] groups have narrower missions," says Executive Director James Lengyel, "we are freer to have a broader mission." He notes, for example, that because groups like the Nature Conservancy focus on wildlife sanctuaries and other ecologically sensitive areas, the Land Bank is free to pursue land for recreational access, such as hiking, biking, and swimming. The Land Bank is governed by a representative from each of the six Island towns, as well as one appointee of the Commonwealth; weekly meetings on Monday evenings are open to the public, and community input is welcomed. Land Bank properties are all open to the public, and the Land Bank has also been actively acquiring easements for additional trails.

The Land Bank's first property was Christiantown Woods, 8.6 acres surrounding the historic Christiantown chapel in West Tisbury. The chapel was built in 1659 as part of a Christian missionary movement to convert members of the Wampanoag Tribe, and the adjacent graveyard is sacred ground. The property was "primarily purchased as backdrop to allow the historic chapel to be in context," according to James, who notes it would be "nauseating to have a huge house next to, looming over, that beautiful chapel." The preserve is yet another example of the varied mission of the Land Bank. www.mvlandbank.com

The Nature Conservancy, since its founding in 1951, has attracted a million members and protected 119 million acres of land worldwide, working in all fifty states and thirty countries. The 192-acre Katama Plains Preserve, known to all as the Katama Airfield, was the Conservancy's first Vineyard property. The bulk of the preserve was purchased in 1986, and the Nature Conservancy holds a conservation restriction on and manages the property for the Town of Edgartown.

Matt Pelikan, director of the Conservancy's Islands program, is careful to note, as with many conservation successes on Martha's Vineyard, the Conservancy worked with "an array of partners. We can't take sole credit for that by any means."

While all of the conservation organizations strive for science-based management, the Nature Conservancy's enormous scientific resources have enriched the Island's conservation management by assisting other groups with issues such as prescribed burns and habitat restoration.

Matt says, "The advantage of having an organization like the Nature Conservancy active here is our resources." www.nature.org

Early town conservation lands

The Conservation Commissions of the six Island towns also conserve lands for varied purposes, including recreation, ecological protection, and historic preservation. For example, Sailing Camp Park in Oak Bluffs ensures public access to Lagoon Pond with fifteen acres fronting the pond; the Katama Farm in Edgartown, with two hundred acres under lease to the FARM Institute, keeps agricultural production going and protects the open character of Katama; and the 365-acre Margaret K. Littlefield Greenlands in West Tisbury provides recreation and extends the reach of the State Forest. The towns often work in coordination with the nonprofit groups, as Edgartown did with the Katama Airfield, or as Aquinnah did in helping to protect the scenic character of Moshup Trail.