On July 27, 2004, the morning that Barack Obama was to give his now-famous keynote speech to the Democratic National Convention in Boston, a Philadelphia Daily News headline read "Who the Heck Is This Guy?" Then came the 2,297 words, spoken over 17 minutes, that gave America the answer: He was an unheralded political phenomenon. But there were people on this Island who knew long before that speech what his potential was.
Valerie Jarrett, Oak Bluffs seasonal resident, longtime Obama confidante, and now a senior advisor to the president, was one who knew. And she invited him to take a little time out from his Senate campaign (for which she was his finance chairman) and come down to Martha's Vineyard after the Boston appearance. Two others who knew were Harvard law professors Charles Ogletree and Henry Louis "Skip" Gates Jr.
And so it came to pass that the Obamas – Barack, Michelle, and daughters Malia and Sasha – came here for a brief vacation, and Obama was invited along to Edgartown's Old Whaling Church, where Charles was staging his regular summer forum on race issues. Barack Who? was yet to be elected as a U.S. senator, and he was not on the program. But he dropped in, Charles says, "to meet a few people." And Skip Gates introduced him as "my pick for President in 2012."
"He was a little off in terms of how soon it would happen," Charles says with a chuckle.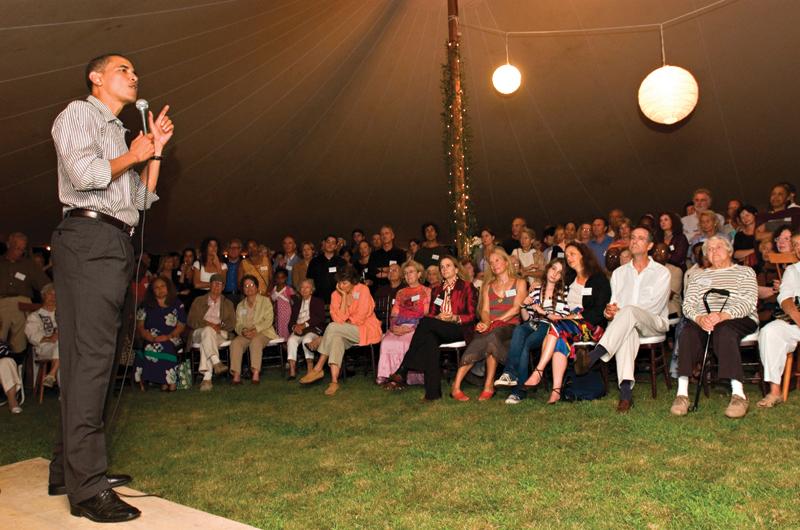 "Barack walked into the Old Whaling Church through the back door and the place was packed and folks went wild," he says. "I expected [Obama] just to wave and thank people, but he gave a wonderful talk....He made quite a splash." There was a reception in Obama's honor the next day at Skip's house in Oak Bluffs: "It was a remarkable gathering of Vineyard veterans who relished the idea that this guy was popular beyond measure," Charles says.
Some believe it was then, on this Island, that Valerie Jarrett began encouraging his bid for the presidency; her office declined to comment on when and where the decision to run for president was made. But whatever else Obama decided, he decided he liked this place, says Charles when asked what Obama made of his first visit.
"This was him trying to figure out, 'Why are all these people I know spending some of their time on this place called Martha's Vineyard, called Oak Bluffs?' He came and realized that it had all the things that were perfect for him and the family: beaches, a lot of things for the children, and of course great golf courses." Obama's game? Charles says, "He's a long driver and very patient golfer."
Assuming the Obamas return for a Vineyard vacation this summer – the planning has certainly been in the works – they'll be in great company. Our research turned up ten presidents and families with Vineyard connections. We have the least details about the first, who came years before becoming the nation's second president. The others provide more fodder for a meaty primer on this executive branch of Vineyard history.
– Lauren Martin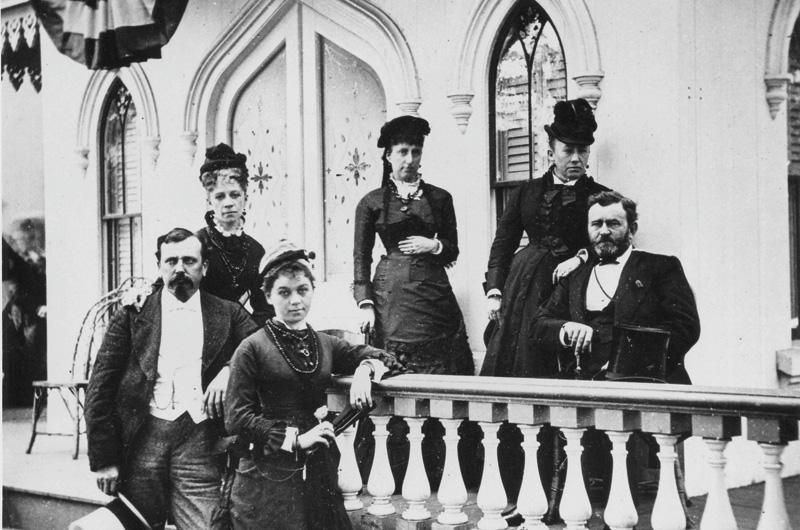 A young man's pre-presidential jaunt
John Adams reportedly came to the Island in 1760 to visit his friend Jonathan Allen in Chilmark.
A visit to Oak Bluffs and its Camp Ground
"Today has been a notable day in the history of Martha's
Vineyard. For the first time in that history, a president of the
Republic has landed our shore, has partaken of our hospitality,
has received in person the salutations of our people."
– Vineyard Gazette, August 20, 1874
Could it be that the splash of a sinking economy sounds the same no matter when it happens? "Banks had lent money recklessly and brokerage houses had marketed securities that were often worthless." These words, written by Jean Edward Smith, were published in his book Grant to describe what has been termed the Panic of 1873. During President Ulysses S. Grant's second term, the eighteenth president of the United States faced an ominous economic crisis. But that's not all: He also had to contend with several political scandals as well as the much-publicized marriage of his only daughter, Nellie, to an Englishman generally deemed unworthy of her hand.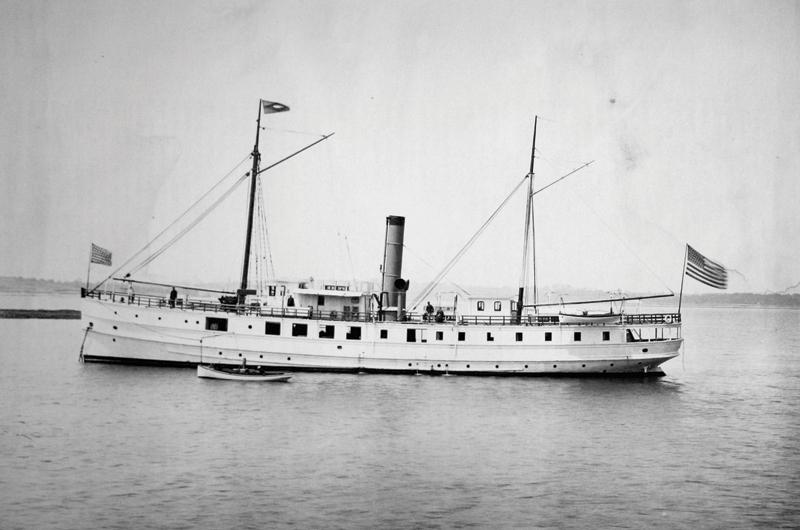 On the upside, Grant did get to visit Martha's Vineyard for a few days. In August of 1874, President Grant and his wife, Julia, traveled to Oak Bluffs via the steamboat River Queen. Upon their arrival, an enthusiastic crowd greeted the first family and the presidential party, which included Vice President Henry Wilson, Secretary of the Navy George Robeson, Postmaster-General Marshall Jewell, and Massachusetts Governor Thomas Talbot.
Historians aren't certain what prompted the Grants' visit to the Island. The invitation likely came from Rev. Dr. O.H. Tiffany, minister of the Metropolitan Methodist Episcopal Church in Washington, D.C., where the Grants were congregants. During their time on the Vineyard, they stayed at the home of Bishop Gilbert Haven in the Oak Bluffs Camp Ground, a Methodist community, for three nights. Perhaps it was Grant's popularity among Methodists that brought them here. Historian and author Sally Dagnall recalls that the Vineyard was a good place for politicians "to see and be seen." And perhaps there was an additional incentive for Grant, she says: "He could take care of his spiritual life and take care of his political life at the same time."
President Grant didn't visit other towns on the Vineyard. Aside from attending Sunday's religious services in the Methodist Camp Ground, Grant departed each morning for day trips to Cape Cod, Nantucket, and Naushon. Historian Arthur R. Railton wrote in his book The History of Martha's Vineyard, "Grant showed little interest in the Vineyard or its residents."
Island residents, however, showed much interest in their high-profile visitor. Oak Bluffs was aglow with bright lanterns, celebratory fireworks, and throngs, sometimes numbering up to thirty thousand, of cheering well-wishers.
The president attended parties during his evenings on the Vineyard. He visited the home of Doctor Harrison A. Tucker, who was well-known in certain circles for an opium-based elixir he developed. Perhaps the Grants received more attention than they wanted. Late one evening, after a reception for Mrs. Grant at the Camp Ground cottage belonging to the Reverend Dr.
Tiffany, the president and his wife were roused out of bed to their second-story window to listen to a group of serenaders.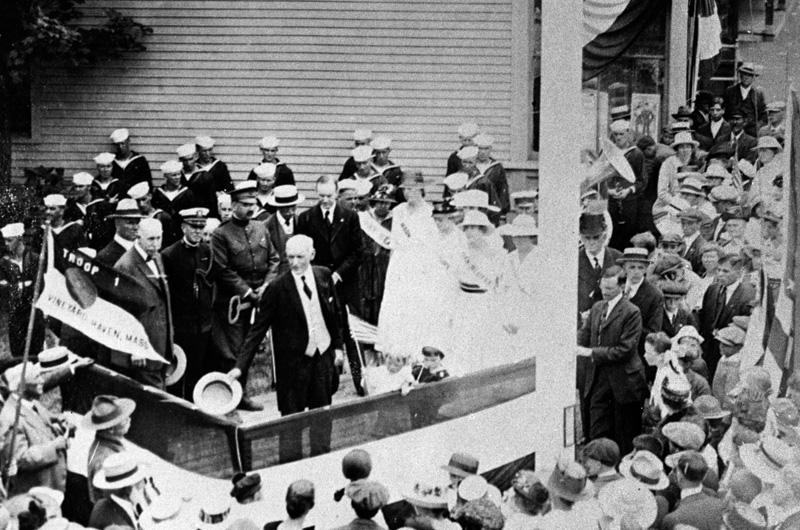 Arguably the most memorable event during their stay was a spectacular fete at the elegant Sea View House, a grand hotel that burned down eighteen years later. Hundreds of formally dressed summer visitors and a few year-round residents attended the party, and thousands of people flocked to town to greet or get a glimpse of the presidential party.
Upon their departure, both President and Mrs. Grant expressed their gratitude. Mrs. Grant said she was "delighted with the Vineyard." Extract what you will from President Grant's remarks, which ran in The New York Times:
"I have enjoyed the trip with unusual interest, as much of the excursion has carried me over territory with which I was not previously acquainted. My reception in this camp-meeting ground and my entertainment, and the exercises here, have been very gratifying to me indeed. I am sorry that so much trouble has been taken for my reception, but it is the fault of the committee and not the fault of mine, as all the entertainment has been forced upon me, and I have been met at every town of my visit [Oak Bluffs and off-Island] with some kindness for which I am deeply grateful."
– Kate Feiffer
A presidential fishing trip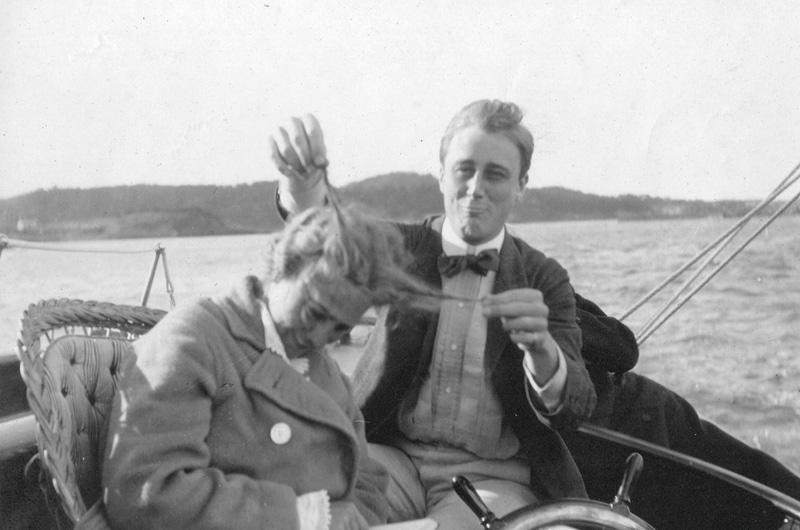 Ask someone with a modest knowledge of Vineyard history how many presidents have visited the Island, and his best guess would likely be two: Ulysses S. Grant during his sojourn at the Camp Ground in August 1874 and Bill Clinton every summer of his presidency but one.
His best guess would be quite wrong.
The second president to visit Martha's Vineyard – well, to come within a cuspidor's spit of it – was Chester Alan Arthur in the late summer of 1882. Arthur, as accidental a president as we've ever had, had recently served as collector of the port of New York when he was chosen by Republican pooh-bahs to run for vice president with Representative James A. Garfield of Ohio, himself a compromise candidate, at a deadlocked convention in 1880. Garfield was shot at a Washington train station on July 2, 1881, and died on September 19 after serving just five months as president. Arthur took the oath of office early the next morning and became the twenty-first president of the United States.
On September 5, 1882, just two weeks shy of his first full year in office, President Arthur steamed into Woods Hole aboard the steamer Dispatch, accompanied by the Lookout, a vessel belonging to a new agency, the United States Commission of Fish and Fisheries. The commission, a forerunner of the modern-day National Marine Fisheries Service (part of the National Oceanic and Atmospheric Administration, or NOAA), was established in 1871 to investigate why fish populations were declining in coastal and inland waters. It was the first federal agency dedicated to the preservation of a natural resource.
On September 6, reported the Vineyard Gazette, "President Arthur and party went fishing off Menemsha Bight…in the U.S. Fish Commissioner's steamer Fish Hawk." The Gazette added, "The report that the President sent a bundle of state documents ashore to be mailed at [the Vineyard] lacks confirmation." Though a passionate recreational fisherman – he is known to have vacationed at the famed Cuttyhunk Fishing Club for at least one week during his presidency – Arthur was in fact aboard the Fish Hawk to watch the steamer trawl for such fish as herring, mackerel, and striped bass, whose dwindling numbers were a cause of rising national concern.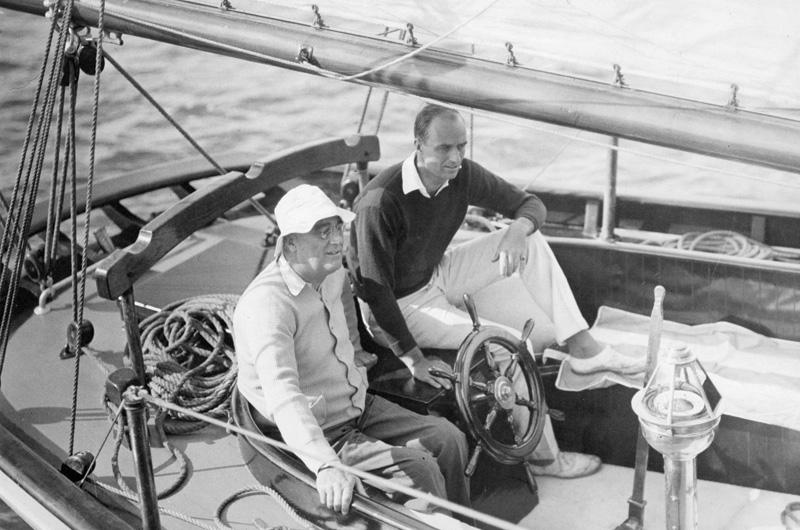 A history of NOAA reports that years later, Edwin Linton, who in 1882 was a rookie biologist with the commission, recalled how he and his fellow assistants showed up that morning dressed for a regular day's work aboard the Fish Hawk, only to discover that everyone else had "all dressed in honor of the Chief Executive" and thus felt "easy in their minds." The founder and head of the commission, Spencer F. Baird, gave his youthful swabbies an "appraising look," Linton noted, "just before, as it seemed to us, he decided not to present us to President Arthur."
The expedition returned to Woods Hole at 5:55 that day, whereupon the president boarded the Dispatch, left the harbor, and soon sailed into a much larger port, known to history as Oblivion.
– Tom Dunlop
Numerous pre- and post-presidential visits
After Bill Clinton and John F. Kennedy, the president who frequented the Island most, both officially and recreationally, was Calvin Coolidge – but never while actually serving as
president.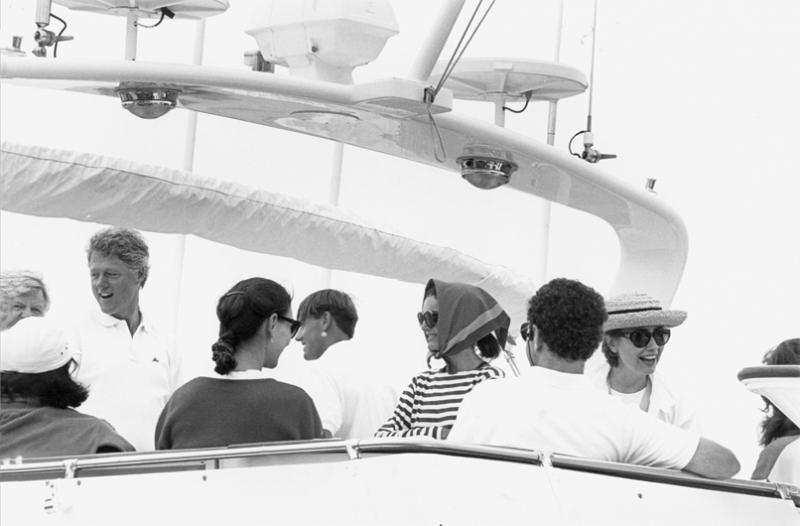 In 1915, Coolidge, then lieutenant governor of Massachusetts, made his first public trip to the Island on Governor's Day, which then coincided with the Grand Illumination on the Camp Ground of Oak Bluffs. It was tradition – as well as good politics – for the governor to come to the Island to speak before the two thousand people who gathered on Illumination Night for services at the Tabernacle.
The festivities that late-August day – a banquet at the Wesley House in Oak Bluffs, a long automobile ride over dirt roads to gaze at the ocean from the Gay Head Cliffs, refreshments back in Edgartown, the Tabernacle speech, and a late dinner afterward in Vineyard Haven – exhausted Governor Samuel W. McCall, who was not a young man. So two years later Coolidge, still lieutenant governor, returned to the Island alone. The United States had entered the First World War in April 1917, and on his tour Coolidge took refreshments with the ladies of an Edgartown home club and heard a Miss Evelyn McGuire sing "The Star Spangled Banner" and Theodore de Barnard of St. Louis sing "La Marseillaise." That night Coolidge rose before the throng at the Tabernacle to pay "tribute to the war spirit and the war principles of Massachusetts" – an unprecedented departure from a night customarily devoted to more ecclesiastical matters, noted the Vineyard Gazette.
Coolidge returned to Gay Head after his presidency ended in 1929 to tour the lighthouse and meet Charles W. Vanderhoop, who had served as keeper since 1920 and would be the only Wampanoag ever to hold the job. Coolidge also stayed at least once with U.S. Senator William M. Butler of Massachusetts, who had a summer home at Lambert's Cove and is known to have taken the former president and his wife, Grace, to the movies in Vineyard Haven.
Coolidge's most notable Island visit occurred on July 13, 1918, when he and Governor McCall returned to bestow upon Gay Head – once an impoverished Indian reservation with its Wampanoags denied citizenship, and known today as the town of Aquinnah with the Tribe federally recognized – an honor that still awes us ninety years later. As the Great War drew to a close, it was discovered that this tiny village at the western reaches of the Vineyard had sent 17 men, or 10.4 percent of its population of 162, to serve in the Army and Navy – the largest percentage of any other city or town in New England. There was a pan-Island celebration – a parade in Vineyard Haven, a pageant in West Tisbury, refreshments in Edgartown, a dinner in Oak Bluffs – and at Gay Head, McCall dedicated a tablet that now rests in front of the town hall.
"This little town upon the wind-swept corner of Martha's Vineyard has become at the moment the central point of New England," Coolidge and hundreds of others heard Governor McCall say. "We have been rather too prone not to fix our eyes upon what the smaller places are doing for the country." Gay Head's service, the governor declared, emphasizes "the fact that the cause in which we are fighting animates every race, and just as race lines have disappeared, so have the lines of politics and creeds disappeared also….The ordinary differences that divide men must wait for another time. At the supreme call of our endangered country they slink out of sight, and we follow today only one leader and one flag."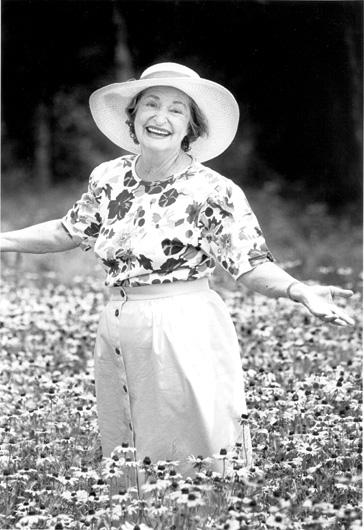 – Tom Dunlop
From a presidential sail to a family of regulars
My father, Franklin D. Roosevelt Jr., summered on Martha's Vineyard for ten years beginning in 1966. He was an avid sailor. My sister and I fell in love with the Vineyard immediately. She dropped out of college and cleaned houses here for a year before returning to school. In 1995, I moved to the Island year-round.
But we weren't the first Roosevelts to come to the Island. My grandmother, Eleanor Roosevelt, whom we grandchildren called Grandmère, came twice to visit her friend (and later, biographer) Joseph Lash and his wife, Trude. On July 28, 1950, in Grandmère's syndicated newspaper column "My Day," she noted that she had been to Nantucket to visit her friend and former U.S. Secretary of the Treasury Henry Morgenthau Jr. "I hope to spend a day on Martha's Vineyard," she wrote, "– two islands which have always seemed remote enough from the world to enable one to get a perspective on what is going on."
The next day, she wrote: "I went to Martha's Vineyard. Mrs. Joseph Lash…showed me the beauties of the island. We had a delightful lunch outside with Dr. and Mrs. David M. Levy. I sat on their porch for a little while with Katharine Cornell, Miss [Anne Sullivan] Macy, and several other interesting and charming women." Then, referring back to Nantucket, she added: "The rivalry between these two islands seems fairly vigorous, so I will only say that I found both of them delightful."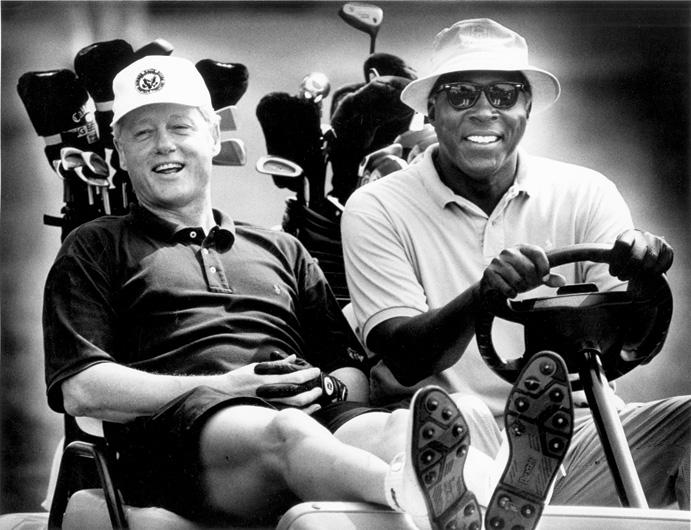 Her next visit was an overnight at the Lash house in 1954, but this time she noted only that she had made the trip.
Franklin Roosevelt never actually set foot on the Island, but he came close. On June 19, 1933, The New York Times ran an article entitled "Skipper Roosevelt Forced by Squall into Edgartown Harbor," describing how FDR, sailing a schooner from Marion, took refuge for the night in Katama Bay. The president was at the helm for the entire trip, and The Times noted that the salts skippering his consort ships were impressed with his sailing skills. A similar article in the Vineyard Gazette on June 23 noted that FDR's voyage into the bay "was a sight that drew more than one complimentary remark from the older men who still continue to take a man's measure by his ability in seamanship." Among the others traveling with the president was his son James's friend Amyas Ames, who twenty years later became a Vineyard seasonal resident, eventually building a house in Chilmark.
FDR's other close encounter with Martha's Vineyard was in 1941. On August 3, FDR boarded the USS Potomac at New London, Connecticut, ostensibly for some rest and relaxation. Generally, press representatives would accompany him on such trips, but this time he claimed that his escort ship was too small to accommodate them. And so, sans reporters, he stopped at Nonquitt, Massachusetts, and visibly took aboard the prince and princess of Norway, engaged in a few hours of fishing a couple of miles offshore, and then personally accompanied his visitors back to shore. He left Nonquitt heading for the Cape Cod Canal, but at 8 p.m. reversed course and, as he described it in a White House memo, "going around the south end of Cuddyhunk [sic] Island, we anchored in the midst of seven U.S. Warships at about 11 PM, at Menemsha Bight on the western end of Martha's Vineyard. All ships darkened."
On August 5, the Vineyard Gazette ran an article about the mysterious appearance of these warships and the local speculation about what they were up to. The ships launched some aircraft for practice maneuvers over the Island, but evidently, no one suspected the real reason for their presence.

At dawn on August 4, the president was transferred from the USS Potomac to a flagship in the fleet, and from Menemsha, he headed to the coast of Newfoundland, where he had his
first in-person meeting with Winston Churchill – in absolute secrecy. At this meeting, the two world leaders drafted the Atlantic Charter, which would later become the basis for the United Nations Charter. Meanwhile, back on the USS Potomac, several of the crew dressed in civilian clothes, sat on the afterdeck, and posed as the president and his entourage. The ship left the Bight that morning, and it – and Martha's Vineyard – all took part in an elaborate decoy operation to keep the press, the public, and our enemies from knowing what FDR was
really up to.
– Laura D. Roosevelt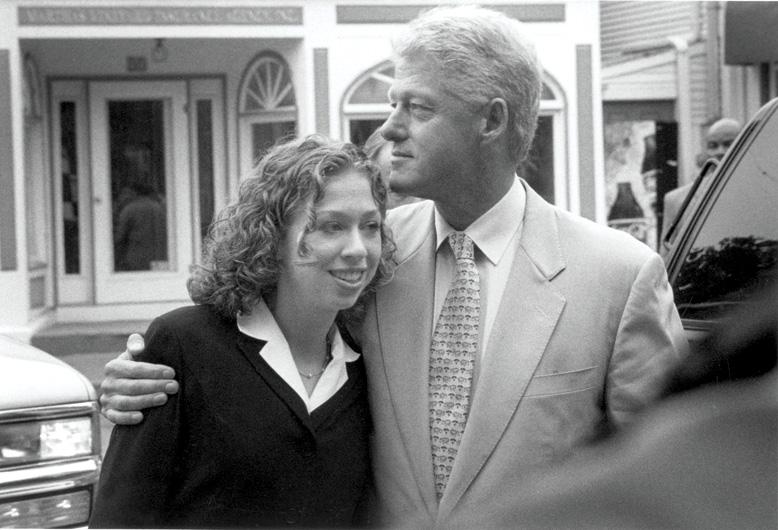 Connections in life and death
It was July 1941, the time of the Edgartown Yacht Club regatta, when two young men turned up at the Ocean View hotel in Oak Bluffs, barefoot, soaked, and carrying a torn sail. They had endured a rough trip over from the mainland and had nothing else to wear, not even underwear, nor any money.
The hotel's owner, Joseph A. Sylvia, organized them a room and some clothes, including shoes and socks, so they could enter the dining room, and arranged to have the sail mended. They in turn assured him their father would pick up the tab, and Sylvia was entitled to believe he was good for it, given that the dad was Joseph Kennedy, one of the wealthiest men in the country.
The two bedraggled sailors were Joseph P. Kennedy Jr. and his younger brother John F. Kennedy.
"Accordingly," as the later Vineyard Gazette story said, "when Jack Kennedy sailed his Wianna to victory at Edgartown, it was under a sail mended by [Samuel] Issokson of Vineyard Haven and after having been sheltered by Joseph A. Sylvia, at the Ocean View, on his way to Edgartown."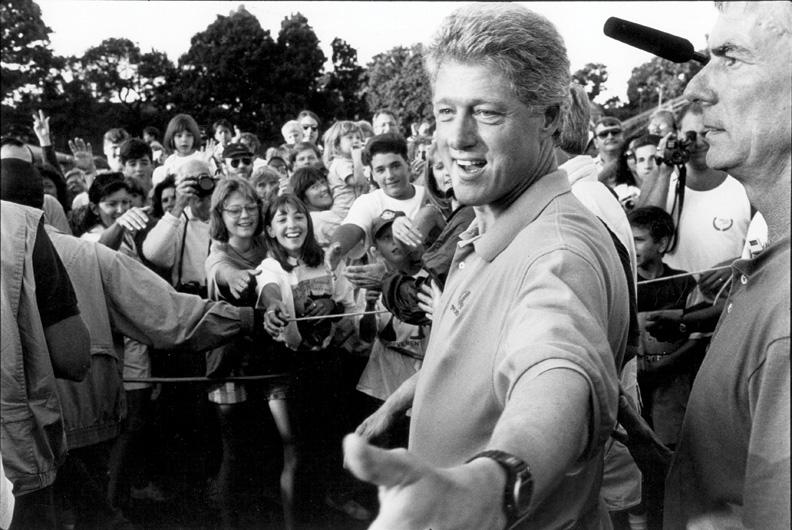 It's a nice little story to illustrate a larger point – that of all the presidents who have had links to the Vineyard over the years, none has been as closely connected as JFK.
His people were from this part of the world. His father bought his Hyannis home in 1926; JFK and his siblings learned to sail on Nantucket Sound, and the Vineyard was a frequent destination. He came here as a boy, as a young man, when he was a congressman and a senator. His family came too, to sail, to swim, to water-ski, to hobnob, and on occasion to attend church (St. Elizabeth's, Edgartown).
And for most of that time, it was considered no big deal, this being a place used to treating the wealthy and powerful with discreet nonchalance. Indeed, Islanders – overwhelmingly Republican in those days – were not initially very keen on JFK. In the 1960 presidential election, Dukes County recorded just 1,282 votes for Kennedy, and 2,001 for Richard Nixon. Once he won office though, that all changed, and some old stories about him surfaced.
It was during that last happy summer visit before America joined World War II, for instance, that Kennedy first saw a patrol torpedo boat, when Admiral A. Loring Swasey, a developer of the boat, had brought one over from Newport for viewing. Three months later, John Kennedy would be in the Navy, famously to command a Pt boat in the South Pacific.
Aah, but Islanders had seen hints of his nautical daring years beforehand. And there was his famed bad back, aggravated by his wartime experience. Norah Fuller recalled in 1961 in the Gazette that when he and other family members stayed at her Main Street Edgartown place sometime in the 1940s – she thought maybe 1947 – he looked thin and tired and "sort of bent."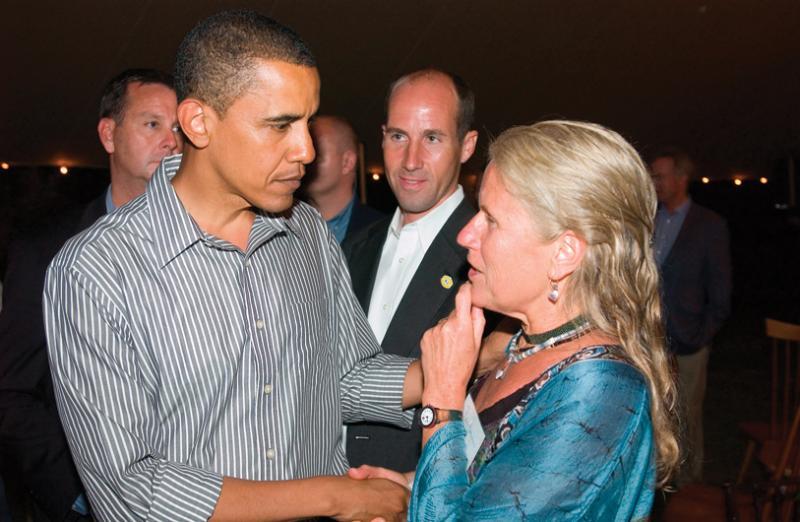 Some of those stories were only vaguely remembered, and others possibly apocryphal, but what is undeniable is that he maintained an association with this place over many decades. The association continued into his presidency. But now it was closely monitored and reported. This, for example, from the Gazette of August 22, 1961, when President and Mrs. Kennedy and their young daughter Caroline "dropped over" in their boat to visit John and Sue Marquand, of Chappaquiddick, and had a chance encounter with a couple of water-skiers: "Soon Mrs. Kennedy, clad in a mallot [sic] swim suit, tightly fitting, and a white-petalled swimmers' cap was water-skiing behind the Boston whaler."
The author William Styron recalls in his book of personal essays Havanas in Camelot being aboard ship with the Kennedys and the Marquands, and a "disastrous" lunch of cold hot dogs, soggy buns, gooey eggs, and Bloody Marys, and the president handing out Partagas cigars, made in Cuba, a contraband item under the embargo against Cuban goods – "promulgated by the very man who had just pressed the cigar into my hand."
A report of a visit in July 1962 recorded a handshake between JFK and Franklin D. Roosevelt Jr. at the Edgartown Yacht Club. And the last report of a visit was from September 1963, again in a boat off Chappy. Less than three months later, he was assassinated.
But the family connection went on, often tragically. There was the Ted Kennedy car crash off the Dike Bridge in 1969, resulting in the death of Mary Jo Kopechne. There was the tragic crash of John Jr.'s plane on approach to the Martha's Vineyard Airport in 1999, which killed him, his wife Carolyn Bessette, and her sister Lauren. Their ashes were scattered on the waters off the Island.
In 1978 Jacqueline Kennedy Onassis bought 366 acres of windswept dunes, freshwater ponds, and coastal heath off Moshup Trail in Aquinnah from the Hornblower family for $1.1 million. She maintained the home here until her death in 1994. More recently their daughter, Caroline, has lived there. And in 2006, she received approval for a subdivision of it, so future generations of the family might maintain their connection to this place.
When she appeared before the Martha's Vineyard Commission in April of that year, she said: "We do feel that we are stewards of this property, and we hope to be very happy here for many generations."
– Mike Seccombe
Lady Bird's love of this place
She was just wild about wildflowers. Born Claudia Alta Taylor, but known to everyone simply as Lady Bird, the widow of President Lyndon Baines Johnson devoted much of her life to protecting and preserving native plants and natural landscapes. On her birthday in 1982, she co-founded with actress Helen Hayes the National Wildflower Research Center in Austin, Texas, which was renamed after her death as the Lady Bird Johnson Wildflower Center.
Unsurprisingly, Lady Bird also loved the Vineyard. She first learned about the Vineyard and its extraordinary natural beauty from her daughter Luci Baines Johnson Turpin, who
visited here briefly, shortly after the birth of her fourth child. The following year Lady Bird made her first visit to the Vineyard, and she returned every year for thirty years until her death in 2007.
"I just have a great affection for this place," she would say to the Vineyard Gazette, in one of many interviews. "I come here with a mindset of leaving all my cares at home."
An environmentalist many years before that became trendy, Lady Bird promoted beautification efforts in every state in the union and oversaw the planting of native wildflowers alongside the nation's highways, so people could see wildflowers instead of billboards. And Lady Bird had a deep appreciation for the wildflowers of the Vineyard.
"I take walks here," she said to the Gazette. "I come across these lovely little dappled meadows of Queen Anne's lace and a good deal of black-eyed Susans and chickory. Chickory everywhere! Not as much butterfly weed as I'd like to see – it just sparkles with its brilliant color – and some fuzzy purple things, I don't know what they are."
Lady Bird would come here for a week in the summer and stay with her dear friends Harry and Miriam Middleton, renting the home of Charles Guggenheim at the north end of Main Street, where she could look out over Vineyard Haven harbor.
"I find the water soporific, lulling. The white sails just spell serenity."
In his eulogy for Lady Bird, former LBJ aide and director of the presidential library Harry Middleton recalled, "It was my good fortune to spend part of every summer with her on Martha's Vineyard. Our first visit there was some 30 years ago. It was only for a week, but a week with a tiring schedule, entirely packed with activities. Each night was the occasion for at least two – sometimes three – festive events. One evening, halfway through the week, as we sped from a cocktail party to a dinner, she said: 'I don't know why I am doing this.'"
Lady Bird was far more at home amid the natural beauty of the Vineyard – the flocks of swans flying overhead, the water gently lapping at the beach below her house, the bright white sails on the glittering water in the distance, and of course her passion, the wildflowers.
As Lady Bird said one afternoon walking among wildflowers near a friend's home by Watcha Pond, "Don't you just love it when they wave in the wind?"
– Michael West
A short jaunt into Edgartown
Edited from the September 16, 1980, edition of the Vineyard Gazette: Former President Richard M. Nixon was a traffic stopper on lower Main Street in Edgartown Saturday morning.
At about 10 a.m., Nixon, his longtime friends Charles G. "Bebe" Rebozo and Robert H. Abplanalp came into the yacht club pier in a fifty-foot Hatteras. There they were met by state police officer Daniel Flynn, about a dozen Secret Service men, and a handful of bystanders and yachtsmen involved in the finals of the Shields National Championships.
Until the night before when the 110-foot motor yacht Star Mist, leased by Abplanalp for America's Cup viewing in Newport, anchored off Green Hollow, Rhode Island, virtually no one had know that Nixon was expected.
Harbor master John Edwards was among those, however, who had advance notice of the illustrious visitor's impending arrival. And Friday night he had helped lead the yacht in. His boat was moored near the pier in front of CBS commentator Walter Cronkite's house.
Friday, the former president dined on clams oreganoto and swordfish at the yacht club, prepared by chef Ernest Miller. Saturday morning, he returned to make a call from the yacht club telephone, and to chat with well-wishers. Casually clad in a maroon sweater, dove-gray jacket, and blue slacks, he warmly greeted those who approached him.
Nixon recollected that he had been on the Vineyard once before, about twenty years ago. He talked of Burlington with a student from the University of Vermont; of law schools with Dukes County District Court Judge Walter Steele, who was on the dock for the sailboat race; of former Governor John Volpe, whom he said he had seen recently and had found "Irrepressible. Irrepressible."
Joseph E. Sollitto, clerk of superior court and chairman of the Oak Bluffs Republican committee, had come to the yacht club with an envelope for Judge Steele and found himself conversing about local politics briefly with Nixon.
Asked what he was doing in the neighborhood (there had been rumors that he might be visiting the Island with a view to buying a house), Nixon said simply that he had been watching the America's Cup races. "That is, I'm supposed to be watching them, but I really don't understand it. I love the water, but it's watching it that I love."
A little later in the morning, the former president and his party window-shopped briefly on lower Main Street in Edgartown, till he was stopped by between eighty and a hundred admirers, autograph-seekers, picture takers, and those who were just curious. Outside The Kafe (now, the Wharf Pub and Restaurant), he paused for photographs and more conversation, mainly with Island visitors.
Year-round Vineyarders watching him pass by seemed mainly concerned with the reason for the visit.
"The Island is just getting too popular," one commented, "and he's another sign of it."
"Has he bought a house?" was almost always the worried question.
The Nixon party sailed for Nantucket about midday, and its members toured that island before returning to Edgartown for a second overnight on Saturday.
– Phyllis Méras
The president who grew an Island
"The Clintons are coming!" The rumor of early summer 1993 must have been true, because every Vineyarder down to the last pinkletink was within two degrees of separation from someone who really, really knew. Hence, the whining began: Oh, the traffic will be tied up in knots. The place will be swarming with press. The Secret Service will disrupt everything. This Island will never be the same again.
Rumor morphed into hard news in early August, and by the time Air Force One touched down on Thursday, August 19 – William Jefferson Clinton's forty-seventh birthday – most of the whiners who weren't full of baloney in the first place seemed to have turned a corner. Throngs of giddy Vineyarders lined Airport Road to gawk, cheer, and wave signs as the Clinton motorcade headed from the terminal to the first family's vacation digs at the Oyster Watcha home of former Secretary of Defense Robert McNamara.
Off-Island editorial writers scoffed that it was unseemly for a president to vacation in a reputed playground of the rich and famous, raising the hackles of Vineyarders who know their island better. Sure, Bill yachted with Jackie O, lunched with literati Bill and Rose Styron, dined with singer Carly Simon, and golfed with Washington power broker Vernon Jordan. Yet the president also slurped mango sherbet at Mad Martha's, canoed and crabbed at Oyster Pond, strolled through all six towns and, to the extent possible, vacationed like Everyman. Vineyarders long accustomed to honoring the privacy of celebrities in their midst may have been mystified, for here was a celeb bent on mingling. Only the Ag Fair appeared to unnerve him as he and first child Chelsea navigated an ocean of overzealous fans.
The Clintons and their retinue departed ten days after they arrived, leaving the Island normal – not counting the residual bragging, much of it tepid. I'm pretty sure Clinton waved at me from the seventh fairway at Farm Neck. I could have rented my house to CBS News if it hadn't been for my grandkids visiting. I tried on the same straw hat that Hillary got on Main Street and wore the whole time she was here. My sister's boyfriend probably would have been the Clintons' busboy last night, but it was his night off.
The Clintons returned to the Vineyard nearly every August of Bill's two terms in office, and they've returned nearly every year since. Over time, the family began vacationing more like other visiting notables, largely away from the public eye – most notably in 1998, in the immediate aftermath of the president's testimony before an impeachment grand jury. Perhaps the Clintons discovered, as others do, that Martha's Vineyard can be as much a healing place as a happy place.
During the presidential years, the so-called Summer White House ignited worldwide curiosity about the Island, swelling tourism, the seasonal population, and in turn our overall economy. The collective Vineyard warm spot for the Clintons is not about the money. And maybe one day, Bill and Hillary will satisfy that most lingering of Clinton rumors and call this Island home.
– Shelley Christiansen
Prepare the welcome wagon
After the family's 2004 visit, the next big visit was in 2007, about five months after Obama declared his candidacy for president. They came to the Highlands in Oak Bluffs to stay with Ron and Judy Davenport. Part of the trip included a $2,300-a-head fundraiser.
But it was largely a break from active campaigning. He read. He hit the gym nearby, walked into B-Strong off the street for a day pass at first, then upgraded to a membership – paperwork, photo, and all. Co-owner Heather Neal describes Obama as mostly a free-weights man – "proficient with dumbbells" – but the candidate also did cardio machines in his daily, sweaty, high-intensity workouts, all in under an hour. Michelle, whose biceps were yet to be a national curiosity, joined him every other day, Heather says. "Nice people," she adds.
Then trailing in the primary polls, Obama used morning walks to focus his strategy and "think about the enormous task of being president. It wasn't easy but it was an enormous benefit," says Professor Charles Ogletree. "He had beach time, golf time, family time, and it was relaxing and he was also able to avoid the temptation of doing a lot of public events, because his voice was hoarse. You could tell his body was taking a toll, because he had put in thousands of miles.
"So many people think of Martha's Vineyard as an exclusive resort, and one of the most amazing and pleasant surprises for him is that he and Michelle met many people who they knew from Chicago and people they'd studied with," says Charles, "in the most casual moments, without the audacious idea that the car they are driving or the clothes they are wearing tells you who they are. So it was a sense that you could really relax. The fact it was an island was also a comfort, because you can grow up here....It's a very safe place for his children.
"You can be just a member of the community and not have to be on your game," Charles continues. "He gets a chance to meet a lot of people that he has known and respected but probably doesn't talk with much." For instance? "You'll see Vernon Jordan here more than you'll see Vernon Jordan in Washington." Charles himself admits when he's with Obama on the Vineyard, "I'll keep it 90 percent pleasure and 10 percent business."
Speaking of business, Charles has another Vineyard forum this summer – about personal responsibility in the age of Obama. It's conveniently scheduled for August 12, while
Congress should be in recess. The president is not on the program, but could he be coming in the back door? The White House wouldn't say; Charles couldn't say.
But about the 90 percent pleasure, Charles was candid: He's hoping to get Obama, not an avid angler, out for some fishing. "Although it may be a little bit hard trying to catch a
nice striped bass," he sighs, "with thirty Secret Service boats surrounding you and several jets overhead."
– Lauren Martin