When we first tapped into the brain trust of the magazine to ask about the best things about winter, many of the responses were in reference to summer: It's not as crowded, there's less traffic and plenty of parking, we don't need reservations at restaurants. But that's not all there is to winter. Writer Tom Dresser, who's done his share of Island tours, contributed the curmudgeon's response to the typical tourist's query about what Vineyarders do all winter: "In the summer, we fish and have sex. In the winter, we don't fish."
Seriously, the winter means different things to different people. For many, there's less work to do; for others, there's more. Some people love donning parkas, raincoats, and windbreakers; others cloak themselves with a vocal distaste for the weather. But as the population dwindles around here, there's a definite camaraderie and appreciation for the isolation and heartiness we share as a community.
And there really are great things about the off-season and winter on the Island. Here's the rundown of what we like the most, with musings by a collection of writers with different voices:
1. Taking walks
The summer social scene "closes down" for the winter, with less beach going and late-night parties, but then the Island herself opens up. Along with the population decline, the rest of us get the gift of space. And as the weather grows colder, the space grows larger.
In exchange for the beauty of the dense summer foliage, now that the leaves have dropped from the trees, I can literally see more, sometimes even beyond the forest to the ocean. Property lines blur, and I walk with friends in places we wouldn't even approach (without invitation) in the summer. Of course, there is a slight sense of the forbidden, but we winter walkers are a respectful bunch. Though the windows may be shuttered and the driveways empty, we pass through quietly, aware that we walk here by the grace of the owners' absence and our own good conduct.
My Island friends who have lived here for a while know their special winter-only walks as though they were entered on a secret calendar: "You know, it's January seventeenth and the Smiths will be gone now – we can walk down their path." At the end, there may be the reward of a beach or pond rarely visited. It's a delicious sense of our Island revealed.
– Niki Patton
2. Appreciating our quirky personalities
In the fall of 2007, a movie directed by Craig Gillespie and starring Ryan Gosling opened in a few theaters across the country. Entitled Lars and the Real Girl, it concerned a young man living alone in a wintry northern town. Desperate for companionship and worried that the impending arrival of a baby will further isolate him from his older brother and sister-in-law, in whose guest house he lives, Lars buys a full-size, inflatable sex doll on the Internet. He names her Bianca, creates a biography, props her in a wheelchair, and introduces her to his fellow townspeople as his girlfriend. The town, knowing Lars well and wanting to help, engages in the fantasy, welcoming Bianca at parties, treating her at the medical clinic, and even electing her to the school board.
I won't spoil the ending – rent it this winter – but if you know the sympathies and generosity of spirit inherent to this Island, you'll certainly agree that the story of Lars could just have easily and happily played out in any of the six towns of Martha's Vineyard.
– Tom Dunlop
3. Year-round restaurants
A half decade ago, only a handful of Island restaurants were open after Columbus Day. Now, many stay open through Christmas and a few more year-round. One off-season perk is getting a reservation on short notice, and even without one, getting seated quickly.
And, dining out in winter is as much about community as it is about food – seeing familiar faces when you go out to Season's Eatery in Oak Bluffs to watch a Patriots game or for sushi night, or across the courtyard at Park Corner Bistro for a regional food-and-wine dinner party. My husband and I also love the conviviality of sitting at restaurant bars, where we might engage the bartender (who is not making mojitos at the summer speed of light) for her expertise on the wine list, or the people next to us are friends we haven't seen in months.
A favorite winter dining memory is from that week-long snowstorm a few years ago. My daughter and I toured the snow-cocooned Island with friends in a big Jeep, blasting through three-foot drifts. After making snow angels at South Beach, we drove to the Harbor View Hotel in Edgartown, hoping it would be open – it was, and we were happy as clams with our spicy french fries and fried oysters.
– Linda Black
4. Nature at play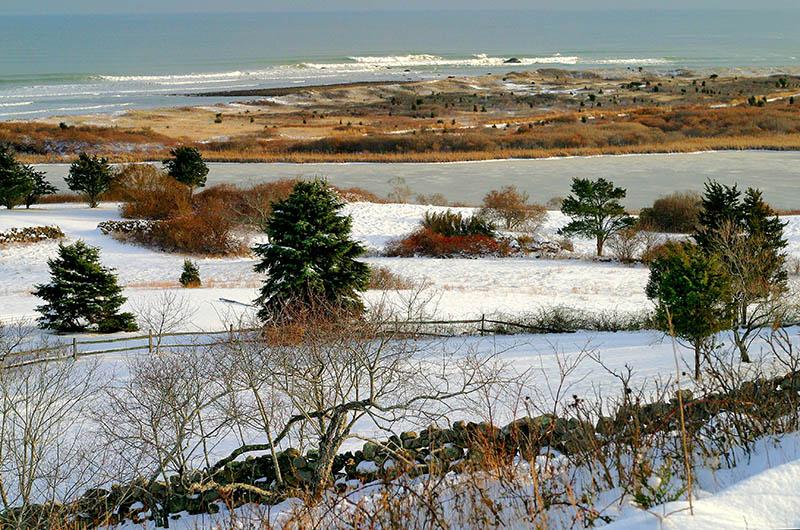 December, West Tisbury, MA: The winter solstice has passed, bringing short days and long nights. A light snow is falling, covering bare branches and sticking to the remaining oak and beech leaves clinging to the trees. The branches make black patterns against a white sky. When the wind picks up, the skeletons of the trees move against each other in a kind of danse macabre.
The weather is closer than in summer, when the blue sky unfolds high over the arching trees and we are separated by life, busy and green. In winter, nature reveals more of itself: The squirrel leaves its nest for a look around; robins stay and tough it out; the beaches are more themselves as the sea flings onto them its wood, nets, and broken buoys – then laughs and drags them back.
My garden is sleeping safe beneath its blanket of snow. There is nothing required of us, the caretakers. We are free towalk the beach, collect driftwood, and skip pebbles over the water. Now that nature is taking a rest from its serious work of begetting, it can please itself; it can play a little.
– Sally Bennett
5. Potlucks
It all started the Sunday before Thanksgiving: We hosted our first potluck. Someone brought goat cheese–stuffed peppers, there were three varieties of corn bread, a Chilmark carpenter made butternut-squash ravioli from scratch, and there was no turkey. Best of all, friends came together over plates piled high.
Winter on the Vineyard is sustained by dinners like this. There is something about cooking the one dish you love, sharing it with people, and munching your way around a crowded table that warms those winter nights.
There is more than one way to potluck-it once the days get shorter, including monthly Slow Food Martha's Vineyard gatherings (bring your own plate, utensils, and a dish with at least one local ingredient; www.slowfoodmarthasvineyard.org); semi- regular musical potlucks at the Chilmark Community Center; and Noche de Hablar Español for those who speak Spanish. In the fall, the Martha's Vineyard Agricultural Society hosts the Living Local Harvest Festival and the Wampanoags celebrate Cranberry Day. Come spring, the Scots invite all to the Tartan Day Celebration.
Wherever the potluck, it is a recipe for success: New acquaintances are made, stories are told, and recipes are shared – like this one for my go-to dish: Allen Farm kale marinated raw in the fridge with tahini, olive oil, garlic, and lemon juice.
– Julia Rappaport
6. Pond skating
Surrounded by the tempering ocean, the Vineyard typically endures few of what simpering weathermen refer to as a "cold snap" or an "arctic blast" or even an "Alberta clipper." But when winter's windy chamber of horrors presents a persistent "cold snap," there's a nifty consolation prize: Normally slushy Island ponds freeze solid enough for skating.
Suddenly Island gossip is peppered with "It's frozen" and "People are skating!" everywhere you go – in the office, at the grocery store, in your e-mail. People you think of as swimmers and walkers are now ice skaters.
Uncle Seth's Pond in West Tisbury is the preferred venue, though any thick sheet will do. (Of course, safety is key, so be sure the ice is thick enough.) A sunny afternoon is perfect for kids to venture out for a game of pick-up hockey, if the wind isn't too stiff. But a still, moonlit night is better for romance – gliding along together as the ice groans just enough to put an edge of adventure on the affair. Gazing around at the silvery landscape and timeless tableau feels straight out of an antique lithograph. There's also a feeling of hardiness and superiority that skating on a pond imparts, particularly at night, knowing that while most everyone else is sitting snug in front of a warm TV, you're out stealing a pleasure from winter's iciest depths, literally walking on water.
– Jim Miller
7. Ease of travel
In the bleakest part of winter – dead center ("dead" being the operative word) – one of the best things about being a year-rounder is getting away. Ferry reservations are relatively inexpensive, and – get this, seasonal visitors! – you can almost always reserve at times you actually want. Then, provided there's no major snowstorm, nor winds ferocious enough to stop the boats from running, you're off to "America."
Many of us are partial to daylong shopping extravaganzas, and on the evening boats, you need only glance in the cars on the freight deck to know who went where. On weekends, my family and I often drive to Boston; others go a bit farther north to ski. And if a long weekend in Puerto Rico is too pricey, the Cape Codder Resort and Spa in Hyannis has a wave pool that kids love, and offers Vineyarders a discount.
Places on-Island can even help with a getaway (whether you live here or not): The Mansion House in Vineyard Haven offers a special package for two that includes massages, a three-course dinner at Zephrus, and breakfast. Experiencing the Island as a pseudo-tourist, you might find yourself developing a whole new appreciation for its charms – even in the deadest part of winter.
– Laura D. Roosevelt
8. Making music
Shortly after the last wave of tourists leaves the Vineyard, rehearsals of the Island Community Chorus begin. More than one hundred year-rounders meet at the high school for two hours every Monday night to learn a medley of diverse music selected by charismatic director Peter Boak. The focus of the singers and the mastery of the sound at the December and May concerts tells the story of a group who loves to make music together.
It's a common refrain as well for Island musicians in the bands that play folk, rock, reggae, and blues. There's a handful of great venues where Vineyarders can play – and hear – music throughout the winter. Whether it's a live band or a deejay spinning the latest dance music, the Oyster Bar Grill in Oak Bluffs gets hopping on Friday and Saturday nights. The Wharf Pub and Restaurant in Edgartown plays host to artists all week with karaoke on Sunday afternoons. And Che's Lounge in Vineyard Haven is a new hot spot, welcoming all ages.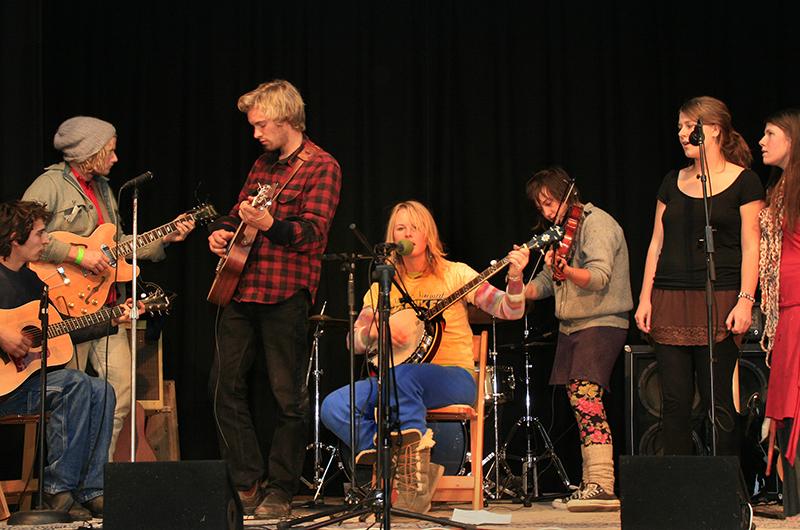 We also appreciate the music makers from off-Island. Martha's Vineyard Chamber Music Society hosts top-notch string, brass, and piano artists you'd hear at Carnegie Hall. Concerts are at the Old Whaling Church in Edgartown, and the applause of appreciative audiences resounds all the way down Main Street.
– Elaine M. Pace
9. Being alone – and not
There are fewer of us now on-Island. I begin literally to see my friends again on Main Street or in the aisles of the grocery store. There's more space between people, making it easier for me to pick out someone I know. We tell stories – mine and theirs – tales that are told from year to year. And since our stories take on an urgent tone in the summer, they are best shared in the winter, when we greet each other with less hurry and more awareness.
When I pull into my driveway as dusk falls in the late afternoon, I know my day is over. I close the door, turn up the heat, and settle into that quiet space that only winter can bring. The sounds are few. Birds have flown south. People aren't out and about. My neighbor's dog – the one that spends the summer gleefully barking at everything – is now curled up by a fire. Yes, there's probably something that I'm supposed to be doing, but I can do it tomorrow. After dinner, I can sit, read, breathe – and fall asleep on the couch underneath a quilt, as my cat purrs contentedly on my chest.
– Niki Patton
10. Snow
Snow on the Vineyard is sort of like that lovable uncle who shows up once or twice a year. Most often he's great company, bouncing the kids on his knee and filling the house with laughter and stories. Occasionally he'll stay too long and crack up your car, but by and large he's a welcomed guest.
There's something incongruous about seeing the bow of a boat peeking out of a snow bank or hearing the moan of a foghorn against the velvety silence of a midnight snowstorm. It gives Vineyard snow its own personal signature.
Like everywhere, at first flurry kids race out to their favorite slopes – the Tashmoo overlook in Vineyard Haven suddenly turns into a bustling anthill. Adults wax their cross-country skis or get out their snowshoes and head over to the nearest golf course – or even better, explore miles of private dirt roads, looking for driveways with no tire tracks to sneak in and take a peek at summer homes where they'll never be invited for cocktails.
We have a deep relationship with snow on the Vineyard, but truth be told, it goes beyond the sledding and the post-card vistas. It's part of a secret handshake that year-rounders share, one more thing that makes living on the Vineyard, living on the Vineyard.
– Geoff Currier