On June 24, 2007, a group of twenty-three ten- and eleven-year-olds, fresh out of the Oak Bluffs School for the summer, gathered with their families along the Black Dog Wharf in Vineyard Haven. Accompanied by six chaperones, these students were about to cast off their normal summer luxuries – television, video games, indoor plumbing, families – to set sail on the Black Dog's tall ship Shenandoah, owned by Captain Robert Douglas and his family.
Meredith Downing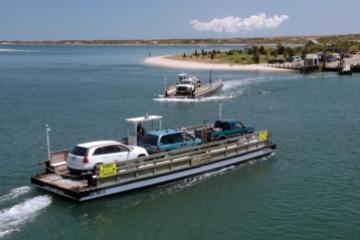 The Chappy ferry is making headlines. Passenger rates may go up, the lines may get longer, and the owner plans to sell. A look at the history of the service shows this isn't exactly new news.
Tom Dunlop
Lobsterville Beach after dark in summer months is particularly alluring to Vineyard fishermen. And to young children, the adventure of fishing Lobsterville at night is about as good as it gets. We were introduced to Lobsterville by my friend Bob, who was a master of the tides at Lobsterville.
Joe Tate
Pages