Brock Callen smiled as he recalled the day an acquaintance on the Vineyard asked if he could provide advice to an off-Island friend who was having trouble selling a boat. Callen is the executive director of Sail Martha's Vineyard (Sail MV), the Island nonprofit with a range of programs dedicated to "protecting and perpetuating our Island's maritime heritage and culture" that is best known, perhaps, for providing free sailing instruction to Vineyard youths. He's a multi-talented and positive fellow who is always generous with his time and expertise. So his willingness to help was no surprise. It was the outcome of his efforts in this case that was surprising. For, as it turned out, it was no ordinary boat owner and no ordinary boat.
Callen made the call and spoke with an individual who represented philanthropist and former ambassador to Austria, Swanee Hunt, who told him the ambassador was interested in selling a forty-one-foot Concordia yawl that had been owned by her late husband, composer and conductor Charles Ansbacher. Ansbacher had named the vessel Dolce, which is a term used as instruction to a performer that music "is to be executed softly and sweetly." After Ansbacher's death in 2010, Hunt began looking for a new owner for Dolce, and her representative was seeking advice for moving the process along. Thus began a series
of conversations that ultimately resulted in a very different outcome than the boat's sale.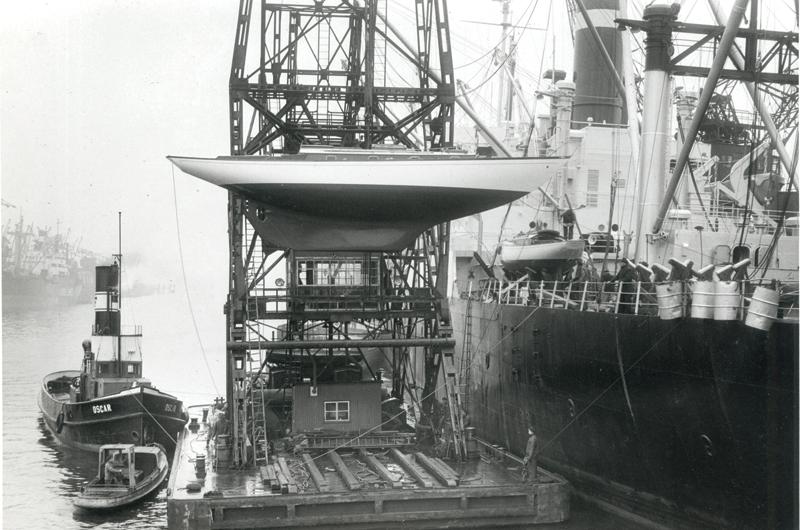 In the world of sailing, Concordia yawls hold a special place. With their classic lines and mizzenmast set aft of the rudder post and cockpit – which is what makes it a yawl – they are highly prized not just for their racing and cruising abilities, but for their classic wooden beauty. The first Concordia was designed in 1938 by C. Raymond Hunt and Waldo Howland, who were partners in the Concordia Company of Padanaram, Massachusetts. Hunt was one of the giants of the pleasure boat industry, credited with perfecting both the ubiquitous "deep-V" hull shape for powerboats and the "unsinkable" Boston Whaler. The original yawl was commissioned as a custom yacht to replace a Howland family boat that had been destroyed in the famous hurricane of 1938. Little did the designers or owners imagine that eventually there would be 103 vessels of this class built between 1938 and 1966. Or that these yachts, with their distinctive star and moon at each end of their covestripe, would become admired visitors to not only New England harbors, but to ocean race destinations throughout the region. Remarkably, of 103 Concordia yawls built, 102 are still in service.
Callen was familiar with the Concordia class both by reputation and experience. Though all but the first four hulls were built in Germany, throughout their years of production the yawls were finished and sold out of Buzzards Bay. New England waters are still where you are most likely to find them sailing. As Callen and Hunt's representative talked, it became clear that Dolce was in good repair and seaworthy, but there was a drawback that was making it difficult to find a buyer. Concordia yawls are wooden boats, beloved by those who cherish wooden boats, but her first owner, following the recommendation of famous yachtsman Arthur Knapp, replaced her original spruce mainmast with an aluminum one. Replacing the aluminum mast with a more appropriate wooden mast in order to raise Dolce's marketability was not something Hunt was interested in undertaking.
The conversations took a surprise turn when Hunt's representative asked if Sail MV would be interested in receiving the yacht as a donation. The suggestion was not entirely out of the blue; reselling donated boats is a regular part of Sail MV's fundraising effort. The donor receives a tax deduction and the organization can either keep the donated vessel as part of its program or sell it and use the proceeds to support the program. But never before had a boat the caliber of Dolce been offered, or one that, should they choose to keep it rather than sell it, might dramatically enhance Sail MV's programs. Not only could youths and adults learn large boat-handling skills, but maintaining and restoring the wooden yacht would fit nicely with the organization's goal of expanding its vocational boatbuilding and maintenance program.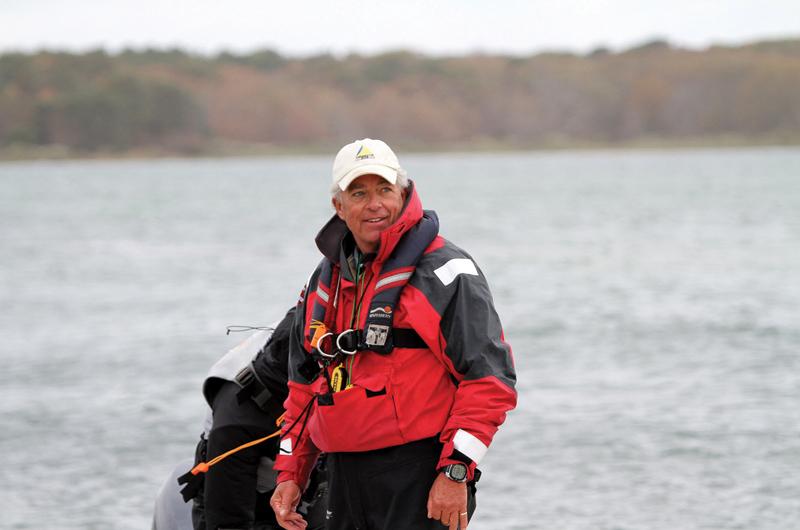 The problem was, no one knew better than the board of Sail MV that there is no such thing as a free boat. A visit to Dolce in Boston by Captian Scott DiBiaso, of the schooner Juno, and Nat Benjamin, of Gannon & Benjamin Marine Railway, confirmed that, other than the modernized mast, she was generally in good shape. But even if they endeavored to resell the boat, Callen and the board knew that the annual maintenance costs while they looked for a buyer would be prohibitive for an organization that raises its entire operating budget each year. It looked as if Dolce was a very generous gift that Sail MV couldn't afford to accept. But when Hunt offered a $30,000 donation along with the boat to fund the maintenance for several years, and supporters of the organization donated an additional $41,500 to the Dolce program at the annual Seafood Buffet and Auction on the waterfront, it seemed that the Concordia yawl was destined to come to the Island.
Or rather, return to her home island. Quite by coincidence, it came to light during the negotiations that the boat originally had been built in 1957 for Edgartown seasonal resident and investment banker Hugh Bullock, who named her Prettimarie in honor of his wife. As "hull number 53," she was built in the middle of the 103 Concordia yawls eventually constructed, but interestingly only three years after hull number 2, Malay, won the famous Newport to Bermuda Race, bringing great attention to the design. Bullock, a commodore of the Edgartown Yacht Club, used her to win the famous Martha's Vineyard Ocean Race, which circumnavigates the Island, in 1959, 1962, 1963, 1966, and 1967. He also won numerous other races, competing against some of the best sailors and yachts on the New England coast.
On one of the 'round the Island races in the 1960s, Bullock wasn't free to sail and invited Chappaquiddick resident Edo Potter, a well-known lifelong community activist and daughter of a distinguished yachtsman, to captain the vessel. She gladly accepted, and recalled with pride: "In those days women were not often asked to be on crews of racing boats, and it was most enjoyable to win the race."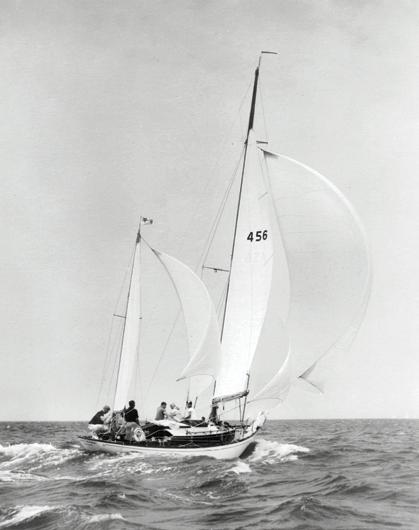 Bullock always employed two "crewmen" to look after the yacht. Westy Saltonstall, long-serving member of and chair of the USS Constitution Museum board, served in this capacity for three summers starting in 1959. "A big part of the job was to polish all the brass and wipe off the varnish on the boat every day," he recalled, "and also be available to crew for races or if Bullock chose to take guests out for a sail." He brought many interesting people: General Maxwell Taylor, then head of the Joint Chiefs of Staff; business associates; poets. Bullock's wife was a poet herself.
"Concordia yawls have been privileged, perhaps more often than any other class [of] boats, to fly a yacht club Commodore's flag," wrote Waldo Howland in The Concordia Years. "Any sailor tacking into Edgartown's inner harbor must perforce pass close by the smartly run yacht club and then by Prettimarie. In so doing, surely he must at least sense that traditional yachting, and some of its best features, have not all together faded into the past."
Time does move on, however. In 1987, after thirty years as a centerpiece of Edgartown harbor, Prettimarie was sold and began what would be a twenty-seven year absence from the Island. It wasn't quite an odyssey: She sailed first across Buzzards Bay to South Dartmouth to be renamed Prettirose. Then some years later, she was sold again and taken around Cape Cod to Duxbury to be rechristened Beauty. Then back to South Dartmouth to Hunt and her husband and the name Dolce, and finally to Boston after his death. Which is where she was in the fall of 2014 when DiBiaso, along with two members of Juno's crew, arrived on behalf of Sail MV to sail her back to Vineyard Haven. She was hauled at the Martha's Vineyard Shipyard and stored for the winter by Gannon & Benjamin, and in June of last year a small group of volunteers launched her in her inaugural season as the flagship of the Sail MV fleet.
The question facing Sail MV was figuring out just how to best use her. According to board president Peggy Schwier, potential activities contemplated included opportunities for students in Sail MV coastal navigation classes to put their new skills to use, afternoon members' sails with a paid captain and senior Sail MV students serving as mates, tours of the vessel for younger Sail MV sailors, sails for donors or potential donors, and more. But after last year's initial "shakedown" season, the consensus is that the regular evening sails for members and supporters with Captain Annette Martel and Sail MV sailors as crew were the most successful. Like any voyage, once underway it is necessary to make course corrections that don't change the ultimate destination, but only the course to it. Which is to say, this summer provides a new opportunity for continued experimentation and more course corrections.
Whatever the ultimate suite of programs making use of Dolce, both Callen and Schwier spoke of the power of sailing the yawl to awaken those aboard to a different rhythm and appreciation for where they are and what they're doing. "The boat smells like history," says Callen. "It's a portal into the joys and responsibilities of sailing in an earlier era with far less electronic equipment and distractions, which allows one to slow down and appreciate the moment and the experience." As Schwier likes to point out, thanks to Hunt this vessel now too is an ambassador of sorts, with the assignment of bringing greater visibility to the organization's programs and furthering its goal of helping the Island to remember, celebrate, and practice its maritime traditions and heritage.
There is, of course, one more role that the classic yawl will play. Over the weekend of July 8-10, she will almost certainly race in the Vineyard Cup, Sail MV's annual regatta that draws sailors from all over New England and has grown into a three-day celebration of all things Vineyard and nautical. And, you know what they say: once a champion always a champion.
Welcome home, Dolce!