It's sunny, it's dry, it's summer, and anyone who is not on a beach, in a boat, or regrettably, at work this afternoon is here at the harborfront. The quiet, gray harbor of the winter past is ancient history. No snow beanies sit atop the pier posts. No ice chunks corral the ducks into scant pools of bathwater. We're sporting our skimpy clothes and celebrity shades. We're cramming the open-air drinking holes and eateries, sucking in salt air, shellfish, and beer.
Shelley Christiansen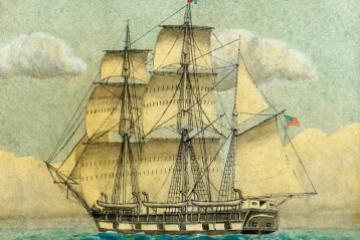 One hundred and forty-five years ago, the toughest crewman aboard the Holmes Hole whaling ship America attacked the mate with a knife. But this confrontation led to an even more shocking incident, as the crewman revealed that he was a she.
Tom Dunlop
Pages