Since Hurricane Katrina, people seem to be taking hurricane warnings more seriously. But there was a time when they didn't. And there was a time when we didn't even get warnings of impending hurricanes.
In 1954, we were a young family living in West Tisbury in what was then the parsonage of the Congregational Church. It was across the road from Johnson Whiting's house, which still showed evidence of the 1938 hurricane: three elm trees, toppled by the high winds, were lying crisscrossed in the front yard.
Shirley Mayhew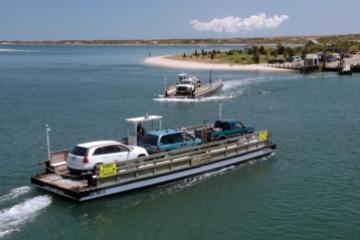 The Chappy ferry is making headlines. Passenger rates may go up, the lines may get longer, and the owner plans to sell. A look at the history of the service shows this isn't exactly new news.
Tom Dunlop
The Revolutionary War was not one of Martha's Vineyard's shining moments.
Unable to persuade authorities in Boston that it held any strategic value, the Island felt exposed and undefended from the start of the war to its finish and was reluctant to take sides, lest it wind up fighting for the losers. But neutrality did not protect it from invasion.
Max Hart
Pages