We all get these questions. But now that I work in a bookstore (which just happens to be a few feet from the ferry docks and hence a popular destination for day-trippers), I feel like I've become an expert in politely responding to the inevitable: "So do you live here…year round?" "What do you do…all winter?"
It's never a good idea to be smart-alecky to well-meaning folks weighed down by shopping bags and souvenir post cards. So I explain. About the searing beauty of hiking a snowy trail under a tangle of bare-branch Beetlebung trees and over a bristly dune to a frothy indigo horizon. About zipping into a dry suit and grabbing a scallop net. About skating on Parsonage Pond and sledding at the Tashmoo overlook.
And, since my answer to everything is always food, I tell them about potlucks and jam sessions and cookbook clubs and family feasts. Trying not to sound precious, I explain that most Vineyarders are pretty nimble when it comes to both cooking at home and sharing with friends. Part survival instinct, part thrift, the impulse to cook and gather is compelling.
Hopefully I don't scare these visitors. Generally they smile and nod. Most likely they breathe a sigh of relief when I stop talking. Inevitably when they leave, the next person in the door is a friend or acquaintance who lives on the Vineyard year round. We talk about books. And then about food.
This is how I found out about the pervasive (not perversive) pizza subculture here on the Vineyard. It's not just pizza night at Orange Peel Bakery or a crop of new wood-fired ovens at Island farms (North Tabor and Slip Away for two), or grabbing a slice from Porto or a pie from Wolf's Den or Offshore. This is about making pizza at home.
Once I started to tell people I was going to do a primer on homemade pizza, I got a flood of stories and suggestions. Some families have pizza night once a week. Some are using their grills. (I've loved making grilled pizza ever since my first restaurant job at Al Forno in Providence, Rhode Island, but it is a technique better suited to warm weather!) And everybody has favorite toppings (see combination suggestions on pages 52 and 53). I was thrilled to hear that one of my own favorites – caramelized onions – seemed to be at the top of many lists. Plus: bay scallops and bacon. Grey Barn blue cheese (Bluebird) and kale. Shiitake mushrooms and pears. Arugula and other fresh greens on top. Lovely.
But some friends admitted they had pizza stones they'd never used. Or that they weren't so happy with the store-bought pizza dough they've been using. And what to do about red sauce? Ah, I thought, I can solve these problems while helping to spread the pizza gospel, too. After all, there's hardly a cooking activity better suited to gathering and sharing than pizza making. Sure, it's okay with me if you throw in a hot soup and some tasty libations. That makes dinner a party.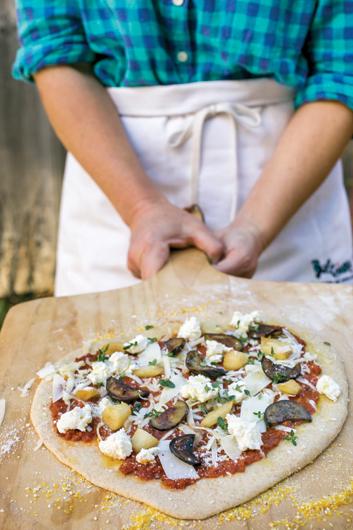 Breaking Down the Basics
Pizza's a big topic, and there are many ways to come at it, so I'll be straight with you about what I aim to deliver with this method: an easy but good food-processor pizza dough you can make ahead; directions for assembling, seasoning, and cooking your pizza; and a (delicious) list of topping suggestions with some advice on how to pair flavors. (You can also check out some favorite combos from Islanders on page 51). Remember that pizza is an excellent destination for local ingredients like cheeses, sausages, vegetables, and even infused oils and
sea salt.
This pizza has a relatively thin crust, with just enough crispness and chewiness to be satisfying. Toppings shouldn't be too heavy, though you can customize as you like. I'm not crazy about store-bought pizza sauce, though I have used it in a pinch. Instead, when I want red sauce, I purée roasted plum tomatoes (you can get that recipe at mvmagazine.com). But I also like a variety of "white" pizzas, too. I suggest you "layer" flavors by brushing the dough first with an easy-to-make garlic oil, adding your toppings judiciously, and finishing with a sprinkle of salt and fresh herbs – with an option to top with a few fresh greens or herbs out of the oven, too.
To make pizza at home you will need a pizza stone and a wooden or metal pizza peel (available at kitchenware stores, including LeRoux). In a pinch, the back of a metal sheet pan can stand in for a peel. Having a pair of long tongs and an instant-read thermometer are helpful, but not essential. You will also need to buy instant yeast and coarse cornmeal.
A few other tips: you'll want your pizza stone to be good and hot, so pop it in the oven, turn the oven to 500 degrees, and heat it up while your dough is proofing and you're prepping your toppings. Then, when it comes time to roll out your dough and top your pizza, don't forget to transfer the dough to the pizza peel first! Otherwise you will have a heck of a time getting it in the oven. Dust the peel with cornmeal and arrange the dough rather close to the edge, so that it will slide off quickly and easily. (And remember that you can make your pizza dough a day or even a week ahead!)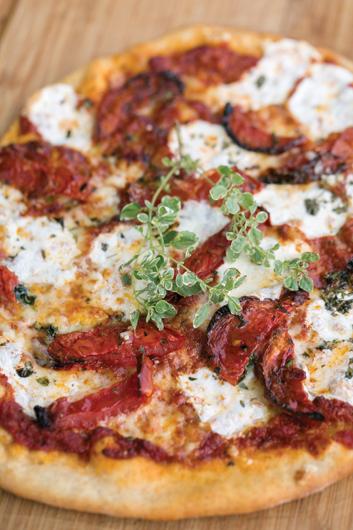 Islanders' Favorite Pizza Topping Combos
West Tisbury private chef Nicole Cabot: Sweet potato, goat cheese, roasted garlic, and arugula; baby potato, scallion, cheddar pizza with sour cream
Chilmark home cook Tara Larsen: Breakfast pizza with smoked salmon, red onion, capers, and goat cheese
Chilmark farmer Rebecca Miller: Shiitakes, pears, and Parmigiano
Edgartown home cook Sue Carroll: Caramelized onions, bay scallops, and bacon
Oak Bluffs home cook Molly Coogan: Chopped fresh clams, bacon, and Gruyère
Vineyard Haven home cook Paul Doherty: Spinach, Gruyère, and toasted pine nuts
Edgartown chef Michael Brisson: Homemade red sauce, eggplant, mushrooms, and fresh herbs
Chilmark farmer Molly Glasgow: Prosciutto, balsamic figs, and arugula with shaved Grey Barn Rip Rap; kale, Grey Barn Bluebird, and toasted pecans
West Tisbury home cook Ebba Rene Hierta: Grilled lamb sausage, feta, and arugula; roasted eggplant, Sungold cherry tomatoes, goat cheese, and garlic
Edgartown chef Judy Klumick: Tomato oil, fresh mozzarella, and fresh salad topping
West Tisbury chef Tina Miller: Cheeseless pizza with ground spicy sausage, pepperoni, Kalamata olives, sautéed spinach, mushrooms, basil, and red onion
West Tisbury cook/farmer Susie Middleton: Margherita with roasted tomato sauce, fresh mozzarella, sliced roasted tomatoes, oregano, and thyme; Yukon Gold potato, rosemary,
caramelized onions, and Gruyère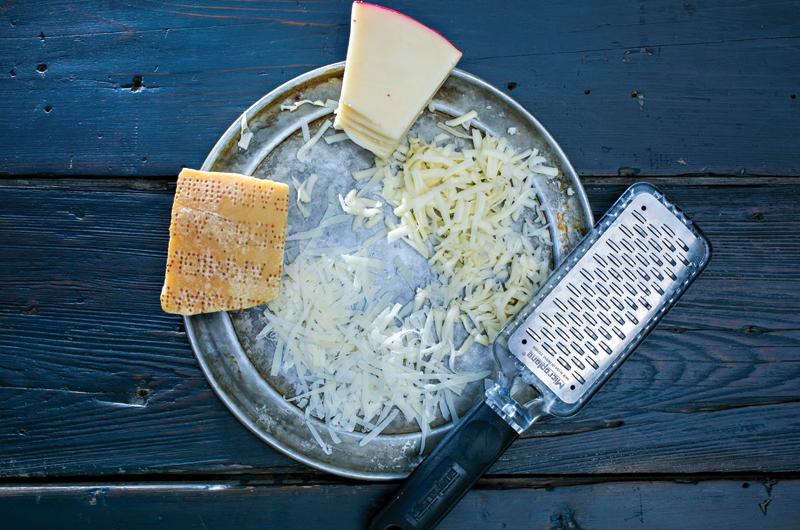 Topping Suggestions
I suggest choosing between three to five toppings (one or even two of which can be another cheese), preferably from more than one of the different categories (creamy, salty, savory, sweet), to create some interesting contrast. You also have the option of finishing with fresh greens or fresh herbs after the pizza comes out of the oven, so consider that when pairing flavors. For instance, spicy arugula is a great foil for a combination of salty blue cheese and sweet caramelized onions. Salty ingredients like anchovies or capers play well with savory roasted or sun-dried tomatoes and a light, creamy cheese like fresh mozzarella or ricotta. For savory toppings, bear in mind that while some veggies can go on raw, you'll get a much tastier topping if you cook many of them, such as mushrooms and eggplants. Meat toppings like sausage, ground meat, and bacon should also be cooked first. Delicate cured meats like prosciutto can actually go on after the pizza comes out of the oven.
The amounts suggested are total amounts for four pizzas – just so you'll have a ballpark to aim for when shopping and prepping. Don't be tempted to overload your pizza, and don't be afraid to go very simple, either. More isn't necessarily better!
Creamy
(Between 4 and 8 ounces total for 4 pizzas)
Brie
Crème frâiche
Feta
Goat cheese, fresh or aged
Grey Barn Prufrock
Grey Barn Rip Rap
Gruyère
Fresh mozzarella balls (I like the small ciliegine), sliced
Mermaid Farm Fromage blanc
Mermaid Farm gouda or other young or aged gouda
Ricotta
Salty
(Use sparingly, between 2 tablespoons and 3 to 4 ounces total for 4 pizzas)
Bacon or pancetta, cooked
Blue cheese (such as Grey Barn Bluebird)
Capers, roughly chopped if large
Clams, chopped
Olive tapenade
Olives, pitted
Pepperoni or very thinly sliced salami
Pesto (basil or Pam's Sun-Dried Tomato Pesto)
Prosciutto, thinly sliced (top after cooking), or other thinly sliced cured meat
Smoked fish (trout, bluefish, or salmon), shredded or thinly sliced
Savory
(Meat, fish, and vegetables; 3/4 to 1 1/4 cups total for 4 pizzas)
Visit Island meat farms to give your pizza local flavor: Beetlebung Farm, Blackwater Farm, The Good Farm, Grey Barn, Cleveland Farm, Morning Glory Farm, Mermaid Farm.
Chicken, lamb, or pork sausage, cooked
Collards, kale, or broccoli rabe, blanched or very thinly sliced and tossed in oil
Corn kernels, raw
Beef, lamb, or pork (ground), cooked
Beef or pork ribs, cooked and shredded
Chicken, roasted and shredded
Duck, roasted and shredded
Eggplant, sliced thinly and roasted or sautéed
Kale (baby), raw and tossed in oil
Mushrooms (cremini, shiitake or other), sliced and sautéed
Peppers, sliced thinly and sautéed
Potatoes (baby red or gold, fingerling), raw and very thinly sliced or blanched and diced
Squid, raw, thinly sliced, and tossed in oil
Spinach, wilted
Sweet potatoes, diced and blanched or briefly sautéed
Tomatoes (roasted or sun-dried), sliced
Sweet
(Use about ¾ cup total for 4 pizzas)
Bay scallops, raw
Caramelized onions, leeks, shallots, or fennel bulb, thinly sliced and sautéed slowly
Garlic, roasted
Apples, thinly sliced and sautéed
Figs (fresh), sliced
Pears, thinly sliced and briefly sautéed
The following recipes were originally published along with this article:
Simple and Quick Food Processor Pizza Dough