Halfway between a whole roasted sweet potato and sweet potato fries lies an easy weeknight side dish: roasted sweet potato halves. By simply cutting sweet potatoes (preferably small ones) in half lengthwise and roasting them cut side-down on a heavy sheet pan, you get a nicely caramelized surface and tender, fluffy interior.
Honestly, these are tasty with nothing on them, but I like to serve them with lime butter, sometimes with shallots, too, and a wee bit of chili crisp for some heat. (If you don't have chili crisp, you could use a very small amount of Asian chili-garlic sauce and mix it in with the butter.) But you can customize your topping as you like. For a meatless meal, these can star at the center of the plate with a side of black beans or a hearty salad.
Do seek out those smaller sweet potatoes, though — they cook through and caramelize in about the same amount of time and offer a nice ratio of caramelized surface to interior flesh.
I like to line my sheet pans with both foil (for easy clean-up) and parchment paper, but the parchment paper alone is fine – it's the key to no sticking.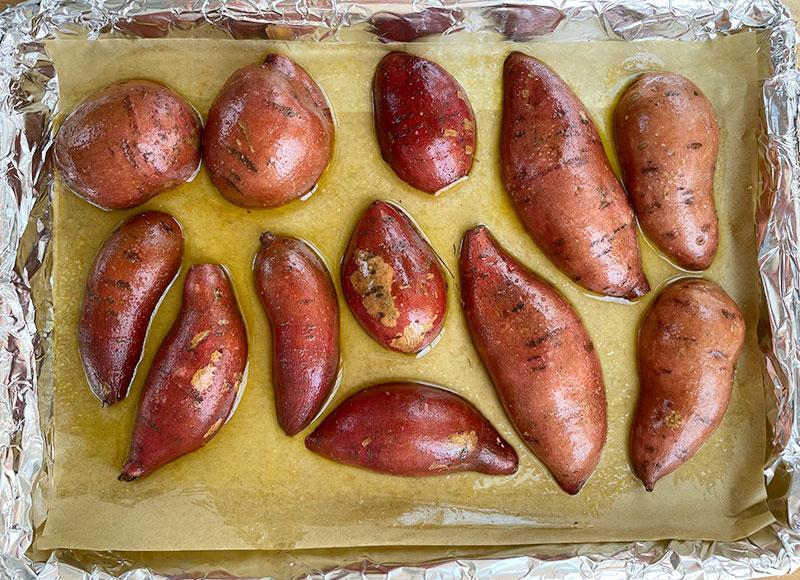 For this recipe I use a "quarter" sheet pan (9 x 13 inches) but you can easily double this and use a "half" sheet pan (18 x 13 inches).

For the sweet potatoes:
6 to 8 small sweet potatoes (3 to 5 ounces each), each cut in half lengthwise
Olive oil
Kosher salt
For the topping:
3 tablespoons unsalted butter
1 large shallot, sliced
Zest of one or two limes
1 to 2 teaspoons chili crisp
Lime wedges for serving

1. Heat the oven to 425 degrees F. Line a small heavy-duty rimmed sheet pan with aluminum foil. Lay a piece of parchment paper over the aluminum foil.
2. Coat the sweet potatoes completely with olive oil, season the cut sides with salt, and arrange, cut side-down on the baking sheet. (I find it easiest to pour a slick of olive oil onto the parchment paper, sprinkle the oil with salt, arrange the sweet potatoes cut side-down in the oil, and then use a pastry brush dipped in the oil to thoroughly brush the tops of the sweet potatoes.)
3. Roast, 32 to 38 minutes, or until the bottoms of the sweet potatoes are caramelized (the flesh will be tender). (You can peek at the bottoms of one or two and return to the oven if you like.) Remove from the oven and use a thin metal spatula (taking care to slide between the skin and the parchment) to flip the sweet potatoes over so that they are cut side-up. Transfer to a serving platter or serving plates.
4. In a small saucepan, melt the butter over low heat. Add the shallots and a good pinch of salt, turn the heat to medium-low, and cook, stirring, until the shallots are well-softened. (There will be a lot of butter in proportion to the shallots – you want that for spooning over the sweet potatoes.) Take the saucepan off the heat and add the lime zest.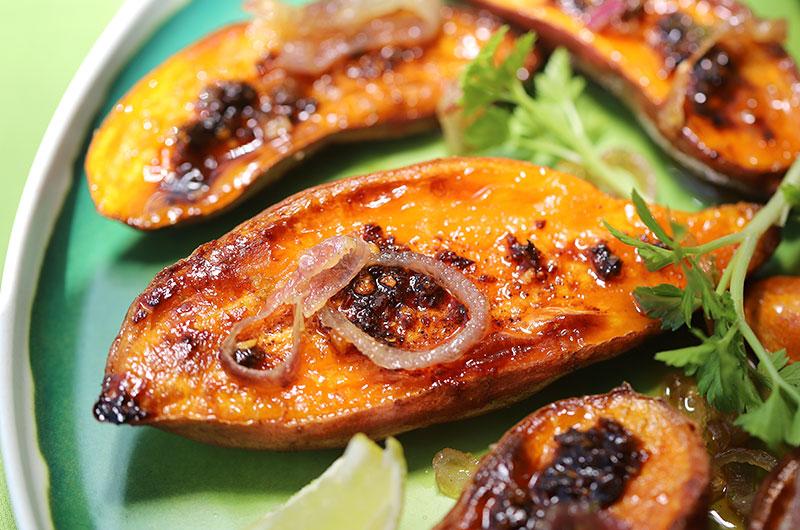 5. Drizzle or dollop a tiny amount of chile crisp on top of each sweet potato half. Spoon a few shallots over each and spoon the remaining shallot-lime-butter over all. Serve right away, garnished with lime wedges.
-