As I was rushing through Morning Glory Farm the other day, I spotted a display of beautiful fresh ginger with its greens still attached. I passed it by regretfully, but the ginger showed up on my Instagram feed not long after. It was clearly stalking me. (Ginger is my favorite aromatic with which to cook.) It was in a photo posted by @kulokofarm. Kūloko, I was soon to learn, is Hawaiian for "local."
I left an admiring comment under the photo, and to make a long story short, it was just a matter of hours before farmers Caitlin Krol and Jason Danielson and I were having a (masked, socially distanced) meet-and-greet in my driveway. And I was soon in possession of the most gorgeous (and spicy) ginger I've ever seen or eaten.
The two were on their way from a morning fishing in the Derby, a midday harvest at their farm plot at IGI's Thimble Farm, and an afternoon delivery run to The Grey Barn and Farm's farmstand.
I had to laugh as their small Vineyard vehicle was packed to the gills with fishing rods alongside beautiful flats of late vegetables and herbs, including that gorgeous Hawaiian ginger and some East Indian lemongrass.
Caitlin, who most recently worked at Mermaid Farm before starting Kūloko in 2016, offered me some of the lemongrass and a bit of fennel pollen, too (lovely on risotto or flatbreads or soups). On their half-acre plot at Thimble, she and Jason grow a variety of vegetables and herbs that include specialty items chefs have requested – like that fennel pollen or cilantro flowers or shishito peppers. Caitlin has been growing fruits and vegetables, pesticide-free, all over Massachusetts for more than a decade.
But fresh ginger is a true specialty item, as it must be grown under cover in our climate. This year, Caitlin and Jason purchased ginger rhizomes over the winter and started growing them on heat mats in the living room in February. Once the ginger germinated, Caitlin said, they moved it to the Thimble Farm greenhouse, due to their space limitations. In the spring, with their own hoophouse completed, Caitlin and Jason moved the plants into the ground. They began harvesting in September and estimate a harvest of about 100 pounds.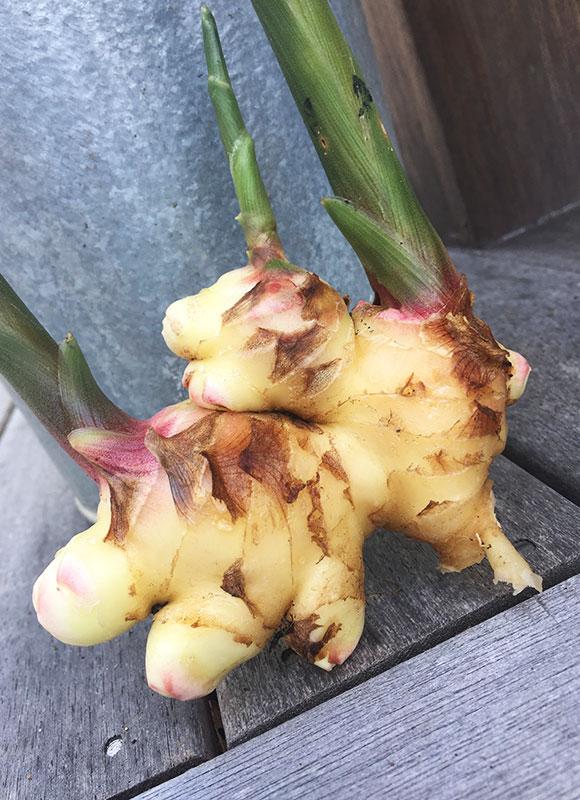 In addition to The Grey Barn and Farm and Morning Glory Farm, Caitlin and Jason are also selling their ginger to the MVY Food Coop, the IGI Mobile Market, Seaweeds restaurant, El Gato Grande taco truck, and Juice By the Sea. So now you know where to find it! And if you read this week's Cook the Vineyard newsletter, you'll find some great recipes for using it, too.
Or if you run into Caitlin and Jason (follow them on Instagram @kulokofarm), ask what they're cooking. They both like to cook, I discovered in an all-too-short conversation about ginger and fish before they continued on to their next delivery.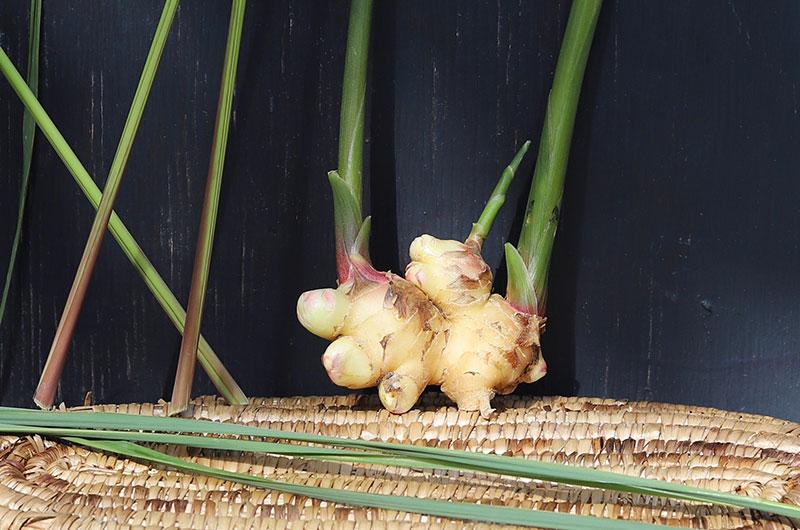 *