These days, since up is down, and yesterday is tomorrow, maybe you won't mind if I pretend that May is July. You see, I'm obsessed with blueberries. I went out and bought two blueberry bushes for my garden last week and then wrote about growing edible perennials for the Vineyard Gazette.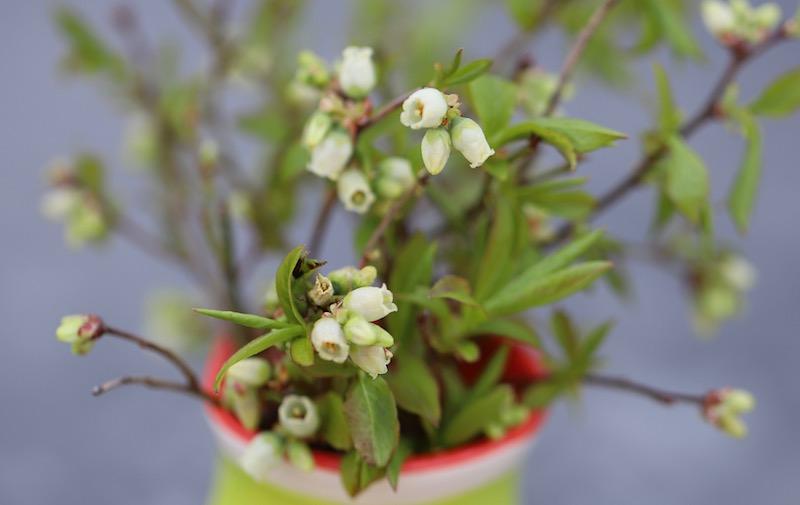 Then I began to notice the wild lowbush blueberries blooming everywhere. The bell-shaped blossoms are so charming that I had to pick a few.
And of course, when I made my foray to Cronig's, I lit upon some lovely pints of blueberries. Honestly, I didn't even look to see where they came from — there's no sense in being too precious about food these days. I bought raspberries and strawberries, too, for I am longing for warm days. Berry ice cream, anyone?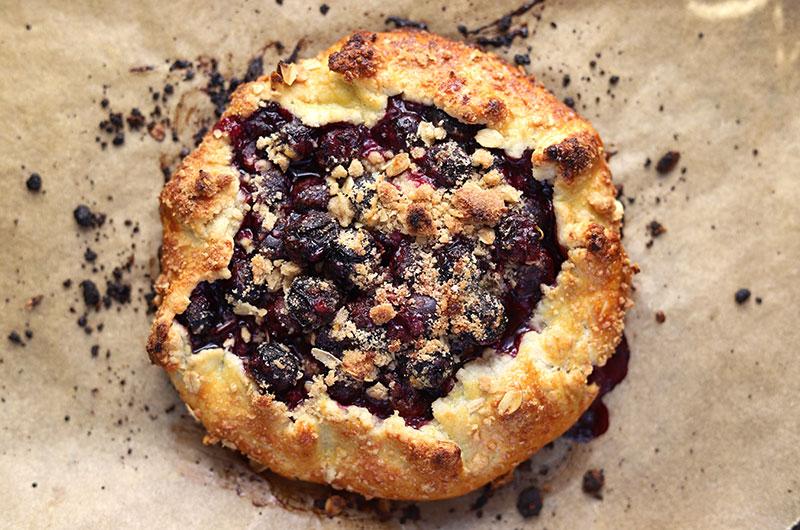 Back home, I made a batch of rustic tart dough and with it, a little blueberry tart for two. We actually had a pint of vanilla ice cream in the freezer. An early dinner with the last rosy bits of daylight tumbling over the dining room table, two candles lit anyway, and we could almost believe it was summer.
Over the weekend I also piled my berries into a clafoutis, a custardy French dessert that's a bit like a sweet puffy pancake (or Dutch baby) with a nod to flan. The original clafoutis was made only with black cherries in the Limousin region of France; I recently learned that those made with other fruits are supposed to be called flaugnardes.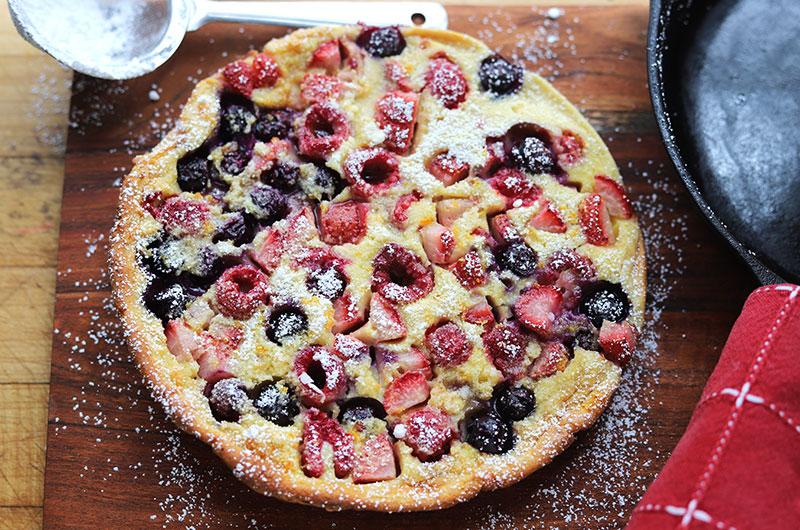 I'll tell you the other thing I'm obsessed with: simple dinners. We're talking recipes with very few ingredients. Like these Sautéed Sugar Snap Peas with Salami Crisps — the quickest and easiest vegetable side dish you'll ever make. And they're delicious. Crispy Broccoli Florets will do just fine, too.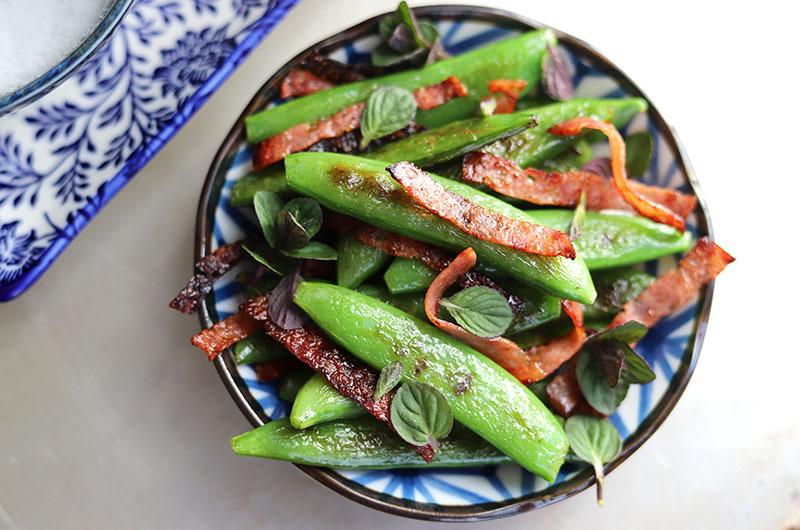 And this Butterflied Spice-Rubbed Roast Chicken. All you need is the chicken, the spices, and a sharp knife or poultry shears. The whole prep takes less than 10 minutes.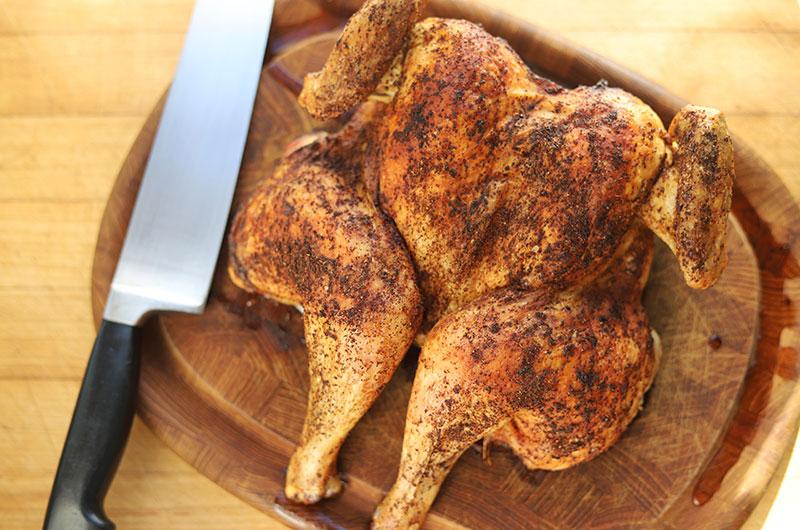 I realize I offered you chicken thighs last week, but now the butcher at Cronig's tells me chicken parts may be scarce for awhile, so I thought you might be looking for new ideas for whole birds. (Check out Pot-Roasted Chicken with Veggies and Herbs and Simple Roasted Chicken, too.)
It's not just chicken — beef and pork shortages are expected, too. Remember you can buy local meat from Allen Farm, The FARM Institute, The Grey Barn, Ghost Island Farm, The Larder (online now), Mermaid Farm, Morning Glory Farm (meat pre-order online), and North Tabor Farm.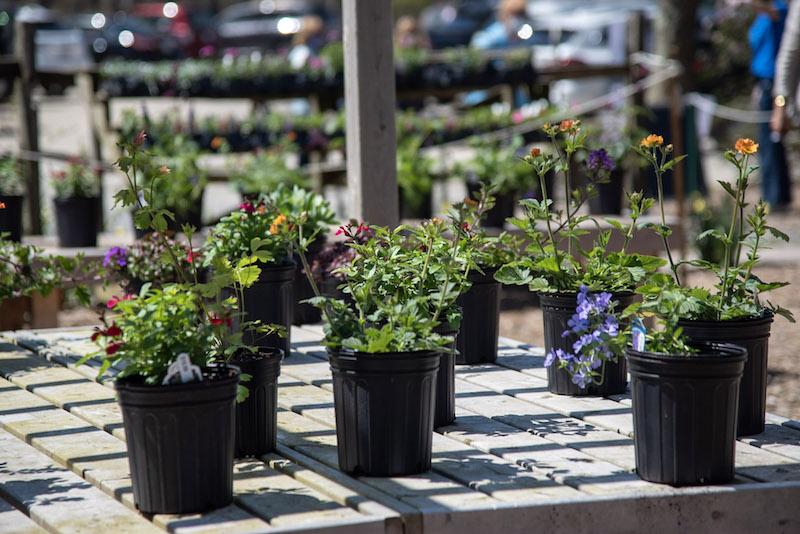 And by the way, Morning Glory Farmstand opened yesterday for its 45th season. It was a lovely day to idle amid perennial flowers and herbs while waiting a turn to shop. The line wasn't long when I arrived, but I heard traffic was brisk during senior hour (9 a.m. to 10 a.m.). There is also an express line if you just want a salad to go.
One last bit of local food news for those of you on the mainland: You can now get Grey Barn cheese through the mail by placing an order on their website.
Here's to warm days, summer berries, and mail-order cheese! See you on Instagram.