If you were a leafy green, you'd be pretty excited right now, because 2016 is your year to star. Enough of this supporting actor stuff; you're going straight to the middle of the plate – in main-dish salads, stir-fries, soups, curries, egg dishes, pastas, grain bowls, and more. Even better, if you're a leafy green vegetable from the vast botanical family known as "Not Kale" – bingo. A bigger share of the limelight for you, my friend.
Seriously, I'm hoping with everyone greening their plates this year that my favorite leafy green, baby bok choy, finally gets its Hollywood star. Since we are early adopters here on the Vineyard, we caught on to this little vase-shaped Asian cabbage (Brassica chinensis) a while back. In fact, Tea Lane farmer Krishana Collins was growing and selling baby bok choy to savvy local chefs as many as twelve years ago. But I know from my own experience growing and selling it here in recent years that folks are still catching up on how to cook this cutie.
It couldn't be easier. There isn't a vegetable more perfect for the stir-fry pan or a grill basket; the minute it strikes direct heat, baby bok choy begins to brown and caramelize, giving it an alluring nutty flavor and a silky texture.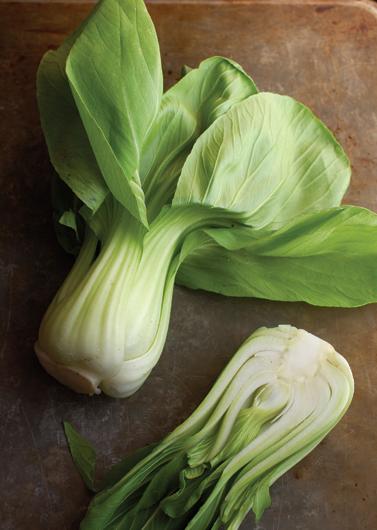 Perhaps what stops people is the question of how to prep baby bok choy. There are a few options. Both the stalks and leaves of baby bok choy are tender, so you have a choice of simply cutting the heads lengthwise (most pretty) into halves, quarters, or wedges, or of cutting the leafy tops off and cooking them separately from the meatier white stalks. (In that case, you'd slice the bottom stalks into thin wedges, leaving the core in to hold the pieces together.) You can also simply slice the head crosswise into thin pieces.
I like the first two methods that allow a cross-section of the pretty interior to be exposed. (More surface area for browning, too.) However you cut it, you'll need to wash the pieces in a bowl of tepid water (cold water does not release dirt). Lift the pieces out of the bowl with your hands to leave the dirt behind.
In addition to loving the direct heat of a hot pan or grill basket, baby bok choy likes to simmer in just a bit of liquid until tender. You can combine both methods of cooking by browning first and then simmering, or you can just add chopped baby bok choy to soups or braises. (Use it raw in salads, too.) Baby bok choy loves ginger, garlic, chiles, and alliums of all kinds, from scallions to shallots. It also loves lemon, and just a bit of cream, so you don't have to take it in an Asian direction.
If you'd like to grow baby bok choy in your own garden, direct sow seeds as soon as our soil warms to 50 degrees, usually in April. You can eat the thinnings in less than a month, and heads will be harvestable in forty-five to fifty days. Keep sowing through late spring and again in fall (avoid summer heat). The one thing you'll need to procure is a piece of fabric row cover to keep out flea beetles and cabbage worms. My favorite varieties of baby bok choy, Shuko and Purple Pac Choy (both available from fedcoseeds.com), have an elegant, narrow vase shape, as opposed to some shorter varieties that have a broad flowering habit.
The following recipe was published with this article:
Chinese Egg Noodles with Baby Bok Choy, Sugar Snaps, and Spicy Coconut Broth