Other people get out their wool sweaters, put the teapot on, and curl up with a good book. When the leaves start falling and the nights get chillier, I have a different Pavlovian reaction: I start prowling farmstands for fall squash.
In the old days I grew them myself, and by this time there would be dozens of butternuts (my favorite variety) curing in the field or hanging out in the hoop house. I even grew the new little mini butternuts called honeynuts, which are especially sweet.
But that's not the case anymore. So in mid-September, after a particularly chilly night, I simply hopped in the car the next day and started looking for squash. It was a bit early in the season, but thankfully Rusty Gordon at Ghost Island Farm had recently harvested his first butternuts, honeynuts, delicatas and sweet dumplings. So I bought a few of each. And a few extra butternut, I admit.
The only problem with butternuts is that the whole peeling and dicing thing can get tedious. (However, I'm not really a fan of buying peeled butternut at the market. Often it has soft spots, so look closely before buying.) But I have another method for cooking butternut that I love; no peeling is needed, and the results are truly versatile.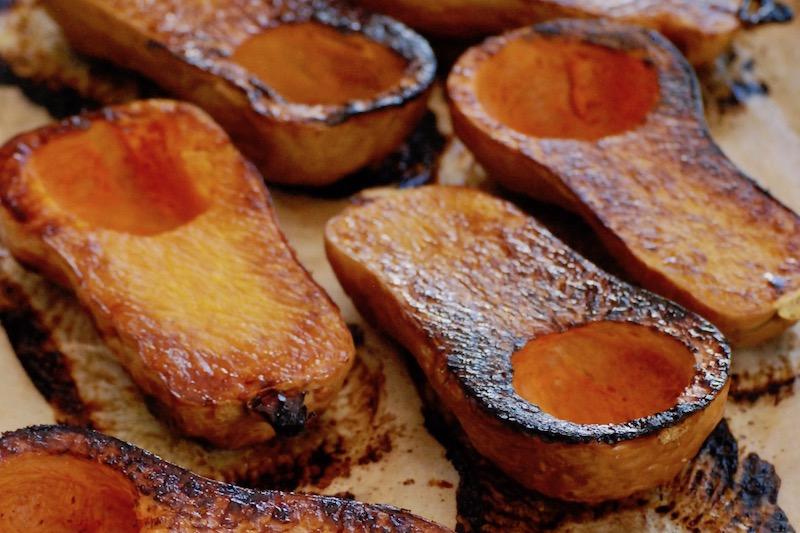 The technique is simple. First, cut butternuts in half lengthwise (use a sharp chef's knife). Scoop the squash seeds out of the cavities with a serving spoon.
Next line a baking sheet with buttered parchment paper. (For extra easy cleanup, you can cover the sheet pan with foil first.) Arrange the butternut halves on the sheet pan, facing up, and sprinkle with a little salt. You can also drizzle with a tiny bit of maple syrup, but don't go crazy. Turn the halves over and roast in a pre-heated 400-degree oven until the skins are well browned and wrinkly and the flesh is tender. Let the squash cool on the sheet pans; then turn the halves over and scoop the flesh out, leaving the skin behind. (See recipe for Roasted Squash Halves.)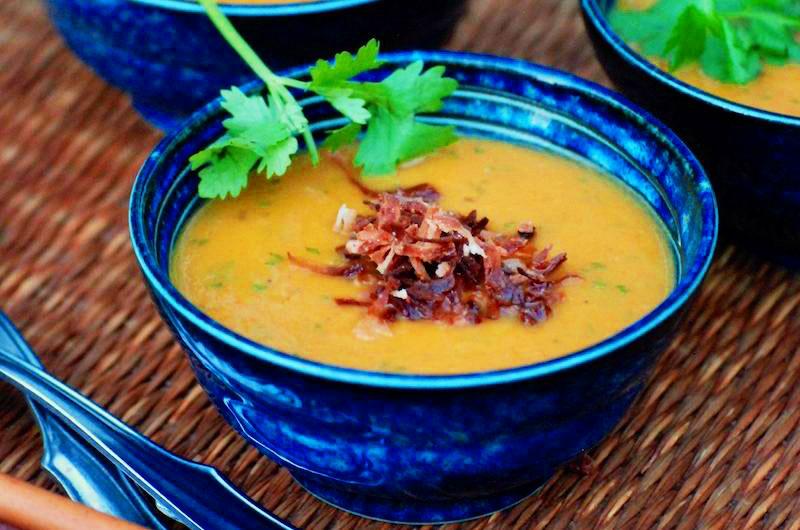 The dry heat of roasting intensifies the flavor of the squash rather than diluting it as steaming would, transforming that roasted squash flesh into a delicious ingredient for soups (see Curry-Coconut Butternut Squash Soup), quickbreads and muffins, pastas and risottos, pies and pancakes, and more. Added bonus: You can refrigerate the cooked squash for a few days or even freeze it for longer. Of course you could also simply mash it up with melted butter and more maple syrup and eat it right away. And I won't tell anyone if you do.
Look for locally grown squash at Ghost Island Farm, Morning Glory Farm, and the West Tisbury Farmers' Market, which will transition to its winter location in the Ag Hall in October.