It was fate – and a dose of dramatic flair – that turned Jeremiah McCarthy into a pirate. Labor Day weekend, 2014: McCarthy's wife Catherine was looking for an end-of-summer outing for their two young sons. A trip to the mainland was scheduled, and after some research Catherine discovered a Hyannis-based pirate ship excursion and signed the family up.
"I was working at the ice cream shop," McCarthy, forty-three, remembered, as we sat aboard the Sea Gypsy, the custom-built forty-foot pirate ship conspicuously docked in Oak Bluffs harbor. Though McCarthy only purchased the pier and surrounding businesses – including The Sweet Spot ice cream shop – four years ago, he knows these waters well; the sellers were his parents, and he spent childhood summers pumping gas and renting jet skis to earlier generations of the same visitors who stroll the wharves today.
That fateful Labor Day morning, McCarthy was just beginning his term as property owner, scheming ways to boost revenue on the piers and to keep the businesses afloat (if you will). He couldn't get away, so Catherine and her mother took the boys to meet the pirates. "Ten minutes into the trip I got a call from her and she said, 'This is it,'" McCarthy, with his trademark grin, recalled. "'This is what you're going to do.'"
It's hard to imagine that many first-time business owners or real estate developers would pivot to pirate so quickly. But the McCarthys share a love of adventure, and the professional background – Catherine holds an MBA and works in product development, Jeremiah had been an attorney – to pull off even the wildest of start-up endeavors.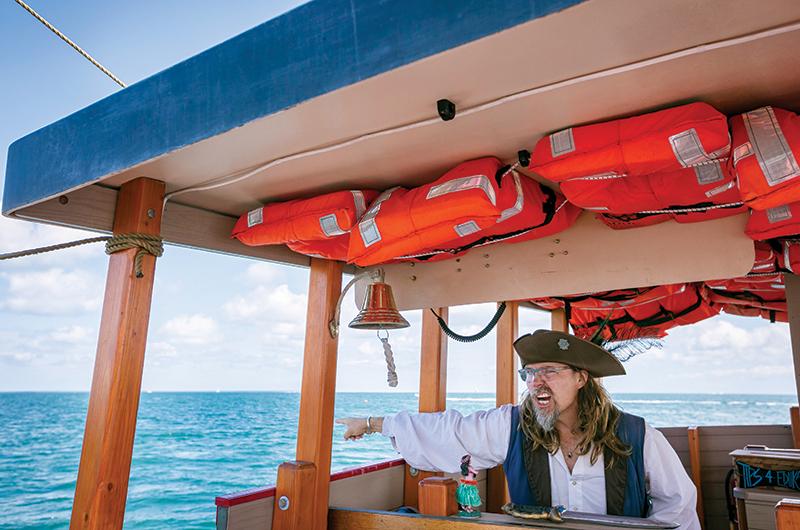 "I said, 'Of course, that makes perfect sense,'" McCarthy recalled of his reaction to the pirate plan. "'Why wouldn't we do that?'"
The McCarthys immediately got to work. The Hyannis-based operation had just begun branching out and agreed to sell the McCarthys both a custom boat and a license to the Pirate Adventures name and brand. The following summer, 2015, the Sea Gypsy was in the water, staffed with a crew of pirates-in-training and ferrying happy hordes of "little mates" in and out of the harbor.
McCarthy, who hadn't set foot on the boat until after he bought it, busied himself getting his captain's license and took right away to his new role as Capt'n Flint (named in homage to Robert Louis Stevenson's Treasure Island). As a high school student in Florida, where his parents spent the off-season each year, McCarthy was the head of the thespian society and went on to major in creative writing in college. "I've always been a creative person," he said. "It's part of my DNA."
And working with children, which he lists as the most important part of a modern pirate's job description, also came naturally to McCarthy. After the bustle of the summer season is over, he is happily home with his kids all winter, while Catherine is at work.
Capt'n Flint and his crew, managed from the beginning by Hannah Burbidge (a.k.a. Coral), knew that they wanted to do more than just replicate the pirate experience in Hyannis. They took the three-page adventure storyline they'd been given and fleshed it out; the script now runs fifteen pages and is chock full of pirate lingo, rollicking music, and high-seas drama to keep even repeat mateys on their toes.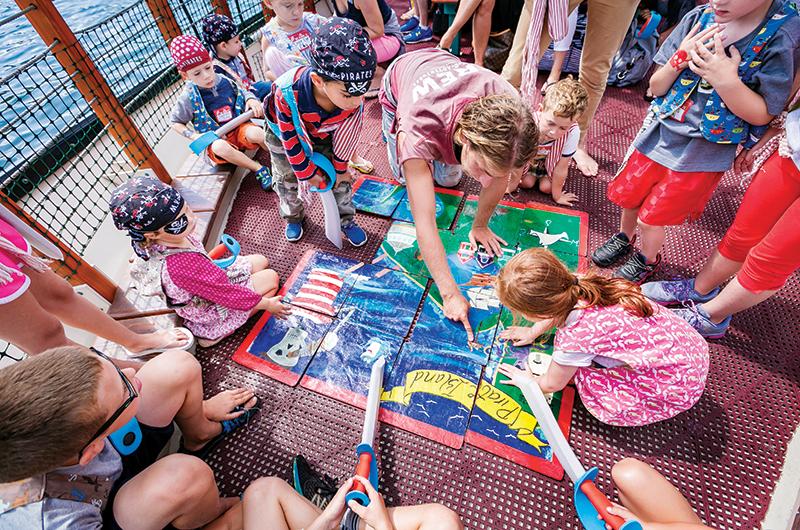 The adventure begins dockside, where the little mates – McCarthy says the children are quite intentionally never referred to as "kids" – are given their individual and often alliterative pirate names (my two tiny pirates became "East Chop Evie" and "Wild Wiley"), a face-full of pirate makeup, tattoos, and bandanas. This sets the stage for the adventure ahead and serves a second, more thoughtful purpose. "It gives them face time with the crew, in their comfort zone," McCarthy explained. "That way the little mates feel more comfortable opening up on the ship. Like, okay, this is a safe person. It's okay for me to have fun."
Creating a safe space on a pirate ship is a tricky proposition for McCarthy and his crew; the goal is to make the mates feel comfortable, but not too comfortable. "That fine line of fear is part of what the adventure is about," he said. "I scare the crap out of them when I come storming down the dock, but I try to temper that immediately by getting down on their level."
And storm down the dock Capt'n Flint does, bellowing an introduction to the freshly costumed little pirates before loading them, trailed by their watchful guardians, onto the ship. A quick run-through of the rules and a glossary of pirate terms ("All hands on deck!" brings even the rowdiest mates back to their seats on the ship's bow) and the captain guides the Sea Gypsy around the harbor and, weather permitting, into Nantucket Sound.
Once in open waters, the real fun begins. A life-size puzzle, the hunt for found ("not stolen," McCarthy is quick to point out) treasure, and a water gun fight with a jet-ski-mounted attack pirate culminates in a haul of toy booty and a crew of satisfied mini-adventurers.
The excursion feels fun and special, and it's a surprise to learn of the rigorous training and inspections McCarthy, his crew, and his vessel undergo at the start of each season. Beyond CPR and first aid, the crew is tested by the U.S. Coast Guard under federal regulations for passenger vessels. "We have the same regulations as the Steamship Authority," McCarthy pointed out. (Presumably a better on-time record, too.)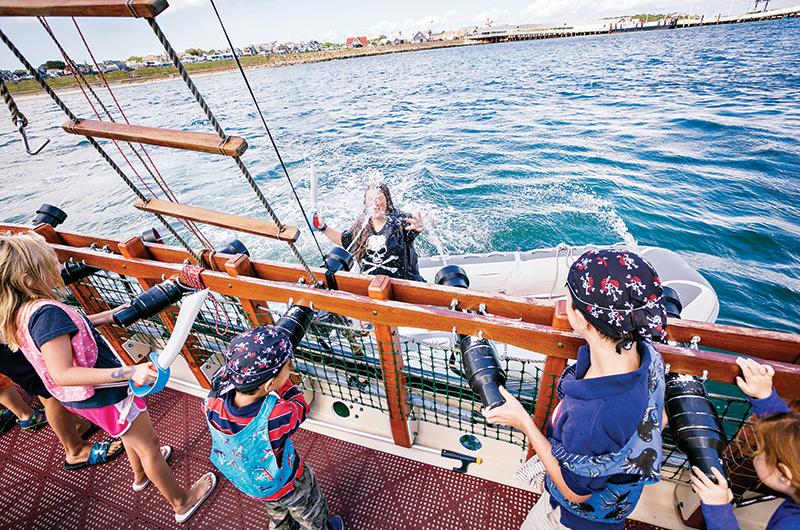 But just as important as strong swimming skills is the ability of the crew members to think on their feet. "A huge part of the job is running on the fly," manager and first mate Coral said, joining us on the wharf. Though there have been surprisingly few mishaps on board, Coral and McCarthy remembered a time, early in their first season, when they actually lost the treasure.
"I think I backed up over the line and cut it," McCarthy said. "Usually I can see it in the first few seconds, but this time it was nowhere." After a longer-than-usual search with the little mates, a crew member appeared with the back-up treasure chest, thankfully hidden on board.
Pirate Adventures extend beyond the scheduled tours – which run four times daily all summer long – with private charters and events. While the charters at first were traditional sunset cruises, McCarthy learned that his guests were eager for more of a pirate twist. Now, families can rent the boat for their own pirate adventure, cruising at sunset, eating, and drinking while the crew sword-fights with their kids.
It's pushing traditional Island experiences one step further that McCarthy hopes will secure Pirate Adventures a spot on any Vineyard visitor's to-do list. "We want to be a part of the fabric of people's vacations," McCarthy said. "So much of the Vineyard is about nostalgia. It's taking your kids to the same beaches you went to, and eating ice cream walking down the same streets."
And maybe, one day, taking your kids on the same pirate ship you used to sail on, hunting for hidden treasure of Island memories-in-the-making.