Best Dentist: Hélène Schaeffer of Island Dentistry
23 Airport Road, Edgartown, 508-696-8426
Runner-up: Richard McNulty of Amity Dental Studio
65 Main Street, Vineyard Haven, 508-687-9752, amitydentalstudio.com
When you love your dentist, does it show in your smile? According to the votes, Vineyarders are smiling plenty for Dr. Hélène Schaeffer, Best of the Vineyard winner yet again. Repeat runner-up Dr. Richard McNulty cares for mouths of all ages, and will put you at ease if you're scared of the dentist's chair.
Best Yoga Studio: The Yoga Barn
1 Red Barn Road, West Tisbury, 508-645-9642, mvyogabarn.com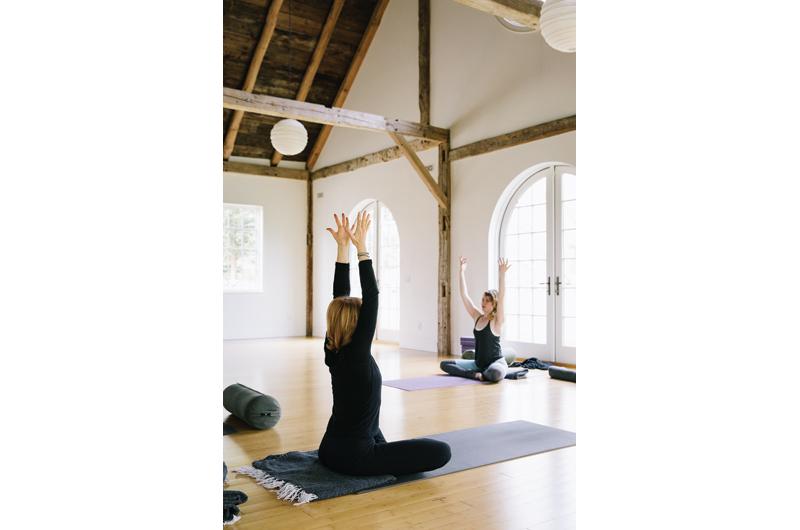 Runner-up: Hot Yoga MV
12 Mariners Way, Edgartown, 774-327-1287, hotyogamv.com
Inner stillness awaits at the rustic-chic Yoga Barn, set in the midst of a picturesque Chilmark meadow. Ninety-minute classes make yogis feels like they are on a retreat instead of popping off to class. Limber up with a variety of first-rate instructors inside Hot Yoga MV's cozy Edgartown studio.
Best Doctor: Dr. Ellen McMahon
1 Hospital Road, Oak Bluffs, 508-696-5700, mvhospital.com
Runner-up: Dr. John Lamb
1 Hospital Road, Oak Bluffs, 508-693-3164, mvhospital.com
The doctor is in; Dr. Ellen McMahon, that is. With her friendly demeanor and helpful attitude, she will make sure you're soon feeling your best. Dr. John Lamb has been a
frequent winner since he moved to the Island in 2006.
Best Fitness Center: YMCA
111R Edgartown–Vineyard Haven Road, Oak Bluffs, 508-696-7171, ymcamv.org
Runner-up: Mansion House Health Club
9 Main Street, Vineyard Haven, 508-693-2200 x105, mvmansionhouse.com
At the YMCA, it's not just about working out; it's about becoming a better you. Through classes, educational programs, and personal trainers, the staff is eager to help you out any way they can. At the Mansion House, take a dip in the "Spring Water" pool or hit the sauna after you work out.
Best Hair Salon: Maggie's Salon
31 Beach Road Suite 104A, Vineyard Haven, 508-693-2875, maggiessalon.com
Runner-up: Circuit Style Salon
47 Circuit Avenue, Oak Bluffs, 508-693-7542, circuitstylesalon.com
What is it that makes Maggie's a cut above the rest? Is it the cheery salon space, the top-of-the-line products, the shampooing services that double as a head massage? It's all that, plus the team of talented stylists who make sure you leave looking better than you arrived. Fans flock to Circuit Style for bold colors and daring cuts.
Best Mani/Pedi: Hollywood Nails
13 Union Street #2, Vineyard Haven, 508-696-6197
40 Circuit Avenue, Oak Bluffs, 508-338-2482
Runner-up: Caleen's Day Spa
31 Beach Road Suite 103, Vineyard Haven, 508-693-2898, caleensdayspa.com
Gather up your pals and head to Hollywood Nails for a day of pampering and relaxation. With two locations and several mani/pedi stations, you'll never have to wait very long. On Beach Road in Vineyard Haven, Caleen's services include everything from a basic manicure to a heavenly spa pedicure that includes a hot stone massage.
Best Massage Therapist: Sonya Mayrand, Massage & Bodywork
97 Circuit Avenue, Oak Bluffs, 508-294-7159,
Runner-up: Allyson Cook of Allyson Cook Metell, LMT & Associates
455 State Road, Vineyard Haven, 508-696-1863, allysonlmt.com
A really good massage can make all the difference in how a body feels. Sonya Mayrand has the touch: she started her business just a few years ago and was voted Best of the Vineyard for the first time this year. Longtime Island massage therapist Allyson Cook also knows
the rub.