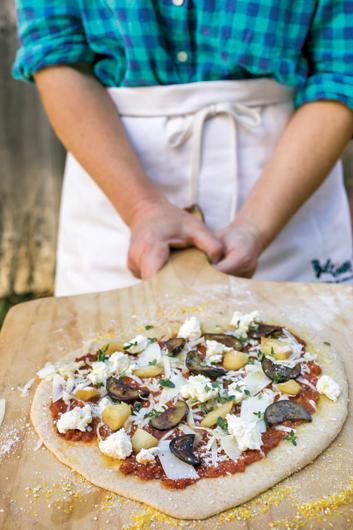 Makes 4 personal pizzas, or 8 mini pizzas if you divide each dough ball in two and adjust the directions and amounts accordingly.
For assembling:
1 recipe Simple and Quick Food Processor Pizza Dough (4 personal dough balls), proofed
Coarse cornmeal
Flour
For the seasoned oil:
1/3 cup extra-virgin olive oil, more for drizzling
1 tablespoon plus 1 teaspoon fresh garlic, minced
1/4 teaspoon crushed red pepper flakes (optional)
A few pinches of lemon zest (optional)
For the red sauce (optional):
1 to 1½ cups Roasted Tomato Sauce (see mvmagazine.com), other homemade (thick) tomato or pizza sauce, or purchased pizza sauce
For base cheese layer:
2 to 2½ cups fontina cheese, grated
¾ cup Parmigiano Reggiano, coarsely grated
For toppings (including other cheese):
3 to 5 choices from topping sidebar (see All We Are Saying is Give Pizza a Chance)
Kosher or sea salt
Olive oil or infused oil for drizzling
1 to 2 tablespoons fresh herbs, roughly chopped (any kind, use less of woody herbs like rosemary and thyme)
1 cup baby arugula, baby kale, micro greens, or other tender fresh greens (optional)
1. Put a baking stone on the lowest rack of your oven and heat the oven to 500 degrees.
2. Make the seasoned oil: combine the oil, garlic, red pepper flakes (if using), and lemon zest (if using) in a small bowl and stir to combine. Set aside with a pastry or basting brush (or small spoon).
3. Combine the fontina and the Parmigiano in another bowl. Arrange the seasoned oil, the cheeses, your toppings, salt, and a bottle of olive oil or infused oil near your work area.
4. Sprinkle a pizza peel or the back of a large cookie sheet with cornmeal. Lightly flour a work surface, your hands, and a rolling pin. Gently press one dough ball out with your fingers and hands until it forms a flat cake on your work surface. Using the rolling pin, roll the dough out to a 9-inch circle. If the dough is bouncy, let it rest between rolls.
5. Transfer the rolled dough to the pizza peel or baking sheet.
6. Spoon about one scant tablespoon of the seasoned oil (including the garlic, etc.) onto the dough and brush or use the back of a spoon to spread it all over the dough, leaving a 3/4-inch border around the edge. If using red sauce, spoon about 1/4 of it over the oil. Next, sprinkle on a few tablespoons of the fontina-Parmigiano mixture (do this directly over the oil if not using red sauce). Arrange, dollop, or sprinkle a quarter of your other toppings in any order you like over the dough. Finish with one or two more tablespoons of the fontina-Parmigiano mixture. Sprinkle on a small amount of the fresh herbs, drizzle the whole pizza with a little olive oil or infused oil (or a small amount of the seasoned oil), and sprinkle with kosher salt or sea salt.
7. Transfer the pizza to the oven and cook until the crust is golden brown around the edges and crisp and golden on the bottom (check with tongs), 8 to 10 minutes. (The dough will be more bread-like at 8 minutes; more cracker-like at 9 or 10 minutes.) Use the peel (or tongs and a baking sheet) to transfer the pizza to a wooden cutting board. Top with fresh greens or more fresh herbs if desired. Slice and serve.
8. Repeat with remaining dough and toppings.
This recipe was originally published with the article, All We Are Saying is Give Pizza a Chance.