Though the history of the bikini swimsuit dates back to ancient times (illustrations of women in midriff-baring athletic suits can be found etched into Roman villas and Greek urns), it wasn't until the 1940s that modern civilization adopted the two-piece trend. From itsy bitsy to form flattering, today the bikini is an iconic bit of beachside fashion, embraced by women of all ages, shapes, and sizes worldwide.
Hard to believe, considering that just a mere century ago, it was customary for women to be wheeled to the water's edge in rolling cabanas, shielded from public view as they changed from many-layered petticoats into modest bathing attire. After a quick dip, they would dry off behind closed doors, change back into more suitable dress, and reappear on shore as if nothing had happened.
So why this dramatic shift in decency? And what is a "bikini" anyway?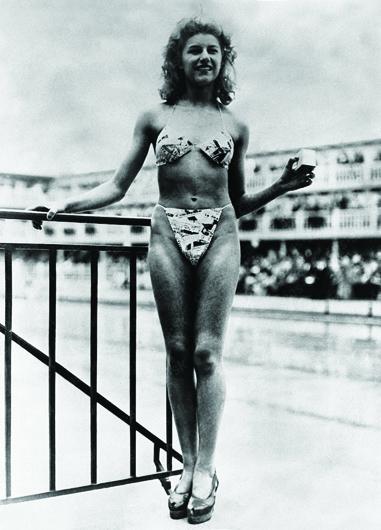 When naming a design or product, savvy entrepreneurs often look for words or phrases that are edgy, topical, and make a big splash. Mechanical engineer and lingerie shop manager Louis Réard took these principles to heart when he named his 1946 two-piece design le bikini, after the Bikini Atoll, a nuclear test site in the Marshall Islands. Much like the bombs being tested, Réard allegedly explained, the bikini was small and devastating.
At the time, Réard couldn't find a reputable model willing to show off his creation. Instead, he hired nude dancer Micheline Bernardini, who modeled the bikini for the press in Paris on July 11, 1946. The suit itself was so teeny-weeny that it could fit, folded up, inside a matchbox, like the one Bernardini carried as she strutted alongside the Piscine Molitor for the photoshoot.
On this side of the Atlantic, manufacturers had already been experimenting with a "less is more" approach to swimwear. Rationing during World War II led the U.S. government to impose limitations on fabric use, inspiring an uptick in the production of minimalist, midriff-baring suits. But it wasn't until designers caught wind of Réard's innovation that the style transitioned from novelty item to sexy summer staple.
Initial reactions to the style were mixed; bikinis were worn by contestants in the 1951 Miss World beauty pageant in London, but then quickly banned. (In 2014 the pageant removed the swimsuit portion of the competition entirely.) Bikinis were later also banned in Italy, Belgium, Spain, and Australia, and declared sinful by the Vatican. But not in France: actress Brigitte Bardot is often credited with bringing the bikini into the mainstream when she was photographed wearing one during the Cannes Film Festival in 1953. The 1960s saw a rise of the bikini in print (on the covers of Playboy and Sports Illustrated magazines), in song (the infectious 1960 Brian Hyland hit "Itsy Bitsy Teeny Weeny Yellow Polka Dot Bikini"), and on film (in the 1962 James Bond classic Dr. No, actress Ursula Andress famously walked out of the water in a warrior-style white bikini, which caused sales of similar suits to skyrocket).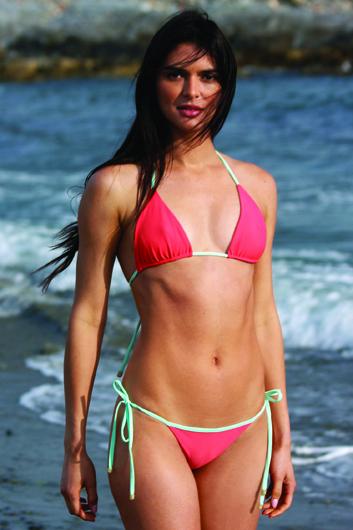 Today, bikinis remain the swimwear of choice for many on Vineyard beaches. Ashley Chase, Island resident and co-founder of SeaLove swimwear, counts both "teenagers and middle-aged moms" among her customers, and believes that quality and versatility are key when choosing the perfect style and fit. SeaLove's suits are manufactured in Indonesia, where Chase has traveled extensively, and each one is made from "soft, buttery fabrics with printed textiles that reverse to solids."
Though some may argue that the bikini is more statement piece than a piece of practical swimwear, Chase insists that her 2015 collection offers something for everyone, from barely-there bikinis to sporty, neoprene surf suits. And if there is a statement to be made, it's not all about fashion. "The best thing about a bikini," Chase said, "is the lifestyle that goes hand-in-hand with wearing one. Chances are, if you're wearing a bikini, you're either poolside or surfside, catching waves or rays."
It's hard to argue with that.
SeaLove Swimwear is available at the Green Room in Vineyard Haven and Pandora's Box in Menemsha, and at sealoveswimwear.com.